As we've learned from recent history, deals as good as the Greek Golden Visa don't tend to stick around for long. And sure enough, the program's pricing will double to €500K in January 2023. Today, we take a closer look at the program, the recently announced changes, as well as why you may want to hurry in applying…
The Greek Golden Visa: a truly excellent deal – for the moment
Launched in 2013 to help Greece recover from the 2008 financial crisis, the Greek Golden Visa has become one of the top-selling programs of its kind. Having hit the milestone of issuing over 10,000 residencies to foreign investors, the program enjoys a sterling reputation.
And priced at only €250,000, its popularity doesn't come as any surprise. But there's more to the program than just its affordable pricing; the program truly rolls out the red carpet for foreign investors (more on its advantages below).
Sadly though, the good times weren't going to last forever.
Brussels makes no bones about its distaste for Golden Visas and Citizenship By Investment programs, and these programs do elicit criticism locally as well.
As in Portugal, the Greek program has been blamed for driving up property prices in the country's urban centers, placing the politicians championing it under pressure at home.
And so, at an annual trade conference held in Thessaloniki on September 10, Greek Prime Minister
Kyriakos Mitsotakis announced that the program pricing would double starting in January 2023.
The announcement took many stakeholders from the real estate, immigration and Residency By Investment sectors by surprise.
According to various media reports, the move is intended to boost residential property stocks in the sub-€250K bracket in Athens and Thessaloniki, thus making home ownership more affordable for local Greeks.
Details pertaining to the increase and related changes remain sparse as of this writing.
However, according to a legal service provider whom we spoke with – and who attended the trade conference in Thessaloniki – the program changes may well turn out to be quite similar to recent Portuguese Golden Visa changes.
(Sovereign Confidential members: Let us know if you'd like the contact details of our vetted legal service providers based in Athens, and stay tuned for more Sovereign Confidential exclusive details on the program's changes – coming soon…)
In Portugal, with a view to make urban properties more affordable for locals, Lisbon, Porto and the Algarve are now no longer eligible as locations for residential Golden Visa property investments as of January of 2022. (Investments in commercial real estate in these locations are still eligible though.)
If Greece were to emulate this approach, the pricing increase would likely only apply to properties in Athens and Thessaloniki – and perhaps to secondary cities like Patra and Piraeus.
(Historically, the lion's share of GV demand in Greece has centered on the country's two biggest cities, as that's where the best rental yields are to be had (typically in the region of 4-6% p.a.).
But with this bad news out of the way, let's have a look at why the Greek Golden visa, as it stands today, could be an excellent complement to your Plan B in 2022 and beyond…
Why choose the Greek Golden Visa?
As Golden Visa options go, the Greek program is arguably the top-performing all-rounder.
Offering a winning combination of application speed, flexibility and the lowest price point of all the EU programs – not to mention major appeal as a lifestyle destination – it's no surprise that the program has remained an evergreen favorite among applicants around the world.
Let's take a look at how the Greek program performs against its key competitors…
Greece's Golden Visa vs The Competition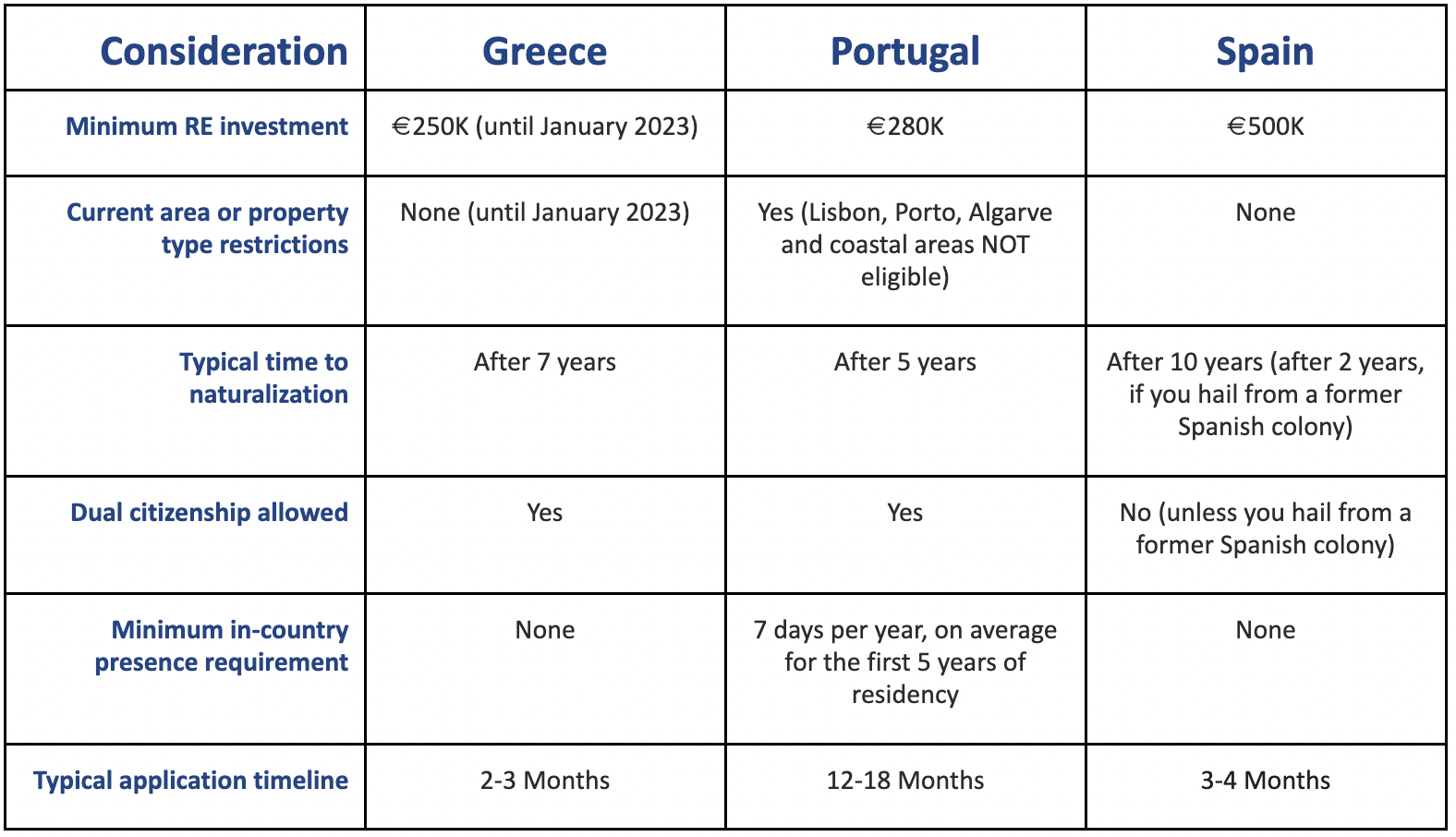 Add to that the country's natural splendor, strategic location and exceptionally low cost of living, and the Greek Golden Visa can tick a lot of Plan B boxes – without breaking the bank, until at least January 2023…
The bottom-line?
This a developing story, and we'll update our readers once more official information becomes available.
But if getting a Greek Golden Visa by buying residential property in either Athens or Thessaloniki is on your to-do list, then now would be the right time to take action.
The program's current RE deal offers the most affordability and flexibility of any European program, and you'll be kicking yourself later if you miss out.