A Mad Rush To Build More EV Factories, But Where Are The Minerals?
Authored by Mike Shedlock via MishTalk.com,
Incentives and free money from the Inflation Reduction Act has triggered an investment boom to build more electric vehicles...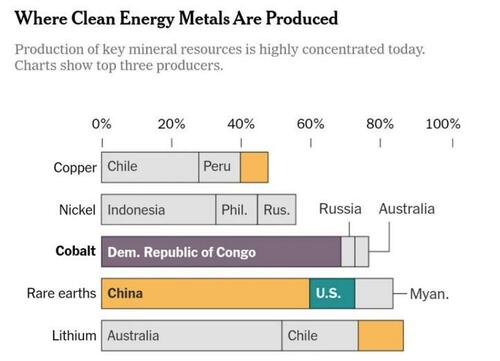 The auto industry has earmarked billions of dollars for EV projects resulting in the Biggest Auto-Factory Building Boom in Decades
The U.S. auto industry is entering one of its biggest factory-building booms in years, a surge of spending largely driven by the shift to electric vehicles and new federal subsidies aimed at boosting U.S. battery manufacturing. 

The 11-month total adds to the $37 billion in new auto-factory spending committed in 2021, when a number of new projects were revealed in states such as Tennessee, Kentucky and Michigan. The annual figure is up from $9 billion in 2017 and a more than eightfold increase from two decades ago, the center found.

The race by auto makers to populate their lineups with electric vehicles is the biggest factor behind the factory-spending spree. The federal climate package passed in 2022 is likely to further accelerate U.S. investment, earmarking tens of billions of dollars to subsidize EV and battery factory projects, as well as facilities for processing battery materials such as lithium and graphite.

Some foreign-owned car companies are targeting the U.S. for expansions, an offset to weakness in other global markets. Meanwhile, freshly capitalized EV startups, including Rivian Automotive Inc., are building out their manufacturing capabilities.

Rivian, which began building vehicles in Illinois in 2021, has committed to a second factory in Georgia to open in 2026. Hyundai Motor Co. has revealed plans for a $5.5 billion factory complex in the state, as well.

The Inflation Reduction Act further hastened efforts to increase domestic output. It offers billions of dollars in manufacturer incentives for domestic battery production, and limits a federal tax credit for EV buyers to vehicles with batteries and their mineral components sourced in North America or from trade-friendly countries.

In the past year, General Motors Co. opened a new battery factory with LG Energy Solution in Ohio and is developing two more, in Tennessee and Michigan.

Panasonic Holdings Corp. said over the summer that it would build a $4 billion battery factory in De Soto, Kan. Ford, Toyota Motor Corp. and Jeep-owner Stellantis N.V. also have multibillion-dollar battery-factory projects in progress.
Thoughts on the Inflation Reduction Act
If you hand out enough free money and incentives you can spur the building of nearly anything. 
If people balk at buying the cars we will need still more free money to entice them to do do. 
And then when the complaints come in there are not enough charging units, we will need to give away more free money.
Where we get the Lithium, nickel, cobalt, Manganese, and graphite to build all the batteries for the EVs without driving up the cost is a mystery. 
What About Recycling?
The growing number of EV batteries expected to reach their end of life (EOL) represents opportunities and challenges. Domestically, 200,000 metric tons of EV batteries are expected to reach EOL by 2027, or 800,000 metric tons globally that year, with accelerating growth as EV penetrate vehicle markets  

Even if technologies exist that can extract minerals from recycled batteries, only those that are economically viable will be employed. The economic viability of recycling battery minerals can be affected by the battery pack's design: if the pack is difficult (i.e., expensive) to disassemble, shred, or process, or if disassembling the pack generates costly waste streams, the overall costs of recycling may exceed the revenues expected from the process, rendering the overall process uneconomical. Alternatively, a battery pack optimized for recycling could be too expensive to compete with other designs.  
The above snips are from the 2022 Congressional Research article Critical Minerals in Electric Vehicle Batteries
Might I suggest there will be little thought given to recycling as all efforts will be on getting more miles per charge. 
What About Mining?
Indonesia is the world's largest producer of nickel, but the process to extract the metal uses large amount of energy, and there are controversial waste disposal practices happening, including dumping waste rock in waterways.
The above inconvenient fact is from Convenience.Org. Here are some more inconvenient facts.
Though EV batteries can last 10 years, or about 150,000 miles, until they need to be replaced, battery manufacturers are struggling to secure supplies of key ingredients to these large power packs, especially cobalt and lithium.

Demand for cobalt and nickel could exceed production in less than a decade, according to several studies. Cobalt has the most supply risks, as it has a highly concentrated production and limited reserves. There are not many producers of cobalt, with a single company producing one-third of the world's annual supply, and 65% of cobalt coming from a single country.

In the U.S. alone, the amount of lithium, cobalt and battery-grade nickel needed to electrify every light-duty vehicle on the road surpasses the total amount of these resources mined globally in 2019, according to a report on supply-chain vulnerabilities.

It's difficult and expensive to extract the minerals out of the EV batteries to recycle them, involving shredding batteries, then breaking them down further with heat or chemicals at dedicated facilities. Moreover, it's costly to transport the battery to the recycling facility, with transportation being about 40% of the overall cost of recycling because the EV battery packs are so large they need to be shipped by truck in specially designed cases, often across long distances.

Many times, the cost of recycling the battery exceeds sourcing a brand-new battery. Currently, the only battery material that can be recycled profitably is cobalt, because it's just that rare and expensive.
Brookings also warns Indonesia's electric vehicle batteries dream has a dirty nickel problem
Nickel is a key part of Indonesia's commodity-led development strategy, in which the country has banned exports of raw commodities to attract downstream investment and catalyze socioeconomic development. The government is planning to tax exports of nickel pig iron (NPI) and ferronickel, which would likely boost production of battery-grade nickel. And for EV manufacturers struggling to source nickel in a tight market, Indonesia has become a key supplier in the past year.

But there is a catch: Indonesia's nickel sector is particularly carbon-intensive and environmentally damaging. This creates an awkward challenge for EV manufacturers, who are under pressure to manage environmental, social, and governance (ESG) issues in their supply chains, including carbon emissions. Some EV manufacturers have expressed a preference for "low-carbon" nickel. However, the supply of "low-carbon" is insufficient to meet forecasted demand, and it comes with a higher price tag. 

Indonesia's nickel sector poses many environmental challenges. Its nickel processing industry is especially carbon-intensive due to its reliance on coal. 
Where is the Cobalt?
NS Energy reports the Democratic Republic of Congo has Half the World's Cobalt Supply.
Congo plans to launch a state-backed company that will hold rights to all artisanally-mined cobalt in the country are well underway, designed as a means for the DRC to exercise more control over the revenues generated by its prized national resource.
Not to worry, I am sure Congo will share equitably if we drop enough bombs. 
Besides, we can always turn to Russia, the world's second largest supplier according to the Tweet below. 
It's all on Australia, is the #3 supplier. NS Energy had Australia as number 2 and Cuba at number 3.
Where are These Minerals Produced and Processed?
There are so many reasons why the headlong rush to an electric-powered future seems to demand some powerful second thinking before it's too late ... the environmental costs of acquiring these metals being another one https://t.co/uj3fAv1clH

— Mike Mazarr (@MMazarr) December 29, 2022
Questions of the Day
Is anyone in the administration seriously considering any of these issues?

How much CO2 and pollution is caused in the mining, processing, and transportation of these minerals vs natural gas? 

How much inflation can we expect from this?
Bonus Question
Assume everyone in Florida buys an EV in the next 5 years. Please tell me how we handle a mass evacuation when the next big hurricane hits. 
During Hurricane Irma, nearly 6.8 million people evacuated Florida.
Millions of cars will be vying for a handful of chargers conveniently spaced every 50 miles or so on the expressway courtesy of the Inflation Reduction Act.
Yeah, that'll work.
As an added bonus, Biden's IRA is a Flagrant Violation of WTO Rules due to subsidies that push US only solutions.
Prius everyone? Or should we just stick with gas and be done with it?
*  *  *
Tyler Durden
Wed, 01/04/2023 - 07:20