Alibaba Shares Jump As China Regulators Grant Ant $1.5 Billion Capital Plan
US-listed shares of e-commerce giant Alibaba Group Holding Ltd. jumped in premarket trading after Jack Ma's Ant Group Co.'s plan to raise 10.5 billion yuan ($1.5 billion) for its consumer unit was approved by Chinese regulators. This is a critical pathway forward after Ant, a financial technology firm, was forced into a government-ordered overhaul that halted its planned IPO two years ago. 
Bloomberg provided more color on the approved fundraising plan. 
The China Banking and Insurance Regulatory Commission division in Chongqing green-lit the company's plan to lift its capital to 18.5 billion yuan, according to a notice on Dec. 30. Ant, which contributed 5.25 billion yuan as part of the plan, will control half of its shares after the deal, while a unit owned by the city of Hangzhou will hold 10%, becoming the second-biggest shareholder.

The deal resolves a key hurdle for Ant as it seeks to meet requirements from regulators following a crackdown on its business after its record initial public offering was torpedoed in 2020. Chinese regulators have reined in shadow banking over the past years to reduce economic risk and Ant is still waiting to obtain a financial holding license that will regulate it more like a bank. 
Alibaba, which owns a stake in Ant, jumped nearly 7% on the news as China's regulatory crackdown on its internet sector appears to be easing.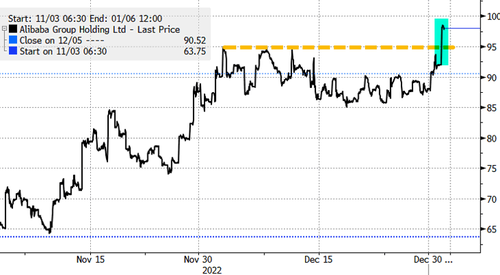 Last week, authorities approved a batch of new game releases for Tencent Holdings Ltd., which added to the optimism the crackdown is abating heading into the new year. 
Other major US-listed Chinese companies were higher, with JD.com +6.2%, Baidu +5.7%, NetEase +4.8%, Bilibili 4.7%, and Trip.com 4.2%. 
The exchange-traded KraneShares CSI China Internet Fund (KWEB) was up 4.2% before the bell. The basket of China tech stocks collapsed by more than 82% since peaking at around $102 per share in early 2021 and likely bottomed at $18 in October.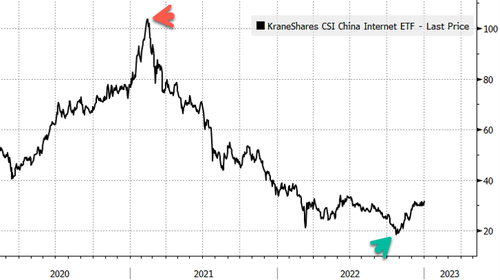 The Nasdaq Golden Dragon China Index remains below the 2007 high.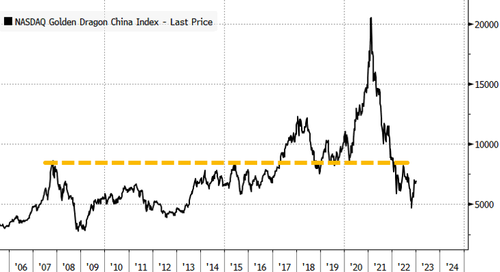 JPMorgan's strategist Marko Kolanovic urged investors to buy the dip in October. The quant guru's bullish call is betting that a massive rout will be reversed as there could be light at the end of the tunnel following more than a year of tech reforms by Beijing. 
Tyler Durden
Wed, 01/04/2023 - 08:34