China Calls UN Security Council Meeting Over Israel Minister's Al-Aqsa Visit
China and the United Arab Emirates have called for a UN Security Council meeting at a moment tensions in Jerusalem are poised to explode, given growing Palestinian outrage in response to Israel's new far-right National Security Minister Itamar Ben-Gvir having entered the al-Aqsa Mosque compound this week in a hugely controversial move. 
Jewish firebrand leader Ben-Gvir was just sworn in to his post last week as part of PM Netanyahu's governing coalition, widely seen as the most far-right in Israel's history, and his first act as national security chief came Tuesday with the highly provocative visit to the Jerusalem mosque, revered by Muslims across the globe as the third holiest site in Islam, only after Mecca and Medina.
"Unprecedented provocation."

Israel's new national security minister Itamar Ben-Gvir has entered the Al Aqsa Mosque complex in occupied East Jerusalem amid warnings of unrest

Read more: https://t.co/HaDwlpHpCd pic.twitter.com/BD22QxL5CE

— TRT World (@trtworld) January 3, 2023
A UN council to address the issue and ongoing tensions is expected to convene Thursday, UN sources told Reuters. Arab countries including Egypt, Jordan, Saudi Arabia and UAE were quick to condemn the move, and also Turkey issued a denunciation. 
Palestinian Prime Minister Mohammad Shtayyeh had charged that Ben-Gvir's trip under tight Israeli police protection of a bid to turn the shrine "into a Jewish temple." Additionally, Palestinian Authority leaders issued a statement saying it was "an unprecedented provocation."
Apart from the spectacle of a hardline settler expansionist politician entering a Muslim sacred site, the issue is so symbolic and sensitive given precisely that the Israeli far-right has long pushed for government annexation over the whole of Temple Mount, on top of which Aqsa Mosque sits. 
This is why AFP and other outlets quickly acknowledged Ben-Gvir's actions "could spark a war."
Palestinian and international leaders are urging calm as a response or "next step" is being hotly debated, while Hamas has already said Israel has crossed a "red line" - and reportedly fired off at least one rocket since Tuesday.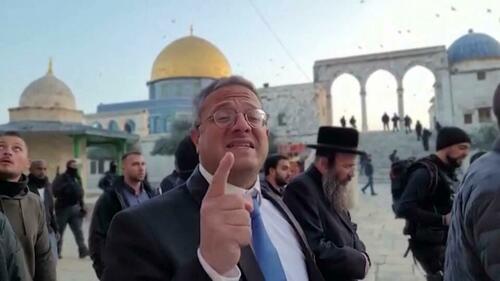 As for the US, its statement was much more muted, but suggests tensions between the Biden administration and Israel nonetheless. "We're deeply concerned by any unilateral actions that have the potential to exacerbate tensions precisely because we want to see the opposite happen," State Dept spokesman Ned Price said. "The United States stands firmly for the preservation of the historic status quo with respect to the holy sites in Jerusalem."
Amid the uproar, newly sworn-in Prime Minister Netanyahu later issued a statement seeking to clarify that his government would not try to change the status quo governing religious sites in Jerusalem. This also given any Israeli move to take over the Aqsa compound would without doubt spark a third Palestinian Intifada.
Tyler Durden
Wed, 01/04/2023 - 14:40