China Hits Pause Button On Investment-Heavy Approach To Support Chipmakers Amid At Rivaling US
China's semiconductor industry has suffered a major blow as investments to compete with the US have been paused, as economic turmoil grips the world's second-largest economy. 
Last month, Reuters reported China was set to roll out a 1 trillion yuan ($143 billion) support package for its semiconductor industry following the Biden administration export controls on the sale of cutting-edge semiconductor chips and advanced equipment needed for domestic semiconductor manufacturing. The plan was to boost domestic chip production that would one day be superior to the US.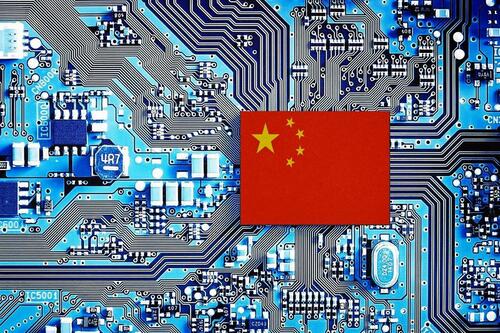 Now Bloomberg reported top Chinese policymakers are discussing ways to pivot away from massive subsidies for the chip industry "that has so far borne little fruit and encouraged both graft and American sanctions." 
Some policymakers are exploring alternatives to the investment-led approach, such as lowering the cost of semiconductor materials. 
The pivot would mark a dramatic shift in Beijing's approach to supercharging an industry to challenge American dominance while safeguarding Chinese economic and military competitiveness. It suggests that Beijing's zero Covid policy, even though it's ending, has amplified economic turmoil that is beginning to impact spending in critical industries. 
"It's unclear what other chip policies Beijing is considering, or whether it will ultimately decide to ditch the capital investment-heavy approach that's worked so well in propelling its manufacturing sector over the past decades," Bloomberg noted. 
What's come under intense scrutiny by Beijing is the billions of dollars it has poured into chipmaking companies, including Semiconductor Manufacturing International Corp. and Yangtze Memory Technologies Co., which has yet to produce technology breakthroughs to put China on the same level as the US. And the Biden administration's sanctions on China's chip industry have been another setback.  
A perfect storm of factors might have delivered a significant blow to China's chipmaking ability that Western countries have been hoping for. Suppose Beijing pivots away from its investment-led approach to support chips. In that case, it will give the US some time to ramp up investments at home to revive its chip industry and become less dependent on Asia -- another sign supply chains are being rejiggered. 
Tyler Durden
Wed, 01/04/2023 - 12:00