ISM Manufacturing Contracts For 2nd Month, Prices Paid & New Orders Plunge
Following the final PMI print for December yesterday confirming the manufacturing side of the US economy is at its weakest since the COVID-lockdown crisis, ISM reports this morning that weakness with a worse than expected 48.4 print (down from 49.0).
That is the ninth straight decline in ISM Manufacturing, the longest stretch of declines since 1974-1975.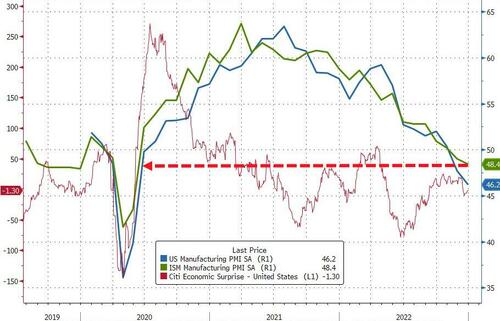 Source: Bloomberg
Under the hood, it was mixed with employment picking up modestly while prices paid and new orders plunged to COVID-lockdown lows...
Source: Bloomberg
As S&P Global's Siân Jones noted yesterday, "growing uncertainty and tumbling demand suggest challenges for manufacturers will roll over into the new year."
Globally, JPMorgan's Global Manufacturing PMI fell to a 30-month low of 48.6 in December and remained below the neutral mark of 50.0 for the fourth straight month.
Only seven out of the 29 nations for which December data were available had a PMI reading in expansion territory – India, Russia, Mexico, Colombia, Indonesia, the Philippines and Australia.
The US, the UK and Brazil were the largest nations ranking towards the lower reaches of the PMI league table.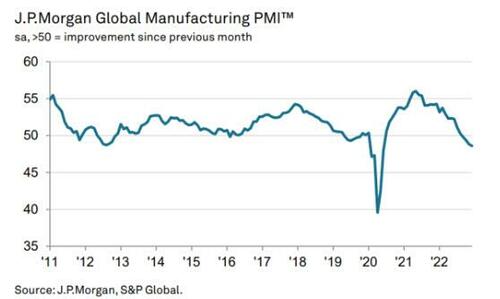 Excluding the lows registered during the early months of the global pandemic, the current PMI reading is the lowest since the first half of 2009. 
Tyler Durden
Wed, 01/04/2023 - 10:05