Russian Military Faces Rare Outrage At Home After Devastating Barracks Attack
The weekend strike on a Russian conscript barracks in Makiivka in Donetsk region which left possibly hundreds killed has sparked rare backlash and fury inside Russia, with even hardcore nationalists demanding answers and accountability of the military and government. 
Russia had initially given an official death toll from the attack, which was allegedly conducted with US-supplied HIMARS rocket launchers, of 63 soldiers killed while Ukraine claims that it was actually up to 400. Later on Tuesday, the defense ministry upgraded the death toll to 89.
Some Russian military bloggers agree that it was likely more in the hundreds range, and have condemned military commanders for garrisoning troops in what's being widely described as an unprotected building easily exposed to strikes, which also may have had an ammunition depot positioned dangerously next to it.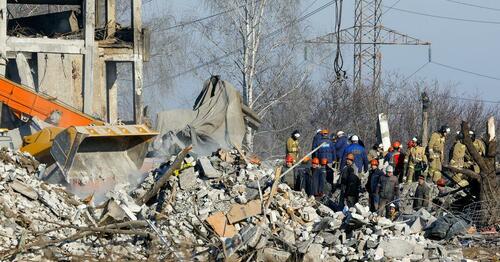 The anger has risen to the level of lawmakers in Russia's parliament, who are demanding an internal investigation in order punish officers responsible for the decision-making which led to what may have been the single deadliest attack suffered by Russia since the invasion began.
The Hill on Wednesday cites one of these leading parliament figures as follows: 
Sergey Mironov, a member of the Russian parliament's State Duma, said the attack "should be the last of its kind."

In a Telegram post, he called for an investigation and "personal criminal liability" for any Russian officers or personnel responsible.
"And no, not Ukrainian," Sukonkin wrote on Telegram. "The Armed Forces of Ukraine are acting as they should — they are trying to kill our soldiers. But their real killer is the scoundrel who positioned the fighters in such a way that it was easy for the enemy to shoot them."
Interestingly, the narrative coalescing from top Kremlin officials is that it was the soldiers' fault for breaking bans on cell phone usage...
The confirmed death toll of Ukraine's New Year's Day strike on Russian barracks in Makiivka has now reached 89, according to the Russian Defense Ministry. The attack was only possible, the ministry said, because soldiers violated a ban on cell phone use.https://t.co/yT4JIvW5xO

— Meduza in English (@meduza_en) January 4, 2023
Some Western military analysts have also weighed in from a strategic perspective, including the UK Royal Air Force's Retired Air Vice-Marshal Sean Bell, who points out Russian commanders grew lax over the holiday: 
On New Year's Eve, a large number of Russian soldiers were gathered in an abandoned school and seeing in 2023 together. Bell says many would have been trying to contact home just after midnight - making their phones "light up". 

It would have been enough for Ukraine to locate the barracks and target it on New Year's Day, Bell says. 

He puts further blame on Russia's military command, saying there can be a "temptation to relax your guard" on New Year's Eve, but such a large number of troops should not have been housed together.
It's believed that in total some 600 troops had been crammed into the barracks, which is why the death toll is believed to be far greater that the 89 since confirmed by the Russian defense ministry.
Meanwhile, simultaneous to the growing internal criticisms, President Vladimir Putin continues to find significant displays of public support for the war. Reuters has picked up on one movement making waves this week, writing Tuesday that "A little known patriotic group which supports the widows of Russian soldiers has called on President Vladimir Putin to order a large-scale mobilization of millions of men and to close the borders to ensure victory in Ukraine."
In the days following the Makiivka barracks attack, Russia hit back, including the below major airstrike caught on a live French TV broadcast...
Druzhovka explosion caught on live French TV channel pic.twitter.com/n5WRMsuTjl

— LogKa (@LogKa11) January 2, 2023
While Putin long ago warned that the Ukraine special operation, which only at the end of last year he called a "war" for the first time, would be a long haul mission, many hawks in Russia believe the military is holding back too much, and that a larger-scale operation should be ordered. 
Despite the prior Sept.21 'partial mobilization' - the group called Soldiers' Widows of Russia is asking for more in order to finish the job: 
"We ask our President, Vladimir Vladimirovich Putin, to allow the Russian Army to carry out a large-scale mobilization," the Soldiers' Widows of Russia group said in a post on Telegram.

"We ask our President, our Supreme Commander-in-Chief, to prohibit the departure of men of military age from Russia. And we have a full moral right to do this: our husbands died protecting these men, but who will protect us if they run away?"
Given local media is amplifying the messaging of this group at a moment the Russian media landscape in general is being tightly controlled in a wartime setting, this could be a coordinated Kremlin media campaign to pave the way for just such a full-scale mobilization plan ordered by Putin.
With the Russian invasion stalemated, and huge losses such as suffered at Makiivka in the New Year attack, are we about to witness a full formal declaration of war by Putin?
Tyler Durden
Wed, 01/04/2023 - 09:11