Bed, Bath, & Beyond To File For Bankruptcy "Within Weeks": Report
Bed Bath & Beyond shareholders' day just went from worst to worsterer...
After the stock closed down 30% today (following the company saying it was running low on funds and considering several options), The Wall Street Journal is reporting that, according to people familiar with the matter, BBBY is preparing to file for bankruptcy within weeks after the home-goods retailer said that sales for its third quarter, which ended in November, are expected to fall by nearly a third and that losses are expected to widen nearly 40% to $385.8 million.
BBBY shares are trading at their lowest level in 30 years...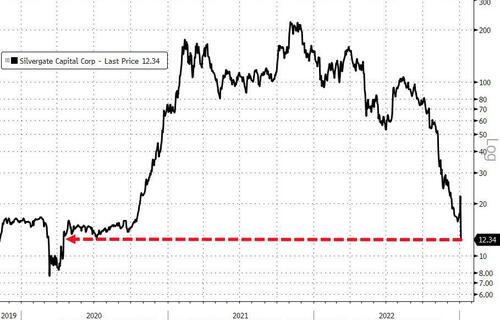 While WSJ notes that a Chapter 11 filing is not certain, they report that a spokeswoman for the company said it continues to work with advisers to regain market share and improve the company's liquidity.
"No determinations have been made as of this time," she said in a statement.
Losses are extending after the close...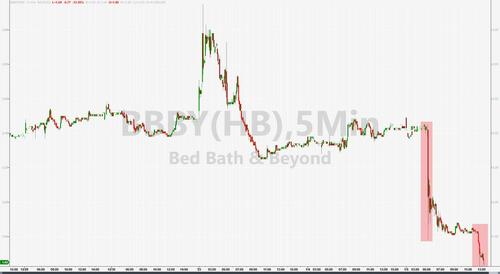 The retailer, which is slated to report its quarterly results on Tuesday, said it would need additional time to complete its accounting. Bed Bath & Beyond also said Thursday that it had failed to secure enough support from creditors for a proposed exchange of its unsecured senior notes.
Bed Bath & Beyond's senior unsecured notes due 2024 dropped Thursday to 15 cents on the dollar, according to Finra's Trade Reporting and Compliance Engine.
Tyler Durden
Thu, 01/05/2023 - 16:20