Watch Live: Biden Delivers Remarks On Border Security As Admin Expands Title 42
President Joe Biden on Thursday will read remarks regarding border security, as his administration has now flip-flopped, and is working to expand Title 42, the Trump-era policy which allows the US Government to expel immigrants while they wait for asylum hearings, as opposed to allowing them to walk free in the United States.
Watch Live:
As the Wall Street Journal notes, "The Biden administration is expanding its use of a pandemic-era border measure known as Title 42 to begin rapidly expelling migrants from Cuba, Haiti, Nicaragua and Venezuela, while opening a new legal path for up to 30,000 migrants from those countries to enter the U.S. a month."
The new policy represents the broadest effort yet that the Biden administration has undertaken to deter migrants seeking asylum from crossing the border illegally. It also relies on an expanded use of Title 42 as a border-control measure, even while the administration is arguing in court that the measure is no longer justified on public-health grounds and must end. The Supreme Court is set to hear oral arguments on Title 42 in February.

The new program will require migrants hoping to seek asylum in the U.S. to be paired with financial sponsors and would give applicants two years of humanitarian protections, under which they can work legally and apply for asylum. -WSJ
Meanwhile, Biden indicated on Wednesday that he will visit the US-Mexico border for the first time since he took office nearly two years ago.
As the Epoch Times' Jack Phillips notes;
President Joe Biden indicated Wednesday that he will visit the U.S.–Mexico border for the first time since he took office nearly two years ago.
While in Kentucky, the president was asked if he will be going to the border in connection to a meeting next week in Mexico City with other world leaders. "That's my intention, we're working out the details now," Biden said.
Biden is slated to attend the North American Leaders' Summit in Mexico City on Jan. 9 and Jan. 10, where he is expected to meet with Mexican President Andrés Manuel López Obrador and Canadian Prime Minister Justin Trudeau.
Republicans and some Democrats who represent districts along the U.S.–Mexico border have repeatedly called on Biden to visit the border amid surging numbers of illegal immigrants crossing the border. They've also accused the administration of pursuing an "open borders" agenda by rescinding numerous Trump-era immigration rules.
In December, Biden was chided as he flew to Arizona to deliver a speech at a computer chip factory and highlighted jobs but did not visit the border. At the time, the president said that he could not visit "because there are more important things going on … they are going to invest billions of dollars in a new enterprise in the state."
Other Details
Data released by U.S. Customs and Border Protection (CBP) show that nearly 2.4 million people were arrested for illegally crossing the border in the 2022 fiscal year, which ended Sept. 30. That's up from 1.7 million during the previous fiscal year.
White House press secretary Karine Jean-Pierre addressed Title 42, a border rule established under the Trump administration that allowed the federal government to quickly expel people at the border, after the Supreme Court last week ruled that the policy should remain while it considers arguments. A lower court had ruled to end the policy, which would have ended in December.
"To truly fix our broken immigration system though, we need Congress to act," Jean-Pierre told reporters Tuesday. "We saw the president on his first day in office put forth a comprehensive immigration policy, and he did that to show how important this was, how much of a priority this was for him."
And when she was asked about a possible Biden visit to the border, Jean-Pierre said in late December that "the president's focus right now is to come up with solutions" and "his focus on making sure that we have the resources to manage the challenges that we're seeing at the border."
After the midterms, top House Republicans have indicated that investigating the administration's border policies will be a priority. Last month, House Republican Leader Kevin McCarthy (R.-Calif.) told reporters that he had invited Biden to visit the border with him when Biden met with McCarthy and other GOP leaders following the Nov. 8 midterms.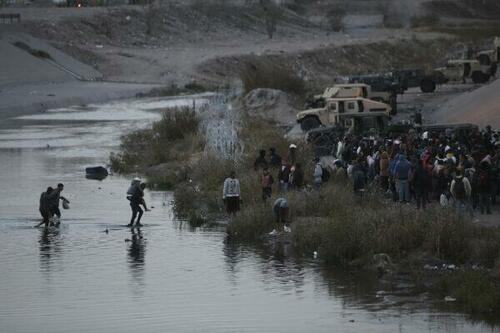 "The control of our border is lost right now. That is why I asked [the] homeland security secretary to resign. And come January, we'll have an investigation of why the border has become the situation it is and not allow them to continue along the same path," said McCarthy, who is currently vying to become the next House speaker amid opposition among members of his own party.
Some GOP lawmakers have said that Homeland Security Secretary Alejandro Mayorkas, who oversees the CBP and U.S. Immigration and Customs Enforcement, could face impeachment.
Mayorkas on Wednesday again acknowledged that the number of illegal immigrant encounters at the border is causing strain on the system.
"We're operating within a system that is fundamentally broken. No one disagrees with that. We just can't seem to agree upon the solution and a solution is long overdue. Within the broken immigration system that we are operating, we are managing the number of encounters and we are prepared to address the end of Title 42," he told the Washington Post.
Rep. Henry Cuellar (D-Texas), whose district sits along the border, said in late December that Biden should visit to see what he described as an escalating crisis.
"I don't know why they keep avoiding the border and saying there's other things, more important things, than visiting the border. If there is a crisis, show up. Just show up," he told CNN in December, coming days before the Supreme Court allowed Title 42 to remain for the time being.
Biden "showing up at the border would send a strong signal to the communities that he's there, he cares about the border communities," Cuellar said. "Just show up! It doesn't take much to just show up at the border."
Tyler Durden
Thu, 01/05/2023 - 11:21