Watch: Violence Erupts In Culiacán After El Chapo's Son Arrested
Mexican authorities in the northwestern city of Culiacán arrested the son of the notorious drug lord El Chapo in a Thursday morning operation, according to the NY Times, citing three Mexican government officials.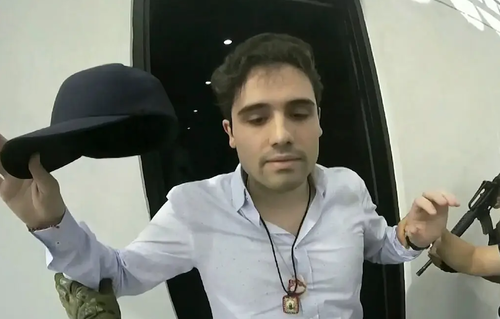 Ovidio Guzmán López, son of Joaquín Guzmán Loera (El Chapo), was taken into custody and transferred to a military base in Mexico City according to the report.
Watch:
Meanwhile, the city has erupted in violence following the arrest - with news outlets reporting that an Aeromexico plane was hit by gunfire, while unconfirmed footage and reports are circulating that the cartel has responded by opening fire on planes and taking doctors hostage.
🇲🇽Estos grupos armados dispararon a un avión de la Fuerza Aérea Mexicana en el aeropuerto de Culiacán. pic.twitter.com/y3hi7B8J5i

— ENTRE GUERRAS (@entre_guerras_) January 5, 2023
Luego de que en la madrugada de este jueves 5 de enero se realizó un operativo en Culiacán, Sinaloa, para presuntamente detener a Ovidio Guzmán, el hijo de "El Chapo" Guzmán, se desataron bloqueos y enfrentamientos en distintas ciudades de ese estado. pic.twitter.com/cG4fuXw0Sr

— Cuestione (@cuestione) January 5, 2023
#ULTIMAHORA
Impactantes imágenes de hombres armados disparando hacia helicópteros de la Fuerza Aérea Mexicana en Culiacán #Sinaloa con un $Barret Calibre 50mm. Hechos registrados tras la captura de #OvidioGuzmán pic.twitter.com/EzRm9hVFf4

— Enrique BurgosV (@enriqueburgosv) January 5, 2023
🇲🇽 | Los sicarios toman ambulancias y retienen a personal en centros médicos de Culiacán, Sinaloa. pic.twitter.com/YKdcAiytw1

— Mundo en Conflicto 🌎 (@MundoEConflicto) January 5, 2023
In nearby Mazatlán, officials have ordered all tourists to stay in their rooms, while the military has ordered all vehicles in Culiacán to remain off the streets except for military and medical.
A prison riot was also reported in response to the arrest.
#Video | Tras darse a conocer la detención de Ovidio Guzmán, líder del Cártel de Sinaloa, se registraron disturbios y balaceras en el penal Aguaruto en Sinaloa. | Crédito: Especial pic.twitter.com/RejYUTkFS4

— Proceso (@proceso) January 5, 2023
Guzmán López, a prominent cartel leader himself, allows the government to claim its most recent victory in combating cartel violence amid one of the most deadly periods in recent history.
Armed groups responded to the raid on Thursday by lighting vehicles on fire and blocking major thoroughfares out of the city, according to one of the officials. Videos shared on social media showed buses and tractor-trailers aflame. The Culiacán airport confirmed, via Twitter, that it had closed down for security reasons.

...

The Guzmán family has a long history of escaping capture by the Mexican authorities. El Chapo broke out of prison twice. Federal prosecutors in the United States say his sons helped orchestrate his infamous escape from a maximum-security detention center in 2015 through a mile-long tunnel dug into the shower of his cell. -NYT
This is the second time Guzmán López has been taken into custody. In October of 2019, he was arrested but then immediately released after cartel gunmen opened fire with automatic weapons all over the city of Culiacán - which has long been the home base of the Sinaloa cartel.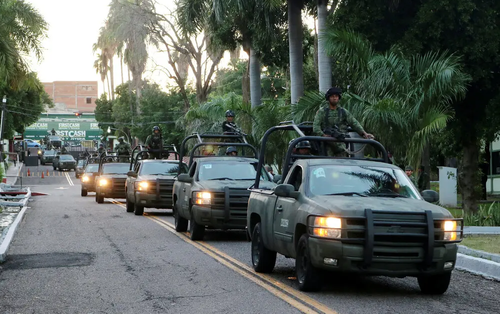 "The situation turned very bad and lots of citizens were at risk, lots of people, and it was decided to protect the life of the people," said President Andrés Manuel López Obrador, defending the release. "You cannot value the life of a delinquent more than the lives of the people."
Tyler Durden
Thu, 01/05/2023 - 14:05