Biden Finally Visits Border, Fails To Meet With Single Migrant
President Joe Biden has finally visited the US-Mexico border for the first time since taking office - but didn't see or meet with any migrants despite taking a trip to a migrant respite center.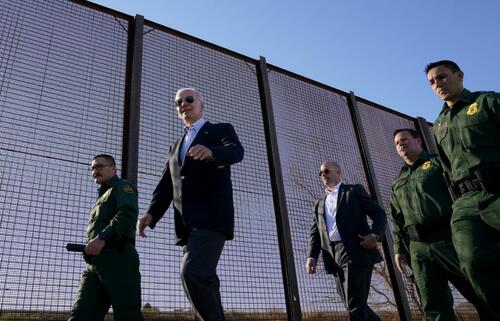 Biden spent several hours in El Paso to witness the crisis his border policies exacerbated, however it appears that his brief visit was largely focused on his administration's newfound (pre-2024) concern over enforcement issues, and speaking with border enforcement personnel. Even CNN called him out on the bullshit, virtue-signaling trip.
Asked to explain the thinking behind having Biden visit this specific center and ultimately not meeting or interacting with any migrants there, a senior administration official told CNN, "There just weren't any at the center when he arrived. Completely coincidental. They haven't had any today."  -CNN
That said, hundreds of migrants - including women and children, have been living on the streets of El Paso, while nearly 1,000 more migrants were in federal custody throughout El Paso detention facilities. In other words, it wouldn't have been difficult for Biden to lower himself to meeting with the migrants he purports to care so much about.
After arriving in Texas, Biden's motorcade drove along a highway that parallels the Rio Grande river and the border. Then, he popped out for a photo-op along the giant border wall while speaking with officers in green uniforms. They then walked along the gravel road next to the fence, where Biden took a few softball questions from reporters.
Look at that big, beautiful wall he chose for his photo https://t.co/lwNP11Yvz3

— Joel Pollak (@joelpollak) January 9, 2023
After the photo-op, he visited the migrant-less migrant processing center.
The Biden administration's seeming 180 on border policy comes as mass movement across the Western Hemisphere poses an 'urgent challenge' for the United States.
Since 2021, there have been more than 2.4 million arrests along the US-Mexico border, according to US Customs and Border Protection data. That includes people who have attempted to cross more than once. Many have also been turned away under Title 42.

The arrival of thousands of migrants has strained border communities, including El Paso. The city has prided itself on being a welcoming place for migrants but has been overwhelmed in recent months with the sudden arrival of thousands of migrants, straining local resources and prompting pleas for federal assistance. -CNN
Meanwhile, Homeland Security secretary Alejandro Mayorkas said on Sunday that he has no intention of resigning over his alleged mismanagement of the border crisis.
In a Sunday appearance on ABC News, Mayorkas said "I do not," in response to whether he plans to step down in response to Republican outcry. "I've got a lot of work to do, and we're going to do it."
As the National Review notes, newly minted House Speaker Kevin McCarthy threatened to impeach Mayorkas, and said the secretary would face congressional scrutiny over how he's handled the border.
"If Secretary Mayorkas does not resign, House Republicans will investigate every order, every action, and every failure will determine whether we can begin impeachment inquiry," McCarthy said during a November visit to El Paso.
Tyler Durden
Mon, 01/09/2023 - 16:40