Bolsonaro Admitted To Hospital In Florida As Dem Lawmakers Urge Booting Him From US
A number of Democratic lawmakers are outraged that Brazil's far-right former president Jair Bolsonaro has since last month been comfortably residing in Florida, even as violence descended on the Brazilian capital over the weekend, as his supporters numbering in the tens of thousands stormed government buildings.
This as there are emerging reports on Monday that he's been admitted to an Orlando hospital, according to Brazilian media sources:
Jair Bolsonaro has just been admitted to AdventHealth Celebration, a 220-bed hospital outside Orlando, Florida. He claims to have severe abdominal pain. Since the surgery he underwent after the 2018 stabbing, Bolsonaro has been hospitalized a few times because of abdominal pain. The most recent occurred in November, when he was admitted to the Armed Forces Hospital, in Brasília. In January and March of last year, the former president was also affected by the same problem.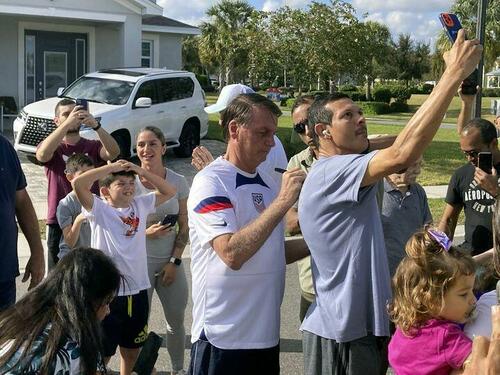 Reuters reported late Sunday that "the most immediate threat to Bolsonaro would come if his U.S. visa were revoked" - which would force him to have to leave the safety of the US, at a moment of growing mayhem in Brasilia and as pro-Lula officials brand him and his followers as 'terrorists'.
"A U.S. consular official, speaking on condition of anonymity, said Bolsonaro had almost certainly entered on an A-1 visa, which are reserved for heads of state. A second source, a senior former U.S. diplomat, also believed it was almost certain that Bolsonaro had entered on an A-1," Reuters noted, citing American officials.
"Normally the A-1 is canceled after the recipient leaves office. But with Bolsonaro having left Brazil and entered the United States before his term ended, the official suspected his A-1 is still active," the report continued.
Bolsonaro has checked into a hospital in Florida with abdominal pain, reports @laurojardim , without citing sources. He has had numerous health problems since surviving a stabbing attack in 2018https://t.co/28eefSiSCQ

— Brian Winter (@BrazilBrian) January 9, 2023
On Sunday, The New York Times detailed of his current known whereabouts as follows: 
Facing various investigations from his time in office, Mr. Bolsonaro flew to Florida in late December with plans to stay for at least a month. He has been in Orlando, living in a rented house owned by a professional mixed-martial-arts fighter a few miles from Disney World.

Mr. Bolsonaro has long questioned the reliability of Brazil's election systems — without evidence — and he refused to concede unequivocally when he lost in October to President Luiz Inácio Lula da Silva, who took office on Jan. 1.
But at a moment that pro-Lula officials and pundits both in and outside Brazil are calling for his prosecution, increasingly comparing the weekend unrest to January 6 under Trump, any potential imminent return of Bolsonaro to Brazil would likely be a losing proposition for him.
But even the NY Times admitted: "Yet before departing for Florida in the final days of his presidency, Mr. Bolsonaro called on his supporters to avoid violence and suggested that they move on."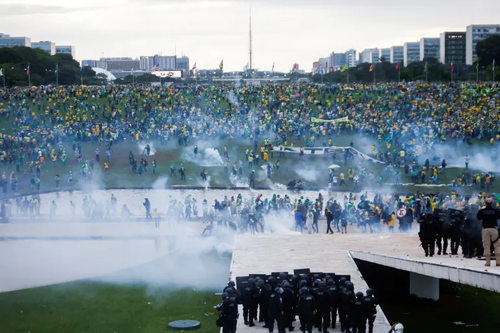 But this wasn't enough for progressive Democratic lawmakers who are now demanding that US authorities kick Bolsonaro out of Florida...
"Two years ago our Capitol was attacked by fanatics, now we are watching it happen in Brazil," Rep. Ilhan Omar (D-Minn.) said Sunday evening after thousands of Bolsonaro supporters stormed and ransacked Brazil's presidential palace, Congress, and Supreme Court.

"Solidarity with Lula and the Brazilian people," Omar continued. "Democracies around the world must stand united to condemn this attack on democracy. Bolsonaro should not be given refuge in Florida."
And of course, Rep. Alexandria Ocasio-Cortez (D-N.Y.) also weighed in on Sunday, saying that "the US must cease granting refuge to Bolsonaro in Florida." AOC added: "We must stand in solidarity with Lula's democratically elected government."
And Rep. Joaquin Castro (D-Texas)  added his voice as well in the following, even referencing heavily charged words like 'terrorists' and 'fascists': 
I stand with @LulaOficial and Brazil's democratically elected government. Domestic terrorists and fascists cannot be allowed to use Trump's playbook to undermine democracy.

Bolsonaro must not be given refuge in Florida, where he's been hiding from accountability for his crimes. https://t.co/ywOCTMgRxM

— Joaquin Castro (@JoaquinCastrotx) January 8, 2023
Meanwhile, Brazil's military had to intervene against pro-Bolsonaro protesters and rioters, with reportedly many hundreds of arrests still being made. "Investigations will continue until the last member is identified," the police vowed, after clearing government buildings.
Some US and Brazilian pundits are even talking "extradition"... leading to this White House response: 
Biden admin hasn't received any request from Brazil to extradite Bolsonaro, @JakeSullivan46 says. Says White House isn't in direct contact with him and "can't speak definitively" about his whereabouts. Thousands of @jairbolsonaro supporters stormed country's capital Jan. 8.

— Jennifer Jacobs (@JenniferJJacobs) January 9, 2023
There's been widespread condemnation of Bolsonaro and his refusal to make a clear enough formal concession after the victory of Luiz Inácio Lula da Silva for the presidency, in the country's tightest and most hotly contested election in decades.
Tyler Durden
Mon, 01/09/2023 - 12:39