Dozen Dead, Over 100,000 Without Power As California Braces For Worst 'Atmospheric River' Barrage Yet
A moisture conveyor belt of atmospheric rivers continues to pound storm-battered California as the latest system could be the most severe yet. Power outages plague Northern California, as a dozen people have died across the Golden State in the last two weeks after. At least 3,000 people were evacuated on Sunday. 
The National Weather Service described the bomb cyclone, a hurricane-force low-pressure system, and an atmospheric river as the "most potent" yet. Forecasters said the "relentless parade" of "atmospheric rivers" will peak Monday into Tuesday. 
There is an #AtmosphericRiver family in the Pacific pic.twitter.com/WEJNnsselR

— Jen Carfagno (@JenCarfagno) January 9, 2023i
NWS said, "two major episodes of heavy precipitation" impacting the Golden State "in quick succession," along with "two of the more energetic and moisture-laden parade of cyclones that are aiming directly for" the West Coast. 
A direct threat to life and property is expected in California on Monday as an extremely impactful and dangerous atmospheric river lashes the state. @JaneMinarWX has the latest on the forecast. pic.twitter.com/ZS2ADeBbxy

— FOX Weather (@foxweather) January 9, 2023
"We expect to see the worst of it still in front of us," Gov. Gavin Newsom warned Sunday. Newsom sent a request to the Biden administration for an emergency declaration to support recovery efforts which was approved this morning. 
More than 130,000 homes and businesses across California had no power on early Monday, according to PowerOutage.us – down from over 400,000 on Sunday after heavy rains and high winds toppled trees and telephone poles.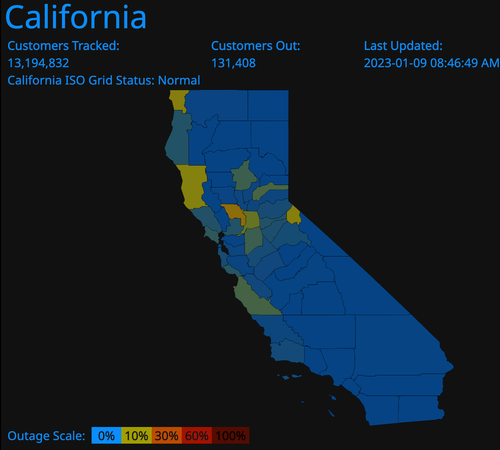 "We are in the middle of a deadly barrage of winter storms – and California is using every resource at its disposal to protect lives and limit damage," Newsom said. He added: "We are taking the threat from these storms seriously, and want to make sure that Californians stay vigilant as more storms head our way."
By Sunday evening, nearly 3,000 people were evacuated from Northern California, with 200 staying in shelters. At least 12 people have died from weather-related incidents across the state in the last two weeks, Newsom said. 
The latest forecast shows some areas in Northern California could receive upwards of 10 inches of rain through mid-month. For high elevations, that could mean feet of snow.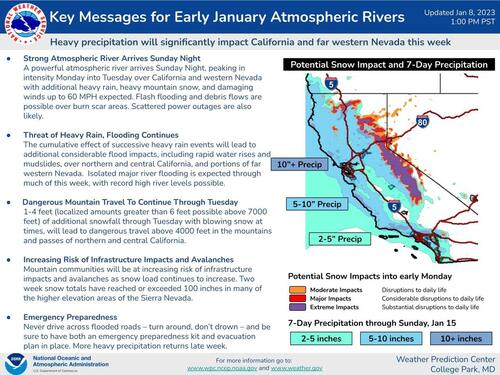 Since New Year's Eve, the state has been swamped with rain. San Francisco has picked up 11 inches of rain in the last 13 days, the most rainfall documented in almost two weeks in records dating back to 1871. 
One silver lining to this deluge of rain is that it might help alleviate the state's drought crisis.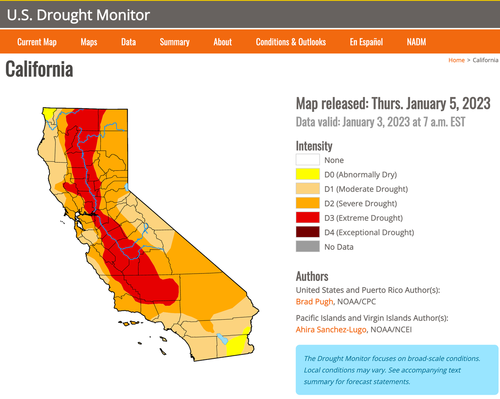 This is also great news for some reservoirs with water levels at dangerously low levels.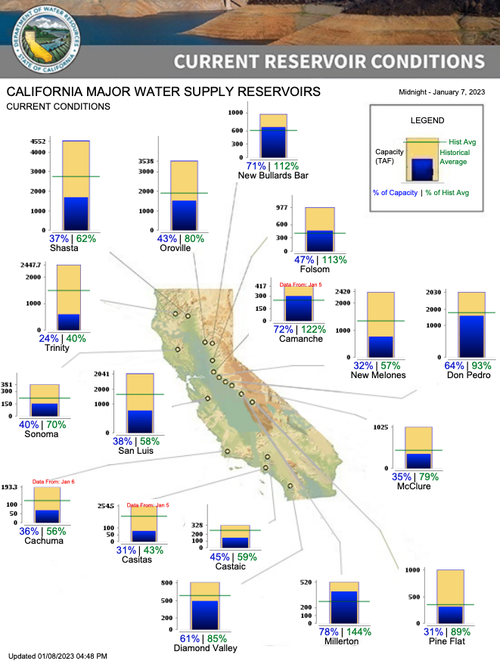 And there's more good news: "Snowpack levels in California's mountains were at the highest level in 40 years." 
Global warming alarmists (Greta Thunberg) and progressive media outlets might have trouble explaining California's wettest few weeks since at least the 1800s. They will blame climate change, but the climate has been changing for hundreds of millions of years. So explain that one... 
Tyler Durden
Mon, 01/09/2023 - 12:00