Losing Momentum
By Jane Foley, head of FX strategy at Rabobank
Asian shares have extended the positive tone noted evident in US markets on Friday with Chinese re-opening news adding to hopes of a lower pace of rate hikes from the Federal Reserve. The Asia MSCI index has entered a bull market from its October lows.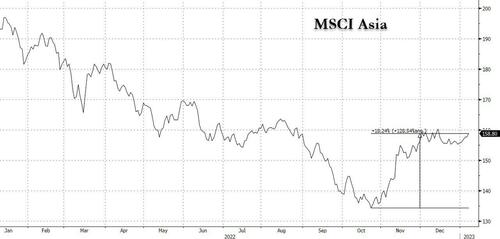 A slowdown in the pace of US earnings growth and a decline in the workweek were sufficient to spark a fresh round of speculation that the Fed may be prepared to move to a less aggressively paced tightening stance. US equities markets surged on Friday, treasury yields weakened, and the USD took a hammering on the December jobs report. However, while the US labor data showed signs of loosening conditions in the US jobs market, it was not a poor report. The US unemployment rate dropped to 3.5%, matching the lowest level in half a century and employers still created 223k jobs last month bring the total for last year to a stunning 4.5 mln. That said, most of these jobs were created in the first seven months of the year. Encouraging the glass half empty view of the labour market were coincident releases of a soft US ISM report and weak factory orders numbers, which have supported the view that the US economy is softening.
After fifteen attempts Kevin McCarthy has been elected Speaker of the US House of Representatives. This will allow the House to return to business at hand. However, the arm twisting needed to persuade enough hard-core conservatives to back him has not just highlighted the deep divisions between Republicans, but it has also led to concerns about the impact of the concessions McCarthy has made. One legislator can now trigger a vote on whether to remove the Speaker. This has raised concerns about how much control McCarthy will have. Additionally, McCarthy has guaranteed to give hard core conservatives at least one seat on the powerful House Rules Committee and it is possible that other influential roles may have been promised. Another compromise is in the area of budget spending with conservatives asking McCarthy to commit to fiscal restraints. This has triggered concerns about future debates regarding the US debt ceiling and the size of additional miliary support for Ukraine.
Kyiv has announced that Russia did not observe its self-declared cease-fire over the Orthodox Christmas. On Sunday, Russia said that it killed 600 Ukrainian troops in an attack that Kyiv says did not happen; a position that appears to have been verified by journalists. Russia is still reeling over the loss of a number of troops in a missile attack on New Year's Eve. Tens of thousands of demonstrators invaded Brazil's Supreme Court, Congress and Presidential Palace on Sunday, easily overwhelming public security forces despite plans of the disruption being circulated on social media. Recently elected President Lula has blamed his predecessor Bolsonaro, whose supporters are refusing to accept defeat. Many of supporters of the far-right reportedly want Lula back in prison and are heavily suspicious of Lula's left-wing stance.
China has re-opened its borders to international travellers for the first time since March 2020 meaning they will no longer have to quarantine, though a negative PCR test is still a requirement. This comes at the start of the first period of Lunar New Year travel and implies a potentially significant fillip to consumer demand, though there are also fears that this could lead to further Covid surges.
China has expanded its currency swap deal with Argentina as the latter struggles with depleted FX reserves. China is Argentina's second largest trade partner after Brazil. China's FX reserves are reported to have expanded by USD11 bln last month to USD3.128 trn.
In an FT interview, India's central bank Governor Das has voiced optimism about his country's economic outlook while raising concerns about the potential for debt distress in some of its regional neighbors, given the risks to global growth this year. Sri Lanka defaulted last year, and Pakistan's FX reserves are very low. India's reserves have fallen from 2021 levels in part due to attempts to stabilise the INR last year against USD strength.
Tyler Durden
Mon, 01/09/2023 - 09:41