US NatGas Prices Bounce After Monthlong Selloff; Some Forecasters See Possible Cold Flip End Of Month
US natural gas futures surged from an 18-month low and major support level. Energy prices as a whole rose on the prospects China's move to reopen would boost imports and outweigh global recession fears. Long-term weather models indicate the possibility of a return to winter for the Lower 48 later this month into next, while near-term outlooks still show mild temperatures. There's no concrete evidence yet of a flip from mild to colder temperatures for the US that would boost heating demand. 
Front-month NatGas futures for February delivery jumped more than 10% to above $4 per million British thermal units (mmBtu). The snap higher in price (possibly a short squeeze) occurred just above the 76.4% Fibonacci retracement on the 2020 run-up from $1.43 to $10 in August. Since late last summer, prices have slid nearly 65% on abundant supply, mild winter, and LNG export troubles due to Freeport delays.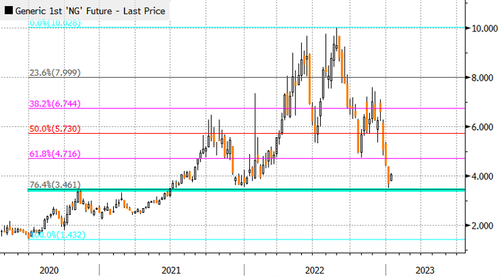 Comparing NOAA's latest 6-10 day weather outlook versus the 8-14 day outlook, there are signs cold weather could be ahead for the West Coast and Rocky Mountains while the eastern half of the US stays above average.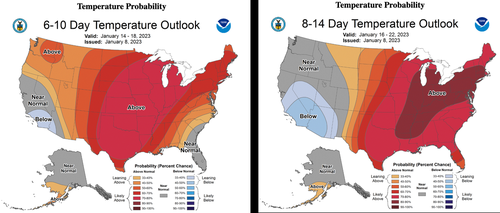 There's some chatter on social media about longer-term outlooks pointing to much colder weather for the Lower 48 later this month into next (remember, we pointed out some of these forecasts last week). 
#EURODAY15 #natgas pic.twitter.com/d11QqlmgLV

— Gas Vegas (@GasVegasBaby) January 9, 2023
The pattern across N. America continues to lean to the warmer side as the Pacific pattern has been unfavorable for sustained cold since the end of December...but are things changing in the 11-15 day?

Clients can read our latest HDD update here: https://t.co/0PGRH6N2h0#natgas pic.twitter.com/k10oBKOoWR

— Atmospheric G2 (@Atmospheric_G2) January 9, 2023
Weekend weather data maintains awful/red/bearish pattern next 2-weeks w/very light national demand. However, nat gas markets relieved to see the GFS, ECMWF, and CFS tease a colder pattern Jan 24-31. #natgas #oilandgas pic.twitter.com/cyfhj0YcKt

— NatGasWeather.com (@NatGasWeather) January 9, 2023
It may lock in, with help from the Stratosphere. Between the forcing from the tropics and the stratospheric changes, I'm very optimistic about a reversal of fortunes in the Eastern US. Be patient winter lovers. It's coming. #wxtwitter https://t.co/dfWowrHJzF

— Mark Margavage (@MeteoMark) January 9, 2023
10mb Stratospheric Warming Events, even minor ones, have preceded 2 of the most significant arctic air outbreaks these past 2 months. The forecast remains for a stratospheric warming event unlike anything we've seen so far this fall and winter. Winter is just getting started. pic.twitter.com/7fhlpfNyQH

— Mark Margavage (@MeteoMark) January 8, 2023
The current polar cyclone is compared to last year ( right Jan 1, 2022) much stronger. This is why it is currently so mild over continents as the polar cyclone is the engine of air movements over the Northern hemisphere, accumulating lots of warm air from oceans.#natgas pic.twitter.com/eyrJJO58Fu

— Heinrich Leopold (@LeopoldHeinrich) January 9, 2023
However, Houston-based energy firm Criterion Research said warmer trends would persist across the Lower 48 for the next two weeks. They also said there's a possibility of a weather event at the end of the month of early February.
With the current warmer weather for January and the 10yr normals beyond that point, we are forecasting a robust March '23 EOS storage level - ping us at info@criterionrsch.com for details #natgas #ongt

— Criterion Research (@PipelineFlows) January 9, 2023
As for Freeport's restart, it's anyone's guess, but here's some commentary around the latest aerial drone photos of the LNG export facility and what one trader thinks the reopening timeframe could be in early March. 
This is my key (Not Skylar's). When the Valve that is under wrap is installed here. I estimate it is 6 weeks to restart away (pending they are smooth with regulators). That puts me smack at March 1st given work is happening now. #LNG #FreeportLNG #NatGas pic.twitter.com/GE77poEsbE

— NATGAS (@USAEnergyNatGas) January 9, 2023
Hard to pinpoint precisely why NatGas jumped today. Maybe a combination of China reopening, a short squeeze, and or the idea winter isn't over. 
Tyler Durden
Mon, 01/09/2023 - 18:40