Used-Car Prices Record "Largest Annualized Decline In Series' History"
Cox Automotive reported that its Manheim Used Vehicle Value Index (MUVVI), which tracks the auction prices of used cars, plunged the most on record in December from a year ago as the auto market cools. 
MUVVI increased 0.8% in December from November and rose slightly to 219.3, but was down 14.9% from a year ago. "This was the largest annualized decline in the series' history," Manheim wrote in a statement.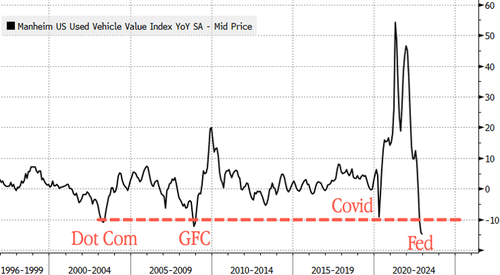 Despite the most significant yearly decline on record, used car prices at auction houses remain 14% below record highs. 
The Manheim Used Vehicle Value Index was down 14.9% from a year ago. This was the largest annualized decline in the series' history. The non-adjusted price change in December was a decline of 1.9% compared to November pic.twitter.com/cB3X1N8jAY

— zerohedge (@zerohedge) January 9, 2023
Manheim wrote that all eight segments of the used car market recorded lower seasonally adjusted prices year over year in December. They noted, "vans had the smallest decline at 12.0%, followed by pickups, sports cars, and compact cars at 12.2%, 12.6%, and 13.5%, respectively."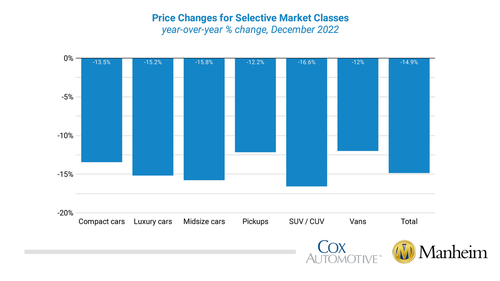 December's plunge surpassed November's decline of 14.2%, which was the largest decline at the time. 
Cox chief economist Jonathan Smoke recently explained, "new inventory is finally starting to build, and that's producing momentum in new retail sales, but that momentum appears to be at the expense of used retail. Especially it's the traditionally used car buyer that's most impacted by payment affordability." 
Cooling of the used car market comes as the interest rate paid for used car loans hits the highest rate in more than a decade, sparking a price affordability crisis for buyers.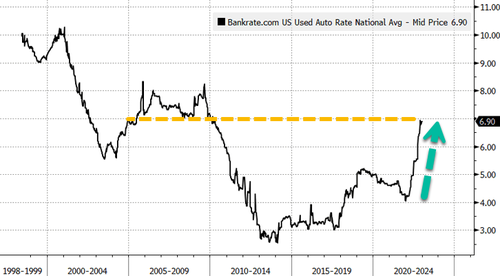 During the virus pandemic, Americans used the most debt to fund record car prices -- fast-forwarding to today, used car prices have dropped, and the economy is weakening, which might signal recession. We outlined last month the US could be on the cusp of a crushing auto loan crisis, unleashing a wave of repossessions and loan defaults. 
The good news is that runaway inflation in 2021 and 2022 is cooling. Remember when soaring car prices were the leading indicator of red-hot inflation prints? Now the opposite is happening. 
Tyler Durden
Mon, 01/09/2023 - 14:40