Blowout 3Y Treasury Auction Shows Record Demand For First Coupon Sale Of 2023, No CPI Jitters
And we're off: the first coupon auction of 2023 is in the history books and what a blowout it was.
Today's sale of $40 billion in 3Y paper can only be described as an absolute whopper, starting at the top: the 3.997% high yield was the 2nd consecutive drop in the yield, and the first sub-4.00% since September; more importantly it stopped through the 4.000% When Issued by 2.3bps, the biggest stop through since at least 2016 (which is how far back our series goes.)
The Bid to Cover was also stellar: at 2.839, it was not only above last month's 2.551 but also above the six-auction average of 2.518; in fact it was the highest since April 2018.
The internals were also stellar, with Indirects taking down a record 69.5%, and with Directs awarded 13.8%, that meant that Dealers were left with just 17.3%, the lowest on record.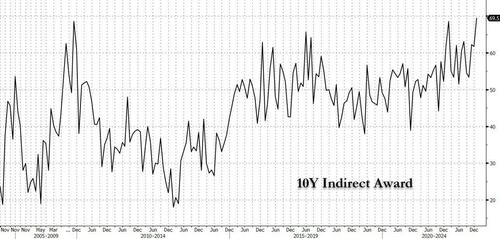 Overall, this was an absolutely blowout 3Y auction and one which suggests the market has no repricing fears about Thursday's CPI report.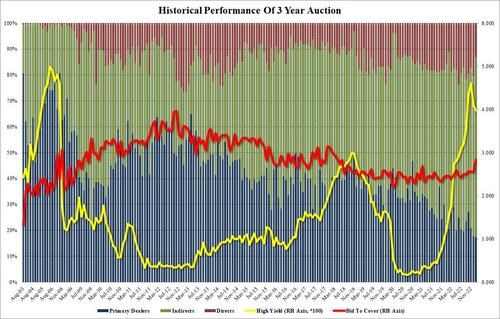 And yes, yields slumped the moment today's stellar auction results were made public.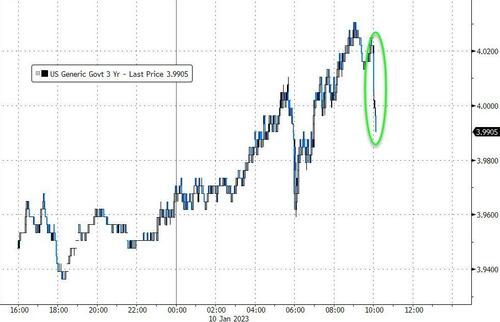 Tyler Durden
Tue, 01/10/2023 - 13:20