Broadcom Slips After Report That Apple Seeks To Replace Its Chip With In-House Silicon By 2025
Shares of Broadcom will be on watch heading into today's cash session after news broke Monday that Apple would be taking steps to "ease its dependence" on the chipmaker by late 2024.
Apple is targeting replacing a Broadcom chip from its devices in the same fashion it phased out Intel with custom silicon, according to AppleInsider this week. The report notes that Apple will be releasing its first modem by the end of 2024/early 2025, which will result in dropping a Broadcom component. 
Broadcom shares slipped more than 1% toward the end of the day Monday on the news and are down another 1% in pre-market trading on Tuesday.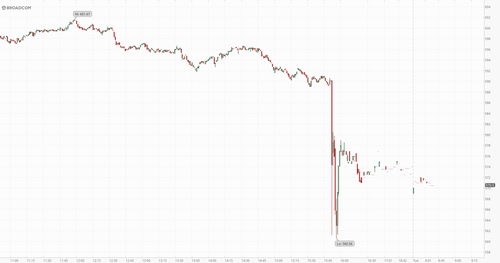 Apple is Broadcom's largest customer, the report notes, and accounts for about 20% of the company's revenue, amounting to about $7 billion last year. It has been "working to limit its reliance on other chipmakers," reporting by Yahoo Finance said on Monday. 
Stacy Rasgon, an analyst with financial services firm AB Bernstein predicted that the move could cost Broadcom $1 billion to $1.5 billion in revenue. Broadcom's radio frequency chips would likely not be replaced in the short-term, Rasgon said, because they are too complex to make. 
AppleInsider noted that Broadcom CEO Hock Tan had mentioned this potential situation on a conference call in December. He said "that while Apple would be reducing its dependence on Broadcom, the company will continue to work with Apple". 
Tan said: "We believe we have the best technology and delivering value to our customers. There's no reason to find something else where you're not the best."
Qualcomm has also been on watch as Apple is reportedly looking to swap out its cellular modem chips with its own on the same timeframe. 
Tyler Durden
Tue, 01/10/2023 - 10:50