China Halts Visas Over 'Unfair' Japan, S.Korea Covid Travel Restrictions
On Tuesday China moved to hit back at South Korea and Japan over their Covid entry restrictions on Chinese travelers, suspending vias for tourists from both countries. The admittedly tit-for-tat move was described as a necessary measure which is to remain in place until "discriminatory" entry restrictions targeting China are lifted, Beijing's embassy in Seoul said.
Starting last week Japan and South Korea halted the issuing of tourist visas for anyone coming from China, which Beijing slammed as "unacceptable" and "unscientific". The communist-run country has just fully opened up its borders after three years of lockdown.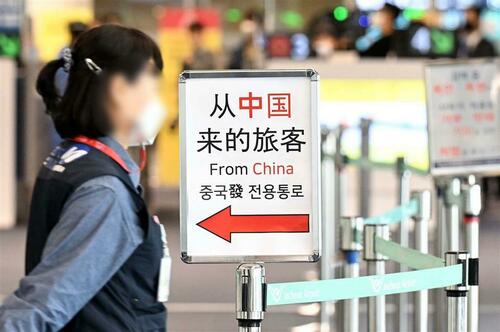 "We firmly oppose discriminatory entry restrictions against China by a few countries, and we will take reciprocal measures," Chinese foreign ministry spokesperson Wang Wenbin announced in a Tuesday briefing.
However, South Korea's foreign ministry described that its earlier measure was "in accordance with scientific and objective evidence" - this also given that South Korea's Disease Control and Prevention Agency has stated that up to one-third of all arrivals from China were testing positive for Covid ahead of the stringent visa restrictions being implemented. 
Other parts of the globe, such as the European Union, have recommended requiring pre-Covid testing for all travelers originating from China. There's even talk of testing wastewater at airports.
But according to the BBC, the most stringent measures remain for Chinese passengers entering South Korea. "At Seoul's Incheon International airport - the only South Korean airport still allowing flights from China - arrivals are met by military personnel in personal protective equipment," the report says.
Nikkei Asia has confirmed that China's retaliatory measures have quickly taken effect: 
The Chinese Embassy in South Korea earlier in the day said it has stopped issuing short-term visas for family visits, business, tourism, medical and other matters.

Japanese travel agencies, meanwhile, told Nikkei that they can no longer apply for business visas or other visas for China for non-humanitarian purposes.
And the spat is directly influencing how Chinese are planning their first post-Covid travel itineraries, with CNBC relating the following from interviews: 
"When China said they were opening the borders in January, all my friends said they're going to Japan and Korea," said Bonnie.

But they couldn't get visas, she said. "So they are now going to Thailand."

Rein said Chinese travelers are now headed to Singapore and Thailand because "both countries are welcoming us."
China Hits Back at South Korea, Japan in First Covid Retaliation - Bloomberg China has suspended issuing some visas for South Korea and Japan in Beijing's first retaliation against Covid-related curbs on Chinese travelers. https://t.co/qVY87gwg7f

— Bill Bishop (@niubi) January 10, 2023
And one South African man living in China said, "I know that many patriotic Chinese colleagues and friends will avoid those countries for now because the practice of only testing passengers arriving from China is discriminatory."
Japan was earliest out of the gate in imposing its restrictions on Chinese travelers, with other countries soon following. South Korea is still reportedly admitting a tiny number of business or diplomatic travelers from China, but they must test negative both before departure and upon arrival in the country. 
China has still held out that its visa issuance cancelation targeting Japan and South Korea can be reversed at any moment: "The actions can be adjusted if South Korea cancels its discriminatory entry ban against China," the Chinese embassy in Seoul clarified in a statement.
Tyler Durden
Tue, 01/10/2023 - 13:09