Getting "Personal": Chuck Todd Dismisses Investigation Into Possible Biden Foreign Influence-Peddling
Below is my column in the New York Post on the new narratives emerging in the media in anticipation of the investigation into Biden influence peddling.
The comments by NBC's Meet the Press host Chuck Todd capture the ongoing efforts to dismiss the serious allegations raised in the scandal.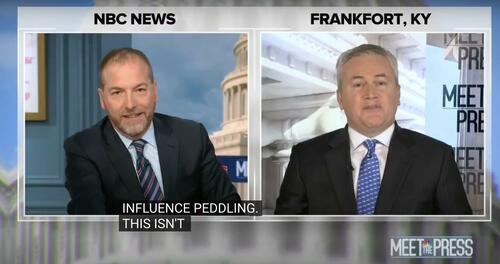 Here is the column:
"It does sound personal": NBC's "Meet the Press" host's words Sunday capture the new narrative in Washington as the House readies the long-delayed investigation into the Biden family's foreign influence peddling.
I previously wrote how the media was preparing to control the damage from the scandal after spending years falsely calling the Hunter Biden laptop "Russian disinformation." Even after belatedly acknowledging the laptop's authenticity two years after The Post's October 2020 reveal, they continue to bury the story involving Russian, Chinese, Ukrainian and other foreign interests, including figures associated with foreign intelligence.
Now the details of one of the largest and most lucrative influence-peddling operations in history could be made public — along with their effort to conceal it.
Even in a city where influence-peddling is a virtual cottage industry, the Bidens took the corrupt practice to a truly Olympian level. The direct references to Joe Biden receiving money and benefits from these contracts should concern any citizen, let alone any journalist. Yet House Democrats blocked efforts to investigate any Biden influence-peddling.
This obstruction was only possible with an enabling and protective media downplaying the scandal. The press continued the effective blackout even as emails showed Biden repeatedly lied about having no knowledge of his son's foreign business.
Such denials, however, are getting more difficult. The Associated Press had to withdraw its absurd recent claim there's no evidence of Biden ever discussing his son's dealings. There's even audio of him leaving a message for Hunter specifically about coverage of those dealings.
Dozens of emails, pictures and witness accounts prove the president was not just aware but a possible beneficiary of this corruption. His personal interactions with his son's business associates include at least 19 visits to the White House by Hunter's partner, Eric Schwerin, alone from 2009 to 2015, when Biden was vice president.
Emails on Hunter's laptop make repeated reference to not only Joe's knowledge but efforts to hide his involvement. In one email, Biden associate James Gilliar instructed Tony Bobulinski, then Hunter's business partner: "Don't mention Joe being involved, it's only when u [sic] are face to face, I know u [sic] know that but they are paranoid." Bobulinski has given sworn statements that he personally met with Joe Biden to discuss these dealings.
Emails used code names for Joe Biden such as "Celtic" or "the big guy." In one, "the big guy" is mentioned as possibly receiving a 10% cut on a deal with a Chinese energy firm. There are also references to Hunter paying off his father's bills from shared accounts.
Code names, cuts for "the big guy" and millions in mysterious foreign transactions would ordinarily send the media into a frenzy. But the Bidens adeptly enlisted the press into suppressing the story. Many in the media became "made men" and women who proved their loyalty. If this is a corruption scandal, there's little the media can do to spin their own role in concealing it from the public.
For their part, Biden allies are gearing up to attack possible witnesses against the Bidens. For the media, however, it's hard to acknowledge let alone pursue a scandal that you actively suppressed for years.
That's what made Chuck Todd's interview with incoming House Oversight Committee Chairman James Comer so revealing. Todd spent most of the interview dismissing the committee's work as a "political" exercise in targeting opponents. Comer's efforts to detail the evidence of the president's role was met by a smirking dismissal from Todd, who ended the interview by saying, "Well, it does sound personal, at that."
So investigating millions of dollars flowing from foreign interests, including some connected to foreign figures or intelligence operatives, is just a personal attack.
If you're wondering how the media would have reacted to even a fraction of such concerns being raised about Trump business deals, you don't have to. They spent years drilling down on every foreign deal, and Todd was one of the most vocal in raising the alarm over foreign influence.
For example, in 2018, Todd doggedly pursued interviews with figures like former House Intelligence Committee Chairman Adam Schiff on Trump foreign deals and bank loans with Russian figures. Schiff declared without contradiction by Todd that "if Trump's [business dealings] are a form of compromise, it needs to be exposed."
Todd conducted a similar interview in February 2019 on influence-peddling allegations involving the Trump family. As Neal Katyal, former acting solicitor general, breathlessly announced a Russian-collusion indictment of Trump "could be coming," Todd asked whether foreign business deals "compromised" the president.
Todd was right to ask if Trump was "compromised" by foreign deals like a Trump Tower in Moscow in 2019. It was neither personal nor political to raise such questions.
But it is now. Totally personal and political. Unlike Schiff, who was heralded for his efforts to uncover evidence of "compromise," Comer was given only two choices by Todd: Will he "de-partisanize" his investigation or "do you expect it to be partisan?"
The problem is that not only will the details of these dealings be made public; the public wants to see those details. Various polls show Americans want an investigation into the matter and believe Congress should address social-media censorship of such stories.
In other words, it's not working. The public is not going to dismiss this influence-peddling scandal with a smirk and a shrug. There will be a public accounting, and it will not be confined to the Biden family.
Tyler Durden
Tue, 01/10/2023 - 16:46