Iran To Execute More Young Men Arrested In Protests As West Weighs Diplomatic Expulsions
Since the start of the September 'anti-hijab' protests triggered by the death in police custody of Mahsa Aimini, Iran has launched a major crackdown which has included the arrests of many thousands, but more recently has involved unprecedented protest-related executions.
Four Iranian citizens have been executed so far for what state authorities have dubbed 'terrorist' acts. There are widespread reports that two more detainees are about to be executed at a prison in the suburbs of Tehran, after hasty trials.
"Protesters gathered outside a prison near the Iranian capital on Sunday night in an attempt to prevent the rumored imminent execution of two young detainees found guilty of running over a police officer in a car during protests in November," The Guardian reports Monday.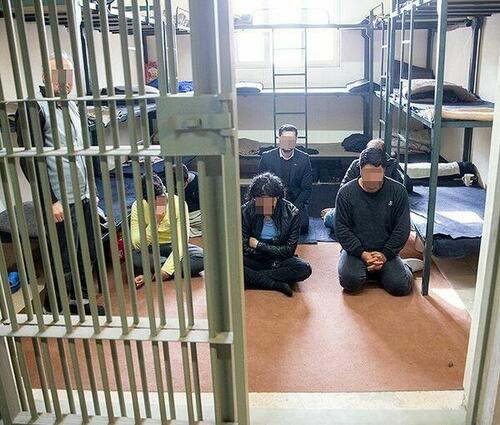 Family members of one of the men, 22-year-old Mohammad Ghobadlou, have reportedly joined protests outside the prison. He along with the other prisoner, Mohammad Boroughani, were reportedly transferred to solitary confinement which has sparked fears of their imminent execution, given this is typical treatment of death row inmates just prior to execution.
This comes after two men were executed only two days ago on Saturday, with The New York Times describing that they were hanged:
Iran on Saturday hanged two men, a 22-year-old national karate champion and a 39-year-old poultry worker, who participated in antigovernment demonstrations and whose executions were condemned as a ploy by the government to use violence and sow fear to crush the protests.

The men, Mohammad Mehdi Karami, the karate champion, and Sayed Mohammad Hosseini, the factory worker, were hanged at dawn on Saturday in the city of Karaj near the capital, Tehran, after hasty trials on charges that they participated in the killing of a member of the Basij paramilitary group in November, according to the judiciary.
Various Western countries have reportedly summoned the respective Iranian ambassadors in their capitals, demanding explanation. For example, France condemned the "appalling" Saturday executions and ongoing severe crackdown on 'anti-hijab' protesters.
Human rights groups have called it "open murder" and claimed that inmates are not receiving fair trials and face trumped-up charges. Iran's foreign ministry has remain staunchly entrenched in defending the nation's judicial process: "Remarks of self-styled defenders of human rights are replete with racist thoughts," a statement posted to the foreign ministry's website said.
Iranians are so upset about #MohammadBroghani and #MohammadGhobadlou being in danger of imminent execution that video is coming in after 3:00 AM in #Iran where they are protesting outside Rajai-Shahr Prison. #StopExecutionsInIran pic.twitter.com/q4U0TQK6X4

— Jason Brodsky (@JasonMBrodsky) January 8, 2023
Meanwhile, some countries like Canada are going so far as to mull expelling Iranian diplomats, saying that Islamic Republic ambassadors don't truly represent their people. There have been growing calls in Germany to do the same.
Detained Iranian demonstrators have continued to receive harsh sentences, including years in prison, sometimes for what the rest of the world would deem mere exercise of free speech. But this has not yet served to stamp out the protests, but has in many cases only enraged people in the streets.
Tyler Durden
Mon, 01/09/2023 - 19:20