No End To Bear Market As Stocks Seek Out New Leadership
Authored by Simon White, Bloomberg macro strategist,
The stock market will remain stuck in a bear market until new sector leadership is clearly established.
The new year has brought with it some optimism, with a seemingly very upbeat take on last week's jobs data – a belief that somehow recession will be averted and the Fed will cut rates. While this is akin to betting a coin is going to land on its edge, there is a more structural headwind to stocks: changing leadership.
The tech sector drove the US stock market through the last cycle. Its exceptional outperformance could be explained on the premium investors were willing to pay for FAANG-like stocks.
However, that exceptionalism has seemingly been jettisoned, with Tesla down 70% from its highs, Meta down 60%, and Amazon and Nvidia over 50%. Apple and Microsoft are relatively unscathed, but even they are not immune to much steeper falls.
Tech remains the largest S&P 500 sector, but its weight is dropping fast, and other sectors' weights are rising.
The world is changing and stock leadership eventually must reflect those changes. We are in state of flux, and it is not clear yet how much tech will be "humbled," and who the new leadership will be, but one clear beneficiary in a more autarkic world with rising geopolitical tensions is energy.
We need only go back to 2008 to reach a time when tech and energy had a similar market cap. In the ensuing go-go years of all things new and shiny and tech, energy was dismissed, and technology grew to be the largest sector, accounting for almost 30% of the S&P.
The market-weight gap between tech and energy has started to narrow and could go much further in a resource-constrained world where tech valuations are prone to overshooting to the downside, which would keep pressure on the headline index.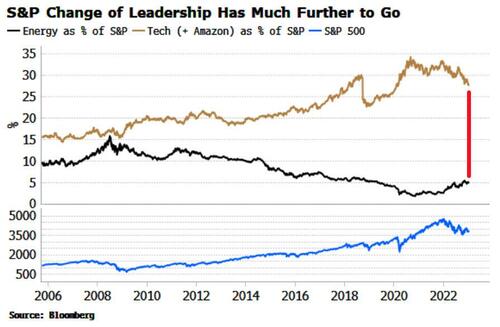 Investors will also continue to adapt to an inflationary world where higher-duration assets will fare less well, and if one is to own them, one needs to be sufficiently compensated. Tech is one of the highest-duration sectors, but its long-term expected EPS growth is inferior to energy, which also has a very low duration, and should fare better with elevated inflation.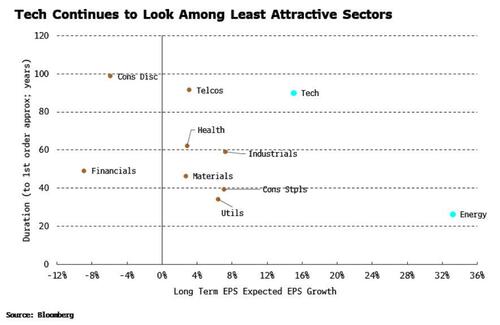 Other sectors have lower long-term expected EPS growth than tech, but have lower duration to compensate.
Until the market has an assertive leader again, it is unlikely stocks can embark on a new bull market.
Tyler Durden
Tue, 01/10/2023 - 12:00