"This Got Way Overhyped": 2016 Russian Twitter Trolls Were Dismal Failure: WaPo
In a report that should come as a surprise to no one (especially after the TWITTER FILES drops), Russia's attempts to influence the 2016 US election via Twitter were a dismal failure that reached relatively few users, and had "no measurable impact in changing minds or influencing voter behavior," according to the Washington Post, citing a study published Monday from the NYU Center for Social Media and Politics.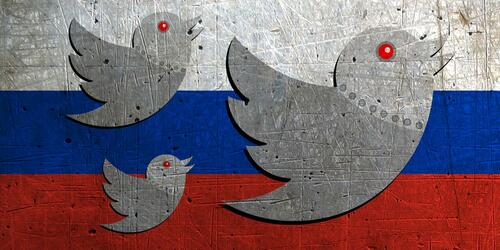 "My personal sense coming out of this is that this got way overhyped," said report co-author Josh Tucker, who co-directs the NYU center. "Now we're looking back at data and we can see how concentrated this was in one small portion of the population, and how the fact that people who were being exposed to these were really, really likely to vote for Trump," he added.
"And then we have this data to show we can't find any relationship between being exposed to these tweets and people's change in attitudes."
Key findings via the Post:
Only 1 percent of Twitter users accounted for 70 percent of the exposure to accounts that Twitter identified as Russian troll accounts.

Highly partisan Republicans were exposed to nine times more posts than non-Republicans.

Content from the news media and U.S. politicians dwarfed the amount of Russian influence content the electorate was exposed to during the 2016 race.

There was no measurable impact on "political attitudes, polarization, and vote preferences and behavior" from the Russian accounts and posts.
Recall just three weeks ago we learned that Twitter saw little to no evidence of foreign influence in the 2016 US election, which the FBI repeatedly sought.
21. Despite Twitter's pushback, the FBI repeatedly requests information from Twitter that Twitter has already made clear it will not share outside of normal legal channels. pic.twitter.com/WyI03iZ0WF

— Michael Shellenberger (@ShellenbergerMD) December 19, 2022
WaPo's caveat here is that Russian influence ops on other platforms may have been more successful.
The study, published this morning in Nature Communications — an offshoot of the science journal Nature magazine — is years in the making. That's due to the amount of time needed to acquire data from Twitter, conduct the study, carry out surveys and run it through the peer review process, Tucker said.

And Twitter is easier to get data from than Facebook, given that posts are public, among other reasons, he said. Thus, the focus on Twitter, despite its smaller user base.

Plus, there were some fundamental differences with observing how people absorbed information on Twitter versus Facebook, Tucker said. "One of the super interesting things we were able to do in this paper is show that lots of what people were exposed to here was not because they were following the accounts of these Russian trolls, but because they follow people who retweeted tweets that came from these Russian trolls, and that's easier on Twitter, where almost everything is open," Tucker said. -WaPo
Except that we know Russian influence campaigns on Facebook in 2016 totaled roughly $100,000.
So yeah, all of that was a lie.
Tyler Durden
Mon, 01/09/2023 - 22:40