Top Marine General In Japan Bluntly Describes US Is "Setting The Theatre" For Future War With China
The top Marine Corps General for Japan this week issued some very revealing statements in an interview focused on countering China in the Financial Times. Despite Chinese leadership insisting that the Taiwan and Ukraine situations are not comparable, this is precisely how Lieutenant General James Bierman presented the situation, even going so far as to admit the Pentagon is preparing a counter-China "theatre" by cultivating military ties with southeast Asian allies.
"The US and Japanese armed forces are rapidly integrating their command structure and scaling up combined operations as Washington and its Asian allies prepare for a possible conflict with China such as a war over Taiwan, according to the top Marine Corps general in Japan," the FT report begins.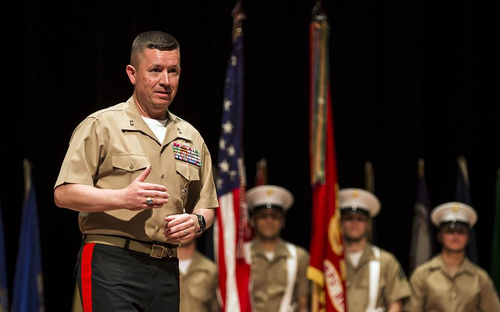 While it's no secret that Tokyo has been more and more openly siding with the US stance on arming Taiwan over the past year, also abandoning its historic post-WWII neutrality by drastically ramping up defense spending, Gen. Bierman confirmed "exponential increases" over the past year in joint US-Japan operations. 
The interview itself is explosive enough to provoke the ire of Beijing officials, given how explicit the theme of the 'Ukraine-ification of Taiwan' is throughout Bierman's statements, especially given it's coming from the commanding general of Third Marine Expeditionary Force (III MEF) and of Marine Forces Japan.
Speaking in an unusually open and detailed manner regarding ongoing preparations to defend Taiwan, the US general said the following:
"Why have we achieved the level of success we've achieved in Ukraine? A big part of that has been because after Russian aggression in 2014 and 2015, we earnestly got after preparing for future conflict: training for the Ukrainians, pre-positioning of supplies, identification of sites from which we could operate support, sustain operations," he said.

"We call that setting the theatre. And we are setting the theatre in Japan, in the Philippines, in other locations."
Again, this kind of talk itself constitutes a brazen shot across China's bow. FT admits Bierman's comments are an "unusually frank comparison" between potential conflict with China and the Ukraine crisis.
Of course, as applied to Ukraine itself the comments are highly revealing, given the casual admission that US defense planners were busy inside Ukraine years ago "earnestly preparing" for war with Russian, even down to the "pre-positioning of supplies" and readying the battle space.
The NDAA that was just signed into law makes clear that the US is rapidly accelerating its Ukraine-ification of Taiwan, including explicitly preparing to wage war against China, but no doubt we'll be told any action taken in response is "unprovoked" https://t.co/KMTKPcpcKw

— Michael Tracey (@mtracey) December 26, 2022
And more frank comments from the top Marine general in Japan, per the interview: 
"When you talk about the complexity, the size of some of the operations they would have to conduct, let's say [in] an invasion of Taiwan, there will be indications and warnings, and there are specific aspects to that in terms of geography and time, which allow us to posture and be most prepared," he said. As part of those preparations, the Philippines plan to allow US forces to preposition weapons and other supplies on five more bases in addition to five where the US has already access.

"You gain a leverage point, a base of operations, which allows you to have a tremendous head start in different operational plans," Bierman said. "As we square off with the Chinese adversary, who is going to own the starting pistol and is going to have the ability potentially to initiate hostilities . . . we can identify decisive key terrain that must be held, secured, defended, leveraged."
Another interesting part of the interview comes in him cautioning regional US allies, including Taiwan, not to overestimate the Chinese military, asserting that the Chinese People's Liberation Army (PLA) should not be fearfully seen as as being "10 feet tall".
The general's remarks were published at the very moment China is continuing its threatening drills aimed at Taipei, which since Nancy Pelosi's provocative August trip to the self-ruled island has featured PLA fighters and navy ships breaching the Taiwan Strait media line on frequent occasions, including dozens of times on Sunday. It was the second major exercise within less than two weeks into 2023, which the PLA Eastern Command described as "joint combat readiness patrols and actual combat drills."
If Pentagon leadership continues down this path of casting the Taiwan-China standoff in terms directly relatable to the Russian invasion of Ukraine (and correspondingly, the Unites States' arming of Kiev to the teeth... comparable to arms transfers to Taipei), we can fully expect Beijing to steadily ramp up its aerial and naval threatening drills aimed at Taiwan.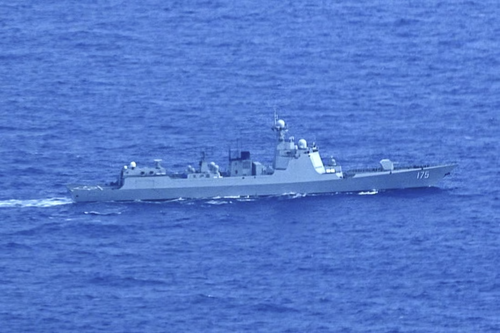 China's longstanding official policy, including that which is consistently articulated by President Xi, has been that it only seeks peaceful unification, and that it remains only Washington "playing with fire" in falsely stoking pro-independence forces. Yet Beijing is certainly not naïve, and appears busy paving the way of setting its own theatre looking ahead to a potential clash.
For example, a fresh report in South China Morning Post cites evidence of recent PLA Navy maneuvers that strongly suggest it's seeking to expand warfighting capacity in Pacific waters:
A People's Liberation Army warship's solo trip deep into the South Pacific is believed to have been a test of the Chinese navy's refueling and supply capacity at sea.

The PLA Navy's guided-missile destroyer Yinchuan (hull number 175) had been sailing near the exclusive economic zone of New Caledonia, a French overseas territory in the South Pacific, about 1,500km east of Australia, according to a French defence ministry tweet on December 29.

French navy jets tracked and photographed the warship's activities, it said.
The same warship had only last month been spotted sailing close to French Polynesia, causing SCMP to point out that "The area it appeared in was tens of thousands kilometers away from the Chinese coast, and far beyond the range the 7,500-tonne destroyer could sustain without resupply, leaving aside the requirements for the return journey."
China and Philippines agree on new channels to resolve South China Sea maritime issues, Ferdinand Marcos Jr. and Xi Jinping also agreed to restart joint oil and gas exploration. pic.twitter.com/VYe7ZKrYyB

— Geopolitics.wiki (@GeopoliticsW) January 5, 2023
Meanwhile, China also necessarily finds itself in a position where it must utilize strong diplomacy - or else soft power - with its neighbors as it seeks to mitigate the effects of America's significant and growing regional presence. As but the latest clear example, last week Philippine President Ferdinand Marcos visited Beijing. He met with his Chinese counterpart Xi Jinping on Wednesday, and the two agreed to "friendly consultation to appropriately resolve maritime issues," according to state media.
* * * 
War-gaming a China-US war over Taiwan: a hypothetical invasion would exact "high costs on the island and the US Navy," according to a new think tank study...
A hypothetical Chinese invasion of Taiwan "quickly founders" but exacts high costs on the island and the US Navy, according to a Washington think tank's war games https://t.co/Bc9Hl8zOYM

— Bloomberg (@business) January 9, 2023
Tyler Durden
Tue, 01/10/2023 - 17:05