Torrential Rains Trigger Flash Floods Across California
Update (1455ET):
When is the moisture conveyor belt from the Pacific going to stop? It seems never-ending.
The tyranny of the Pacific jet extension will continue for at least a few more days in #California. I'm not an expert on CA rainfall climatology, but it seems remarkable to see this train of events in a La Nina year. Hope they get a break from the flooding soon. #CAwx pic.twitter.com/dRBgBnfkHn

— Dr. Levi Cowan (@TropicalTidbits) January 10, 2023
*   *   *
Update (1010ET):
The next round of storms is slated for tonight.
The next log on the atmospheric Splash Mountain will arrive with another dump of rain and snow across California tonight. Currently visible offshore via @Windycom app. #CAwx #flood #AtmosphericRiver pic.twitter.com/RB64zIBxNh

— Aaron Jayjack (@aaronjayjack) January 10, 2023
*   *   *
Since the end of December, a 'parade of cyclones' has swamped California. The latest round of torrential rain has caused flooding in Los Angeles County, and still unclear in the early morning hours of Tuesday the extent of the destruction, though social media video on Monday evening shows flooded streets, overflowing streams and rivers, and mudslides in what is usually a dry, sunny place where residents have to worry about drought.
National Weather Service said 34 million people are under flood alerts across Southern and Central California through early Tuesday. In Los Angeles County, a flood warning is in effect through the evening. 
Yet another surge of moisture will inundate #California on #Tuesday for more heavy rain and flooding. A moderate threat (level 3 out of 4) for excessive rain and #flooding covers a large chunk of southern California, including the Los Angeles metro area. #TurnAroundDontDrown pic.twitter.com/BJg4pGfbyz

— National Weather Service (@NWS) January 9, 2023
Dramatic footage has surfaced on social media showing the widespread flooding. 
BREAKING: Ellen DeGeneres shares an intense clip of raging flood waters near her home in Montecito, California, which is under mandatory evacuation following the recent storm system in the area.#southerncalifornia #flooding pic.twitter.com/WetD81ocD2

— Los Angeles Magazine (@LAmag) January 10, 2023
Flooding east of Fresno, California. #flooding #naturaldisaster #water #flood #California pic.twitter.com/zYuBhNGkh5

— Trevor (@trevsaucy) January 10, 2023
California is a mess. Mass-flooding happening all because Gavin Newsom can't get his shit together. He's a horrible Governor and the reason for all ot this. Here's a shot of what Santa Cruz, California looks like. pic.twitter.com/lzIKlpvSwX

— The Sly Show🇺🇲 (@theslyshow) January 9, 2023
Just how bad is the flooding in California?

My daughter just sent me this photo from downtown San Luis Obispo (she's a senior at Cal Poly) pic.twitter.com/V56Qzj0Zzn

— Adam Taggart (@menlobear) January 9, 2023
Flooding in California. Highway 101 is completely covered by the Ventura River... pic.twitter.com/RGsTxKrV3Q

— Citizen Free Press (@CitizenFreePres) January 10, 2023
EXTREME CAUTION
STATE ROUTE 168 CLOSED at top and bottom of 4-lane.

See dramatic video from @ChpFresno Officer.

Avoid travel to Shaver Lake and above if at all possible!⚠️ @ABC30 @KSEE24 @KMPHFOX26 @CBS47 @FresnoBee @FresnoSheriff @CaltransDist6 @Cal_OES pic.twitter.com/0B2Qqgm85z

— CHP Fresno (@ChpFresno) January 9, 2023
Forecasters estimate the latest round of rain could bring upwards of 5-10 inches in some areas by the end of this week.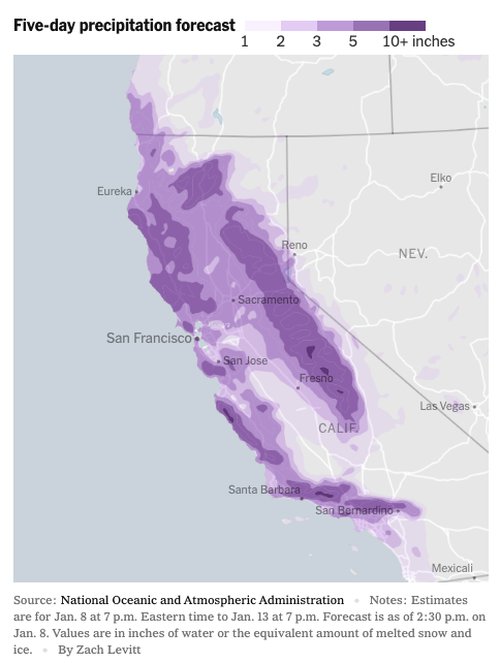 More stormy weather is forecasted for today. NWS said heavy precipitation is expected this morning and will begin to taper later in the day, warning a new and "energetic" low-pressure system was becoming more powerful offshore.
Officials said Los Angeles and San Diego residents faced an increased risk of flash flooding and mudslides. Tropical storm-strength winds were also forecast for San Luis Obispo County. Parts of Highway 101, which runs up and down the West Coast, were closed due to flooded-out sections of the major roadway. 
Santa Barbara County told residents to shelter in place and closed public schools today. Officials told wealthy residents of Montecito, such as Prince Harry and Meghan, the Duchess of Sussex, to evacuate because of the flooding.   
And it was just only six months ago 'global warming' alarmists and celebrities were complaining about droughts... 
California Governor Gavin Newsom announced yesterday that storms had caused 14 deaths. He said that figure was higher than deaths caused by "wildfires in the past two years combined."
The endless deluge is due to an atmospheric river leaving low altitudes with record amounts of rain and high altitude with feet of snow. In the Sierra Nevada, a mountain range in Eastern California, some areas received 1 to 4 feet of snow. 
Most of California has seen rainfall totals in the past few weeks up to 600% higher than average, according to NWS. AccuWeather said the storms have already caused more than $1 billion in losses and damages. 
Tyler Durden
Wed, 01/11/2023 - 04:50