Virgin Orbit Shares Plunge After Air-Launching Satellite Mission Fails
Richard Branson's Virgin Orbit Holdings Inc. crashed in US premarket trading after a rocket launched from a Boeing 747 jumbo jet experienced an "anomaly" and prevented the payload of satellites from reaching orbit.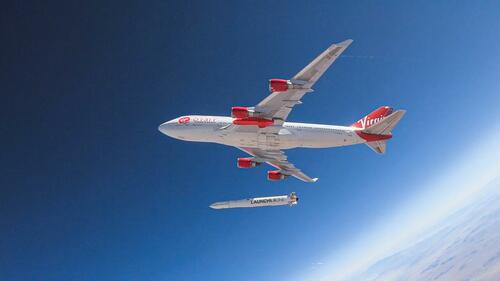 "The rocket then ignited its engines, quickly going hypersonic and successfully reaching space. The flight then continued through successful stage separation and ignition of the second stage. However, at some point during the firing of the rocket's second stage engine and with the rocket traveling at a speed of more than 11,000 miles per hour, the system experienced an anomaly, ending the mission prematurely," Virgin Orbit wrote in a statement published on Twitter.
We appear to have an anomaly that has prevented us from reaching orbit. We are evaluating the information.

— Virgin Orbit (@VirginOrbit) January 9, 2023
The crew of the Boeing 747 that air-launched the rocket at 35,000 feet returned safely to the ground. This was Britain's first attempt to send satellites into low-Earth orbit from its own soil, which turned out to be a flop and a major setback for Virgin Orbit. 
Shares of Virgin Orbit plunged as much as 25% to $1.46 in premarket trading. Since going public through a SPAC merger in late 2021, shares have slumped 85%.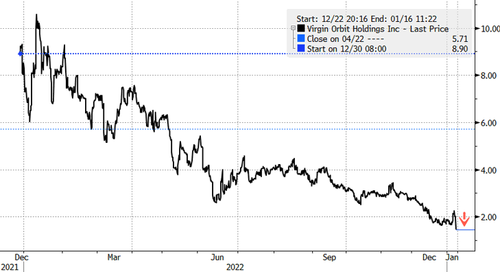 "While we are very proud of the many things that we successfully achieved as part of this mission, we are mindful that we failed to provide our customers with the launch service they deserve," Dan Hart, Virgin Orbit CEO, said. 
Tyler Durden
Tue, 01/10/2023 - 07:20