World Bank Warns Global Economy "Perilously Close To Falling Into Recession"
Six months ago, The World Bank slashed its global growth outlook for 2022 and 2023 to +2.9% and +3.0% respectively blaming "the war in Ukraine, lockdowns in China, supply-chain disruptions, and the risk of stagflation" for hammering growth.
Today, in its latest report on global economic prospects, The World Bank has slashed its growth forecast for 2023 by almost a half to just +1.7%, led by weaker growth in all the world's top economies — the United States, Europe and China.
"Global growth has slowed to the extent that the global economy is perilously close to falling into recession," the World Bank said.
That would mark the third-weakest pace of global growth in nearly three decades, overshadowed only by the 2009 and 2020 downturns.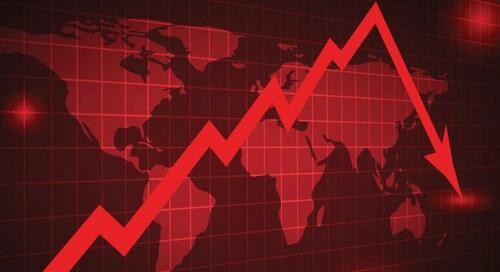 The World Bank called on global central banks to remain alert to the risk that aggressively tightening monetary policy to fight inflation could spill across borders. The new report called for discussions between central bankers to "help mitigate risks associated with financial stability and avoid an excessive global economic slowdown in the pursuit of inflation objectives."
"Weakness in growth and business investment will compound the already devastating reversals in education, health, poverty, and infrastructure and the increasing demands from climate change," said David Malpass, president of the World Bank.
For now, those central bankers are facing their nemesis... Stagflation...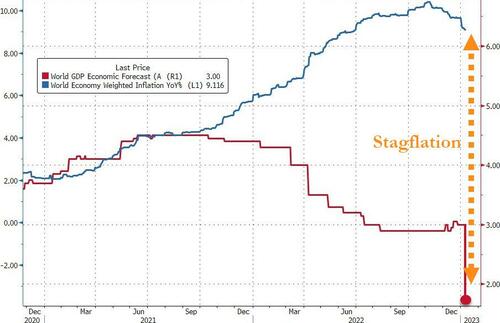 Though the United States might avoid a recession this year - the World Bank predicts the U.S. economy will eke out growth of 0.5% - global weakness will likely pose another headwind for America's businesses and consumers, on top of high prices and more expensive borrowing rates.
The United States also remains vulnerable to further supply chain disruptions if COVID keeps surging or the war in Ukraine worsens.
And Europe, long a major exporter to China, will likely suffer from a weaker Chinese economy, projecting that the EU's economy won't grow at all next year after having expanded 3.3% in 2022.
It foresees China growing 4.3%, nearly a percentage point lower than it had previously forecast, and about half the pace that Beijing posted in 2021.
"The risks that we warned of six months ago have materialised and our worst-case scenario is now our baseline scenario," said Ayhan Kose, the World Bank economist responsible for the report.

"The world's economy is on a razor's edge and could easily fall into recession if financial conditions tighten."
If the World Bank's gloomy prognosis was realised, the current decade would become the first since the 1930s to experience two global recessions.
The report follows a similarly gloomy forecast a week earlier from Kristina Georgieva, the head of the IMF, the global lending agency. Georgieva estimated on CBS' "Face the Nation" that one-third of the world will fall into recession this year.
Tyler Durden
Tue, 01/10/2023 - 10:01