At Least 5 Killed In Kabul Suicide Blast Possibly Targeting Chinese Delegation
A huge suicide bomb ripped through a busy street outside of Afghanistan's foreign ministry building in the capital of Kabul on Wednesday, killing at least 5 people, according to an initial government assessment. Al Jazeera suggested possibly 20 or more killed, based on statements from the scene.
It's the second major terror attack in a matter of weeks. The Taliban's information ministry described that the bomber attempted to enter the foreign ministry at a moment a Chinese delegation was meeting with Taliban officials there.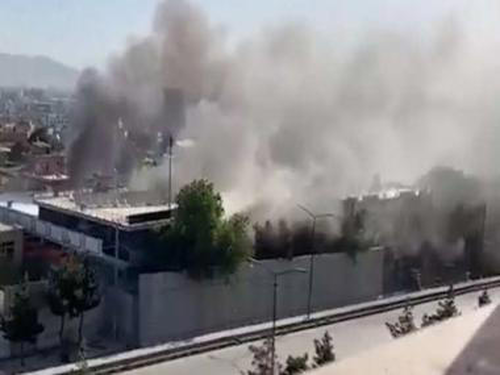 "There was supposed to be a Chinese delegation at the foreign ministry today, but we don't know if they were present at the time of the blast," deputy minister of information and culture Muhajer Farahi described to AFP.
It's unclear if the Chinese delegation was targeted. If so, it would appear that terrorists are specifically seeking to go after the Chinese government's diplomatic and business presence in the country.
China has already been on alert, with Taliban authorities earlier vowing to protect Chinese nationals, after the December 12 bombing and shooting attack on Kabul's Longan Hotel, which is well-known gathering place of Chinese businessmen and diplomats. 
South China Morning Post reviews of that earlier assault and others:
Isis - a key rival of the Taliban - claimed responsibility for the December 12 attack on Kabul Longan Hotel, which left five Chinese nationals injured. Several Afghan military and police were also killed.

The assault on the Longan - a hotel run by Chinese that had served a wave of visiting Chinese businessmen since the Taliban took over the country - came less than two weeks after an attack on Pakistan's embassy in Kabul. In September, a suicide bomber hit Russia's mission.
During that prior attack involving gunmen storming the hotel, multiple Chinese nationals were injured trying to flee, and Afghan security forces were killed: 
Warning! Graphic! People are falling out of Chinese owned Country Garden Hotel in Kabul, Afghanistan to escape fire after terrorist attack. Many Chinese nationals stayed there. pic.twitter.com/yWSGlOjjiF

— Carl Zha (@CarlZha) December 12, 2022
As for this new suicide attack on the foreign ministry, Al Jazeera reports:
A driver with the AFP team waiting outside the information ministry next door saw a man with a backpack and rifle slung over his shoulder walk past before the man blew himself up.

"He passed by my car and after a few seconds there was a loud blast," Jamshed Karimi said.
The casualty toll is expected to change throughout the day as emergency and security personnel rush to the scene, and as the injured fill up local hospitals. China, as well as Russia and some other countries have kept an embassy presence in the war-torn country following the US-NATO pullout in August 2021.
Tyler Durden
Wed, 01/11/2023 - 12:25