French Workers Vow "Mother Of All Battles" As Macron Govt To Raise Retirement Age To 64
Get ready for the riots to break out... France's government has just proposed raising the legal retirement age as it embarks on significant reforms to the pension system, and not for the first time. The Macron government going years back was already met with fierce pushback and anger upon earlier similar proposals and major overhaul attempts. The plan was unveiled Tuesday by Prime Minister Élisabeth Borne, and proposes raising legal retirement age from 62 to 64 by 2030.
The plan stopped short of Macron's previously proposed 65, and an outline of the proposal seeks to require that workers pay into the system for two more years, raising this from the current 41 to 43 years paying in.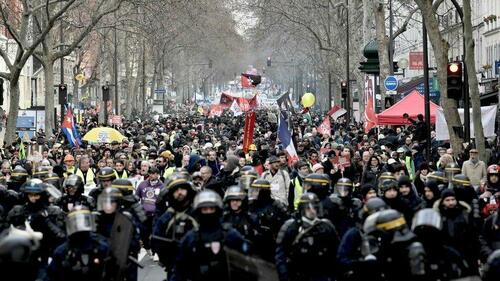 The Macron government has argued a major overhaul is urgently necessary to stave off a coming huge deficit in the system. Macron has been pushing for such reforms since his first election in 2017. 
According to the details of the plan as summarized in BBC:
A full pension from 2027 will require working for 43 years (instead of 42 years currently)
Guaranteed minimum pension income of not less than 85% of the net minimum wage, roughly €1,200 (£1,060) per month at current levels, for new retirees
Police officers, prison guards, air traffic controllers and other public workers in jobs deemed physically or mentally arduous will keep the right to retire early
Their retirement age will be increased by the same number of years as the wider labor force
End to so-called "special regimes" with different retirement ages and benefits for rail workers, electricity and gas workers, among others.
Some of the above listed 'sweeteners' such as the increase in minimum pension to around €1,200 over and above the current €900 is an attempt to win the public's support ahead of it being presented to parliament in the next weeks.
Widely cited recent polls point to around 70-80% of the population opposing Macron's desired retirement age of 64. Already labor unions are planning large protests to begin next week, including some strikes set to begin Jan.19, with the FT citing the following union leaders touting they are ready for the "mother of all battles":
Frédéric Souillot, head of the Force Ouvrière union, put the government on notice earlier this week that unions were willing to shut down the economy to stop the pensions law. "If for Emmanuel Macron this is the mother of all reforms, then for us it is the mother of all battles," he said.

Far-left leader Jean-Luc Mélenchon called the proposal a "grave social regression", while Le Pen called it "unjust" and said the French could count on her far-right party's "total determination" to block it.
Protests have already been growing in some locales, with larger demonstrations expected next week...
Thousands of gilets jaunes (yellow vests) have taken to the streets of Paris to protest Pres Macron's reform of the country's retirement system & inept handling of the inflation problem. Strikes & protests are grinding France to a halt. Take a look:pic.twitter.com/Gcoo1NDorC

— Steve Hanke (@steve_hanke) January 7, 2023
It comes at a moment of rising cost of living across Europe and the West broadly, and amid deep uncertainty over near-future term energy and food prices related to the Ukraine war and fast-moving geopolitical events.
PM Borne is setting out to convince the population that the system must "evolve to ensure its future" - given especially that other European countries have already adjusted. "I know French people are worried about the changes, and we want to explain it and convince them," she sought to assure.
Tyler Durden
Wed, 01/11/2023 - 04:15