Hundreds Of Illegal Aliens Intercepted Off Florida Coast Repatriated To Cuba, Haiti
Authored by Caden Pearson via The Epoch Times,
The U.S. Coast Guard repatriated 83 illegal aliens to Haiti on Monday and 273 to Cuba on Sunday after they were intercepted in the Florida Keys over the New Year period.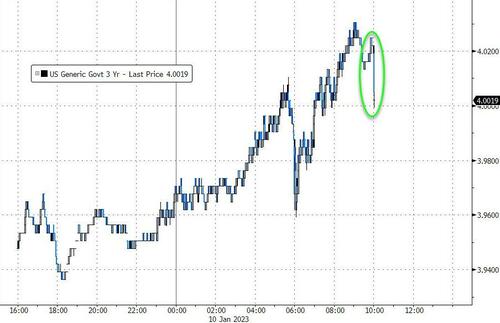 (L) An illegal alien vessel about seven miles south of Big Pine Key, Florida, on Jan. 1, 2023; (R) A vessel carrying Haitians on Jan. 3, 2023, who were repatriated to Haiti on Jan. 9, 2023. (Courtesy of U.S. Coast Guard)
The Coast Guard said it continues to intercept and rescue illegal aliens from overloaded and unseaworthy vessels and warned that those interdicted at sea would be repatriated.
In a statement about the 83 Haitians repatriated on Monday, Lt. Travis Poulos said Coast Guard District Seven and partner agencies continue to patrol the Florida Straits, Windward, and Mona passages.
"These ventures are extremely dangerous and could cost you your life," Poulos said.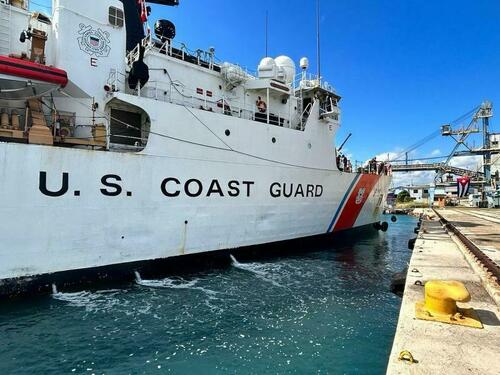 The Coast Guard Cutter Mohawk's crew departs Matanzas, Cuba, following a repatriation of Cuban illegal aliens to Cuba on Jan. 8, 2023. (Lt. Cmdr. Ryan Newmeyer/U.S. Coast Guard)
The 83 Haitians were first spotted in a sailing vessel by a West Palm Beach Coast Guard crew near Hobe Sound on Jan. 2, then again by a good Samaritan on Jan. 4 about five miles east of Key Lago—around 156 miles apart. There were men, women, and children aboard, according to the Coast Guard.
Lt. Cmdr. John Beal said Coast Guard District Seven crew continue to intercept and rescue Cubans "from grossly overloaded, unseaworthy vessels."
"These illegal voyages are always dangerous and often deadly," Beal said in a statement on Sunday.

"We are working closely with partner agencies to save lives and prevent illegal entry to the United States via our southeast maritime border. Those interdicted at sea will be repatriated."
Florida's state government will also deploy aircraft from the Florida National Guard to back up marine patrols to "support water interdictions and ensure the safety of migrants attempting to reach Florida through the Florida Straits."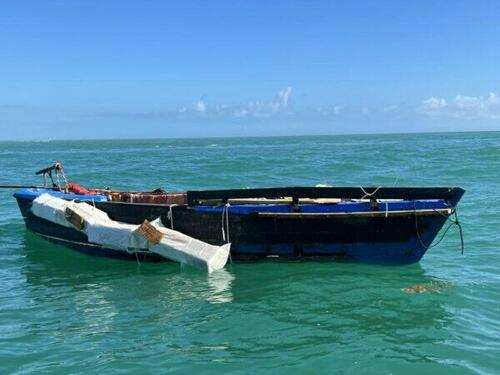 A vessel carrying illegal aliens who were repatriated to Cuba on Jan. 8, 2023; reported to U.S. Coast Guard Sector Key West watchstanders by a good Samaritan about four miles south of Duck Key, Florida, Jan. 1, 2023. (Courtesy of U.S. Coast Guard Station Marathon's crew)
DeSantis Activates National Guard
Over 300 illegal aliens unlawfully arrived in the Florida Keys over the New Year period, prompting Gov. Ron DeSantis to sign an executive order on Jan. 6 to activate the National Guard.
State officials were forced to shut the Dry Tortugas National Park, about 70 miles west of Key West, after 300 aliens landed there, while a further 45 arrived in Key West. The Coast Guard said around 10 vessels were reported and intercepted throughout the Florida Keys between Dec. 31 and Jan. 1.
"As the negative impacts of [President Joe] Biden's lawless immigration policies continue unabated, the burden of the Biden administration's failure falls on local law enforcement who lack the resources to deal with the crisis," the Republican governor said in a statement.

"That is why I am activating the National Guard and directing state resources to help alleviate the strain on local resources. When Biden continues to ignore his legal responsibilities, we will step in to support our communities."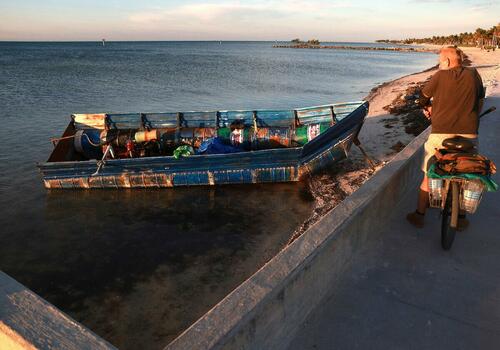 A boat that was left along the shoreline after it was used recently to transport Cuban illegal aliens from the island nation to America in Key West, Florida, on Jan. 6, 2023. (Joe Raedle/Getty Images)
In addition, DeSantis's executive order (pdf) directs state law enforcement and other state agencies to "provide resources in support of local governments" responding to the influx of illegal aliens in the Florida Keys, as well as "additional support toward efforts to prevent further migrant landings on Florida's shores."
The 194 deputies of the Monroe County Sheriff's Department struggled to manage the influx of hundreds of illegal aliens while also trying to ensure public safety, according to DeSantis's office.
Biden Parole Program
On Jan. 5, Biden announced a new policy to turn back Cubans, Haitians, Nicaraguans, and Venezuelans who arrive illegally in the United States. People from these four countries make up the majority of illegal aliens crossing the southwest border, Biden said.
The "parole program" will allow up to 30,000 people a month from those four countries to seek asylum in the United States, provided they apply online while in a non-U.S. country, pay their airfare, and find a U.S. sponsor. They then need to make an appointment via the CBP One app to meet with a border agent.
"But if their application is denied or if they attempt to cross into the United States unlawfully, they will be returned back to Mexico and will not be eligible for this program after that," Biden said.
The president said his administration expects this will "substantially reduce" the number of people attempting to cross the southwest border "without going through a legal process."
"We can't stop people from making the journey, but we can require … that they come here in an orderly way under U.S. law," he added.

"And let me say it again: The actions we're announcing today will make things better … but will not fix the border problem completely."
The Coast Guard said it's intercepted and blocked 4,795 Cubans trying to enter the United States illegally since October, while the governor's office said over 8,000 illegal aliens have been encountered in the waters off Florida since August.
Tyler Durden
Tue, 01/10/2023 - 21:25