It's "Silly" To Pretend Kiev Won't Become A NATO Member: Ukrainian Ambassador
Authored by Kyle Anzalone via The Libertarian Institute, 
A Ukrainian official said it was logical for Kiev to become a member of the North Atlantic Treaty Organization and the European Union. The country's Ambassador to the UK, Vadym Prystaiko, claimed it was "silly" to exclude Kiev from the Brussels-based alliance because Ukraine will be "full" of weapons manufactured in NATO member states. 
In an interview with Newsweek, Prystaiko called for Kiev to gain immediate ascension into the North Atlantic alliance. The Ambassador said, "NATO is just logical. Ukraine will be full of NATO weaponry, and the people will be prepared. So what is the difference? Just place a seat at the table." He continued, "So we're becoming interoperable because we're doing it on the ground. And that's why I'm sure that whether the political decision is here or not now, we will be a part of NATO."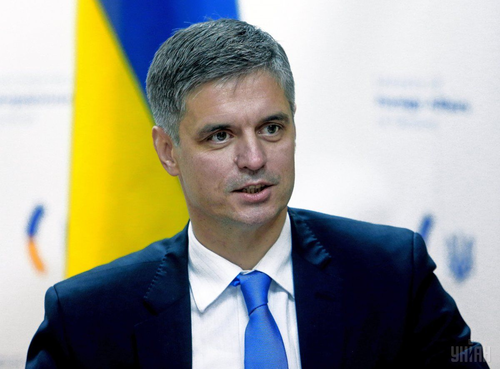 Ukraine was put on the path to NATO membership, along with Georgia, in 2008. Giving Ukraine the status as a potential member crossed key redlines set out by the Kremlin.
While Ukraine has been on the path to membership in the North Atlantic alliance for nearly 15 years, Kiev falls short of meeting several requirements to formally join the defense pact. 
During that period, Washington has repeatedly told Kiev it does not qualify to join the alliance. At the same time, it refused to take membership off the table, violating a core Russian security concern. 
Under President Joe Biden, Washington took several steps to make Kiev a member of the alliance, including; signing agreements, providing billions in military aid, and conducting NATO war games in Ukrainian territory.
Ukraine's growing military ties with NATO was a key factor in Russian President Vladimir Putin's decision to invade his neighbor. Ukrainian President Volodymyr Zelensky claimed his country was already a "de facto" member of the alliance. 
Prystaiko claimed that eventual membership in NATO and the EU was a guarantee for Kiev, and it was "silly" to pretend otherwise. "Our conversation with the rest of the world—at least the Western world—should be very easy. Ukraine wins, becomes a member of the European Union and NATO. And that's it," he said.
Tyler Durden
Wed, 01/11/2023 - 17:00