Market Looking Through Consumer Squeeze A Tad Fast
By Michael Msika and Joel Leon, Bloomberg Markets Live reporters and analysts
January's risk-on sentiment is giving a boost to retail stocks both in the UK and Europe, reflecting surprisingly strong sales, expectation of peaking inflation and bottoming consumer confidence. Yet it might be early to turn fully optimistic on the beaten-down sector.
As some of the biggest stock market underperformers of last year, retailers have been on a roll this month, and were given an extra boost in the UK by surprisingly good sales updates from Next and Card Factory. JD Sports Fashion and Sainsbury's both provided upbeat guidance this morning, seeing earnings toward the top end of market expectations. Marks & Spencer, Asos, and Tesco are due to report sales this week, testing the emerging uptrend.
Since the start of the year, retailers are among the best performers, with the Stoxx 600 Retail Index up nearly 10%, and the FTSE 350 Retailers Index up about 9%, with all members in the green.
"In general, we think the rally since November has been overdone and rising central bank policy rates together with lower consumption from a weaker consumer trends will remain a headwind in the first quarter," says Liberum strategist Joachim Klement. That said, he is still "quite optimistic" on the sector for the full year, citing declining cost pressures, while real rates should stabilize or even drop once central banks halt monetary tightening.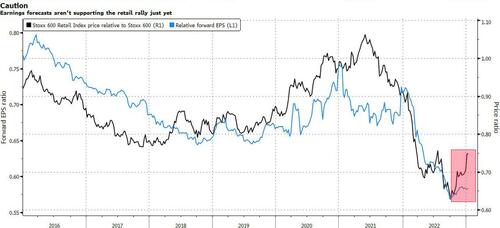 Such an environment "should lift retailers a lot in 2023 and create a vigorous re-rating that might lead to double-digit returns from current levels for the calendar year 2023, but it very much depends on central banks stopping to hike and inflation continuing its downward trend," Klement says.
While UK consumer spending remains bruised by the ongoing cost-of-living crisis, some analysts are starting to anticipate a slowdown in inflation and recovery in living standards later this year.
"Maybe there is light at the end of the tunnel," say Shore Capital analysts Clive Black and Eleonora Dani. The update provided by Next was a "positive stake in the sand," even as the amount of optimism it generated remains a bit of a surprise, they add.
Next provided "comfort" as the retailer outlined expectations of cost inflation peaking at 8%, the analysts say. While the next two months will be challenging for households, they anticipate UK consumer inflation slowing to between 3% and 5% by the end of 2023.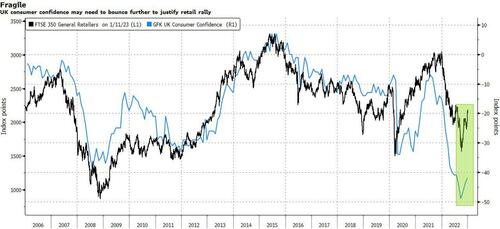 The last year has been brutal for the retail industry, as companies were hit by surging input costs at a time that consumers saw their disposable incomes drop due to rising prices and loan costs. That's particularly true for the UK, where the consumer has been less shielded against higher energy prices than in the rest of Europe, while mortgage rates have also soared.
The latest surge has taken relative valuations to the broader market for the sector above their 15-year average, both in UK and Europe, showing a 30% premium in Europe, 16% in the UK.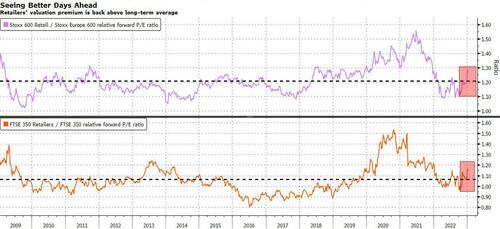 JPMorgan and Barclays strategists both rate the sector at market-weight, citing unattractive valuations, low consumer confidence and an uncertain macro-economic outlook.
Tyler Durden
Wed, 01/11/2023 - 12:51