Saudi Arabia Looks To Invest In Mining Assets To Secure Critical Minerals
Authored by Tsvetana Paraskova via OilPrice.com,
Saudi Arabian Mining Company (Ma'aden) has signed an agreement with the Saudi sovereign wealth fund, the Public Investment Fund, to set up a joint company that will invest in mining assets abroad to secure strategic minerals.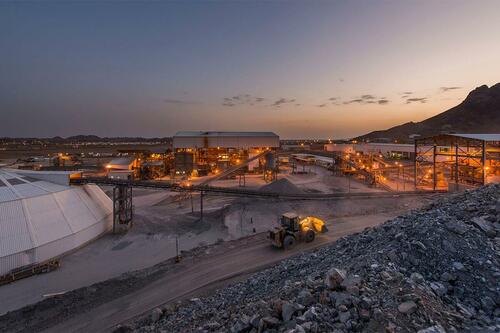 Under the joint venture agreement, Ma'aden will own 51% of the new company, while the Public Investment Fund (PIF) will own the remaining 49%, Ma'aden said in a statement on Wednesday.
The joint company plans to initially invest in the iron ore, copper, nickel, and lithium sectors as a non-operating partner taking minority equity positions, Ma'aden said.
"This will provide physical offtake of critical minerals to ensure supply security for domestic minerals downstream sectors and positioning Saudi Arabia as a key partner in global supply-chain resilience," the company noted.
Separately, Ma'aden announced an agreement to buy 9.9% in U.S.-based technology firm Ivanhoe Electric Inc for $126.4 million and form with Ivanhoe Electric, a Saudi-based joint venture company, to explore and develop mining projects in Saudi Arabia.
According to Ma'aden's statement, Ivanhoe Electric "applies a suite of technological solutions to dramatically increase the quality and efficiency of metals-focused exploration campaigns, which aligns with Ma'aden's strategy to gain leverage of commodities with long-term growth potential." 
In October 2021, the top executive of the state miner of the world's top oil exporter said that the company plans "huge" investments in exploring for lithium and nickel in Saudi Arabia over the next two decades.
"In the next 10 to 20 years we are going to spend huge amount of money looking for those metals in Saudi Arabia," Maaden's chief executive officer Abdulaziz Al Harbi told Bloomberg at the time, asked about the key battery metals lithium and nickel.
The world's largest oil exporter is thus betting on critical battery metals, whose demand is set to grow exponentially in the energy transition. 
Tyler Durden
Wed, 01/11/2023 - 14:05