Shortage Fears Spike As Some Costco And Walmart Stores Run Out Of Eggs
Most Americans have watched their food expenses at grocery stores ballon in recent years. The one item that likely shocked consumers the most is the skyrocketing price of a dozen eggs.
Avian flu has decimated the US egg-laying hen population at commercial farms. Tens of millions of hens have been culled to prevent one of the worst bird flu outbreaks on record from spreading, though efforts have failed as the virus continues to decimate US egg production, sending retail prices sky-high.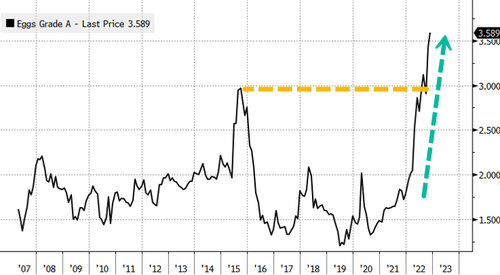 Readers have known about the dire egg situation for many quarters, but the evolving story is that people are now posting images of supermarkets across the country running out of eggs.
Never in our life's has this country run out of #Egg #eggflation thanks to the irresponsible money printing of @TheDemocrats @POTUS and #FederalReserve pic.twitter.com/0A2I9YWM5Y

— Golden Coast (Cassandra) (@GregCrennan) January 10, 2023
Costco customers are stunned by the egg shortage.  
This Costco is now completely sold out of eggs.🚨

2020 was toilet paper.
2023 is going to be a run on eggs. Get yours now.

Part of this is avian flu and reduced numbers production.

🔊sound ...🔥🔥🔥 pic.twitter.com/GfyyEu2dpz

— Wall Street Silver (@WallStreetSilv) January 10, 2023
2 weeks still no eggs at Costco in So cal!#thanksbiden pic.twitter.com/0iZeIbrP4o

— Wakethruster (@wakethruster) January 10, 2023
Wow even Costco is out of eggs. pic.twitter.com/9V4PkR57wz

— Joshua T. Hosler (@JoshuaHosler) December 31, 2022
Not only is an 18 pack of eggs $8, there's now these signs all over the place. Costco can't even keep their eggs in stock past 830am.

We need to be talking about this more. I don't care what the President and his people say, it's getting worse, not better. pic.twitter.com/e0d0Uf0gNI

— Tuggs🍷🥩✝️ (@thattugglife) January 4, 2023
I don't really want to panic….but Costco is out of eggs and egg whites now too pic.twitter.com/ZVdkpZODda

— DJ Romeo (@ROMEOREYES) January 10, 2023
@costco no eggs… pic.twitter.com/rroR03acHn

— Tom Young (@TomYoungSoup) January 8, 2023
Costco and Walmart were both out yesterday...and when they have them there's a limit now. #EggShortage https://t.co/A35CPUQnjB

— Matt McAllister (@MorningWolfMatt) January 10, 2023
My #Costco in Tumwater WA was completely out of eggs on Saturday. We have #WilcoxFarms here in Washington. I was told by the store the egg shortage is due to the #birdflu.

— Kimberly Barr (@Kimberl74195353) January 10, 2023
Hmmm.. that's the issue with information. What do we even believe anymore.. all I DO know is I eat eggs daily and the shelves are empty… something is causing this shortage.

I can understand Gas or Toilet Paper.. but, come on.. EGGS?! … before Easter too? pic.twitter.com/9D7qjsHJ8C

— 49er Luke 💪🏼🏋🏻‍♂️🥇 (@Luke_AZ) January 9, 2023
#Goteggs #eggshortage @Safeway #costco pic.twitter.com/UgXV7VZrwP

— Stanley Roberts (@StanleyRoberts) January 4, 2023
The search trend "egg shortage" has hit a new high. 
News stories across the web featuring "egg shortage" have also surged, the highest since the last avian flu outbreak in 2015.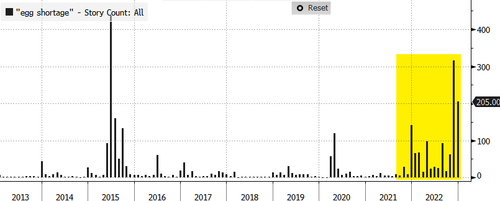 In 2020, toilet paper was in short supply. Now it's 2023, and it appears nationwide egg supplies are dwindling. 
Looks like eggs are the new toilet paper 👀😳 pic.twitter.com/cnpgEEC43y

— Emily Hoeven (@emily_hoeven) January 10, 2023
How long until people figure out that becoming your supplier of food (i.e., farmer) and living as much as you can off the grid can save you from the pain of shortages and inflation? Perhaps, people will panic search for where to buy egg-laying hens and start their own farm -- clearly, America's food supply chain continues to fracture. 
Tyler Durden
Tue, 01/10/2023 - 19:45