Stellar 10Y Auction Signals Zero Market Jitters Ahead Of Tomorrow's CPI
One day after what may have been the strongest 3Y auction in history (and if not, then certainly one of the top 3), moments ago the Treasury sold $32BN in 10Y paper (in the form of 9Y-10M reopening of Cusip FV8), in what was another stellar auction.
The high yield of 3.575%, was the second consecutive drop since the 10Y auction peaked at 4.14% in November, and was also down from 3.625% in December. More importantly perhaps, compared to the When Issued 3.580%, today's auction stopped through by 0.5bps. This was the first 10Y auction that did not tail since August, and it certainly was better than last month's auction when the tail was a record 3.7bps: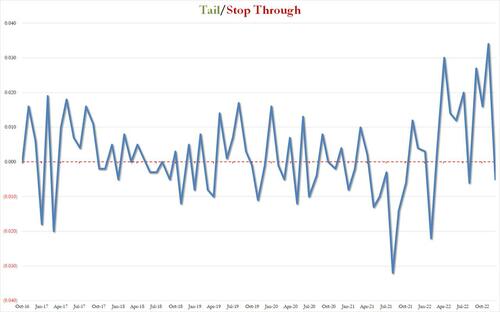 The bid to cover was also solid, and at 2.53 it was the highest going back to Feb 2022; clearly it was above the six auction average of 2.32.
Finally the internals were also impressive, with Indirects awarded 67.0%. up from 59.4% last month and the highest since August. It was also well above the 61.2% recent average. And with Directs awarded 17.9% or just below the recent average, Dealers were left with 15.1%, the lowest since August.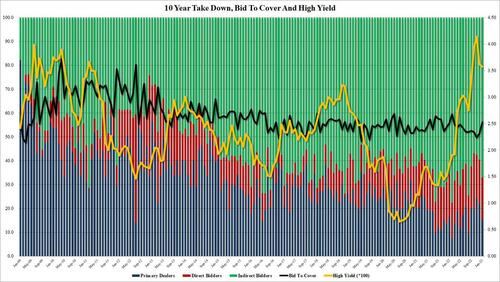 Overall, this was another stellar 10Y auction and when combined with yesterday's blowout 3Y, it indicates that bond traders are not all nervous about surprises in tomorrow's CPI report.
Tyler Durden
Wed, 01/11/2023 - 13:22