US Should Remain In Ukraine Until "Putin Is Out": Senator
Authored by Kyle Anzalone & Connor Freeman via The Libertarian Institute,
Senator Angus King said the US should not put a timetable on support for Ukraine and remain involved in the war until "Putin is out." Comparing the current situation with Russia to the Allies' failure to stop Nazi Germany before World War II, the Maine senator insisted on more Western aid for Kiev.
During a virtual press conference following his recent visit to the Ukrainian capital, King was asked how long the United States should continue its role in the conflict, replying that support for Kiev should be indefinite. "I believe we should remain there until Putin is out," he said.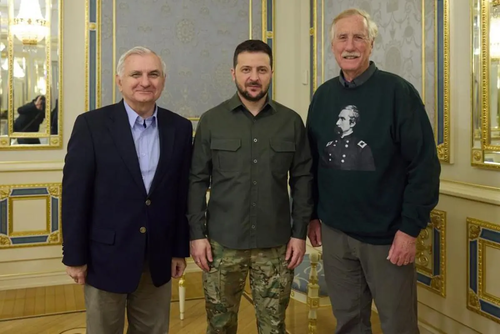 It is unclear if King was calling for Putin's removal from power in a coup d'etat, or merely for Russian troops to vacate all Ukrainian-claimed territory. The two warring parties maintain conflicting territorial claims and King acknowledged the war is now in a stalemate, but he nonetheless claimed the conflict would not be a "20-year struggle" like America's experience in Afghanistan.
Throughout the virtual presser, King referenced a historical need to prevail over Russia, saying nothing of the potential for escalation to nuclear war between the world's largest atomic arsenals. 
The senator noted that he often receives questions from constituents about the wisdom of US involvement in the war, but went on to cite his own version of a Bush-era epithet: 'We fight them over there so we don't have to fight them over here.'
"I get letters every now and then, people saying, 'Why are we doing this? Ukraine's far away. It's not our fight.' Well, it is our fight, because if we don't fight it now, it will spread," King said. "And it will become something that we can't avoid being involved in, just as occurred in the late 1930s at the beginning of World War II."
He went on to claim that if Putin was not stopped in Ukraine, he would go on to conquer more of Europe, comparing the Russian leader to Adolf Hitler several times. 
King also suggested the US could give additional aid to Ukraine, pointing to allies who are giving more when compared to their overall gross domestic product. "If you measure it in terms of GDP, we're between fifth and tenth in the world, and other countries are contributing actually larger shares of their GDP to the defense of Ukraine," he continued, "Why? Because they recognized, as hopefully we will continue to recognize, that this is really a fight for Western values."
Since Russia's invasion kicked off last February, Congress has authorized nearly $120 billion in aid for Kiev, including more than $21 billion in direct military assistance and a series of other financial and humanitarian aid packages. King claimed the American tax dollars are being well spent and accounted for, arguing "The software that they're using, working with Deloitte and SAP, to track everything coming in – every spare part, every dollar."
Amazing candor from Iran-Contra felon Ollie North:

Ukraine is just like Reagan's dirty wars in Central America, Africa and Afghanistan

Most of the aid is a kickback to US weapons makers and Beltway contractors

The proxy war is preparation for a larger war w/ China over Taiwan pic.twitter.com/kmKW2JZCH4

— Max Blumenthal (@MaxBlumenthal) December 29, 2022
However, CNN has reported that US arms sent to Ukraine quickly fall into a "black hole" and are nearly impossible to track. In October, Finland's national law enforcement agency warned that weapons being shipped to Ukraine are ending up in the hands of criminal gangs, while Nigerian President Muhammadu Buhari warned weeks later that "the situation in the Sahel and the raging war in Ukraine serve as major sources of weapons and fighters that bolster the ranks of the terrorists in the Lake Chad Region."
King's latest presser followed a trip to Ukraine last week, where he said he held a "thrilling" meeting with President Volodymyr Zelensky and described him as among "the great leaders of the century."
While the senator claimed Zelensky and Ukraine are champions of democracy, some analysts have argued that Kiev has only continued its transformation into an authoritarian state under his rule. As commentator Ted Galen Carpenter wrote in The American Conservative, "genuine democracies do not ban multiple opposition parties or close opposition media outlets. Nor do they rigorously censor (and put under strict government control) media outlets that they allow to remain open. Genuine democracies do not outlaw churches that advocate policies the government dislikes." He added, "yet the Ukrainian government has committed not just one or two, but all of those abuses."
Tyler Durden
Tue, 01/10/2023 - 20:05