WTI Extends Gains Despite Massive Crude Build, Production Increase
Oil prices rallied overnight despite a huge crude inventory build reported by API, with traders shrugging it off as likely driven by the impact of the nationwide 'deep freeze' and refinery shut-ins distorting the data. Additional optimism over China's demand outlook (after the government issued a bumper batch of import quotas, spurring hopes of improved crude consumption) offset the optics of the crude build.
"The perceived demand pull that's expected from China is superseding the rise in crude inventories from the API," said Dennis Kissler, senior vice president at Bok Financial Securities.
Will the official data confirm the huge builds?
API
Crude +14.865mm (-2.375mm exp) - biggest build since Feb 2021

Cushing +2.3mm

Gasoline +1.8mm (+1.3mm exp)

Distillates +1.1mm (+500k exp)
DOE
Crude +18.96mm (-2.375mm exp, BBG +6.2mm exp) - biggest build since Feb 2021

Cushing +2.511mm

Gasoline +4.11mm (+1.3mm exp)

Distillates -1.069mm (+500k exp)
Confirming and surpassing the API-reported data, official data showed a massive 18.96mm barrel crude build last week - the biggest build since Feb 2021 and stocks at Cushing soared by 2.511mm barrels (the most since Dec 2021)...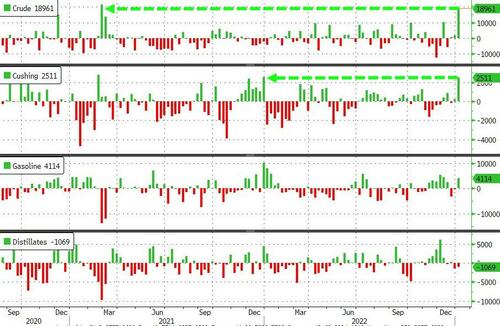 Source: Bloomberg
We note that there was a more than 15 million-barrel increase in the Gulf Coast. Much of the rise in inventories due to the disruptions in refinery operations from a deep freeze had not materialized in data yet, so we are seeing that come through now.
The SPR saw a drain of only 800k barrels last week - the smallest since Jan 2022.
Bear in mind that the EIA's January outlook expects combined gasoline, diesel and jet inventories to rise 9% in 2023, led by a 2.8% jump in refining throughput
US crude production rose last week to 12.2mm b/d - equal to its post-COVID highs...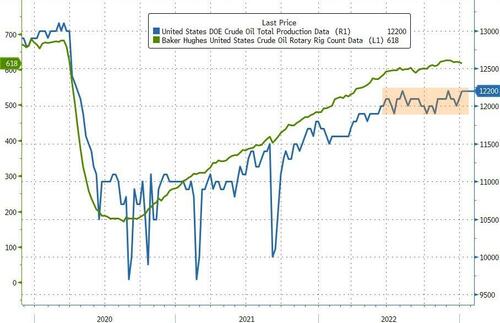 Source: Bloomberg
WTI was hovering just above $76 ahead of the official data and, after a brief dip, extending gains despite the massive build...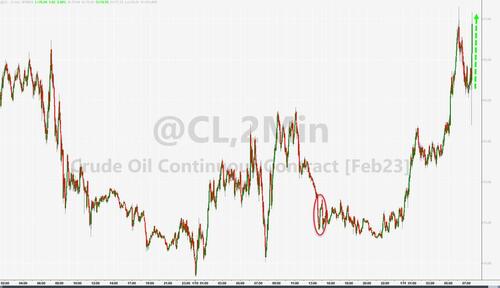 Expectations for higher demand out of China as the country scraps its COVID-19 restrictions continue to provide some support for prices.
"We are confident that oil prices will climb again once the current wave of COVID infections has peaked in China and economic activity picks up," said Carsten Fritsch, commodity analyst at Commerzbank, in a note.
Still, Stephen Innes, managing partner at SPI Asset Management, warned that oil traders are "unlikely to see the explosive economic reopening that oil bulls had hoped for, with the market ignoring case counts in favor of local Chinese activity data."
Oil prices "should rise tangentially to the increasing mainland mobility pulse," he said in a market update.
However, near-term time spreads are holding in a bearish contango structure, signaling ample supply.
Tyler Durden
Wed, 01/11/2023 - 10:37