Zelensky Tries To Reassure Hollywood A-Listers At Golden Globes: "There Will Be No Third World War"
When we first heard that Ukrainian President Volodymyr Zelensky would make a virtual appearance at 80th annual Golden Globe Awards Tuesday night in order to update the audience and American public on the status of the conflict, we thought it was a joke. It should be remembered too that the Oscar Awards rejected efforts for a Zelensky appearance last year (though he did give an emotional speech at the Grammys last April).
But like with much else connected with Zelensky and the unprecedented pandering of American institutions for a foreign leader, it was all too absurdly real. He told the audience of Hollywood A-listers that "there will be no third World War" - citing Ukraine's momentum on the battlefield.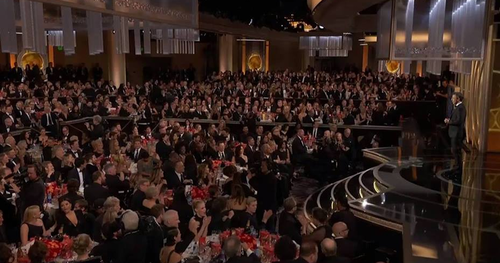 "The war in Ukraine is not over yet, but the tide is turning and it is already clear who will win," Zelensky said after being introduced by friend and actor Sean Penn. "There are still battles and tears ahead."
He launched into a bit of a history lecture, akin to his December in-person Congressional speech, reminding the television viewing audience that the Golden Globe Awards first got its start during WWII, and compared the current Russian invasion to "the struggle for the right of the new generations to know about the war only from movies."
That's when Zelensky sought to assure Americans against what's become a legitimate overarching concern - uncontrollable escalation between the US and Russia:
"The First World War claimed millions of lives. The Second World War claimed tens of millions of them. There will be no third World War. It is not a trilogy," Zelensky said, promising that Ukraine "will stop the Russian aggression" with the help of the free world.  

"The war in Ukraine is not over yet, but the tide is turning and it is already clear who will win… We will make it together with the whole free world and I hope that all of you will be with us on the victorious day the day of our victory," Zelensky said.  
For anyone worried that the world is inching toward nuclear Armageddon, these words are not cause for comfort - but quite the opposite... after all, it's 2023 and a foreign head of state just appeared at a Hollywood awards show to tell celebrities he's not expecting World War 3 to break out. But Kiev wants to combat growing global skepticism regarding the war's outcome, in order to keep the Western weapons pipeline flowing of course.
He also just pledged "victory" over nuclear armed super power Russia, and that a Ukrainian "win" is becoming "clear"... so let that sink in.
As for Sean Penn's introduction, it was expectedly filled with standard Hollywood-style moralizing about the "current thing" causes of the moment...
Zelensky stated in a video message during the Golden Globe ceremony that there will not be a WW3 in 2023. Sean Penn introduced Zelensky to the public as a "dreamer" and said, "If the freedom to dream were a spear," Zelensky represents "spear's most honed tip." pic.twitter.com/1zyfjjKAKl

— Dan Reznik (@DanReznikWSWS) January 11, 2023
"From the other worldly courage of young Iranians rising up, to the ever-persevering women's movement of Afghanistan, we are reminded, in no uncertain terms, that the freedom to dream is not simply a human luxury, but rather a human need that must be fought and sacrificed for," Penn said during the introduction.
As for Zelensky's 'world war' commentary, it doesn't bode well for this most alarming of all potential future scenarios that the Kremlin just this week said it views the US and NATO as now direct parties to the war. Russian Security Council Secretary Nikolay Patrushev described Moscow's viewpoint this week, saying, "The events in Ukraine aren't a clash between Moscow and Kiev. It's a military confrontation of NATO, first of all the US and Britain, with Russia. Fearing a direct engagement, NATO instructors push Ukrainian men to certain death."
At the end of his Golden Globe Awards speech, Zelensky got his now basically routine standing ovation from the audience.
Tyler Durden
Wed, 01/11/2023 - 08:52