Chance of A Bigger Fed Move Next Month, Now 26%, Hinges on CPI
By Ven Ram, Bloomberg markets live reporter and analyst
There is little to over-egg the importance of the US inflation reading for December that we will get today. The markets have been relatively quiet ahead of the release, which isn't a surprise given it will be the last the Federal Reserve gets to see before it reviews rates next month.
While there is rather a wide scatter of forecasts, pretty much everyone and their crystal ball seem to agree that we will get annual inflation declining below 7% for the first time in more than a year — a pretty significant milestone in itself if it proves to be accurate. Recent moves suggest that positioning heading into the data is bullish Treasuries as well as stocks but bearish the dollar, which of course raises the prospect of "sell on news."
Consistent with that speculation, interest-rate traders are factoring in only a 26% chance of a move larger than 25 basis points when the Fed meets on Feb. 1. The nub, though, shouldn't be lost on the markets: unless today's print is persuasively mild, the Fed has every reason to perhaps gravitate toward a larger hike if only to get its rate to more restrictive levels sooner and then pause rather than drag its feet and get in smaller steps to its intended destination. (A 6.5% print consistent with the median forecast is still way too high from the Fed's perspective, though it would welcome the direction of travel.)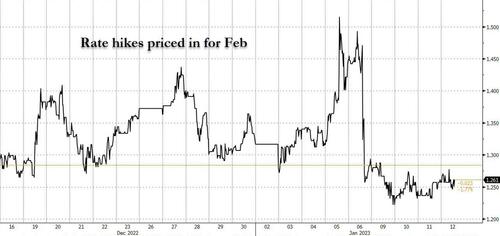 And with 17 of 19 participants having indicated their preference for a Fed funds rate above 5%, getting there sooner will make the prospect of a soft landing more viable than would be the case otherwise. While Fed St. Louis President James Bullard isn't a voting member this year, one would think that his advocacy of front-loading the increases would still be a persuasive refrain for the rest on the committee. A bigger move would also keep those all-important inflation expectations under check — and the Fed has an impressive speaker line-up after the CPI print to drive home its message.
Whatever your persuasion on the margin of increase, the markets will be holding their collective breath early in the New York day.
Tyler Durden
Thu, 01/12/2023 - 08:02