Computer Monitor Prices Slide As PC Bust Worsens
Readers have been well-informed about the pandemic-fueled personal computer boom that ended last year. 
We have pointed out that graphics cards to memory chips have been deeply discounted in the last several months due to lackluster demand and rising supply. Another critical piece of the PC that is being discounted due to waning demand is the monitor. 
Bloomberg Intelligence's Steven Tseng and Sean Chen said a PC bust had added downward pressure on computer monitor shipments. 
LCD monitor-panel shipments could continue to fall by double-digit percentages vs. a year ago in the coming months due to lackluster demand for PCs. Waning remote-working tailwinds and the transition to laptops from desktop PCs could weigh on monitor sales. Corporate IT spending might also become cautious this year due to escalating geopolitical tensions and risk of a recession. As panel makers convert some TV production lines for IT applications, the oversupply situation could linger and continue to pressure panel prices. 

LCD monitor-panel shipments by area fell 29% in November vs. a year ago, according to IDC. Prices of 1080p monitor panels decreased 1.2% sequentially in December.
Take a look at computer monitors on Amazon -- many are heavily discounted, a sign demand has weakened.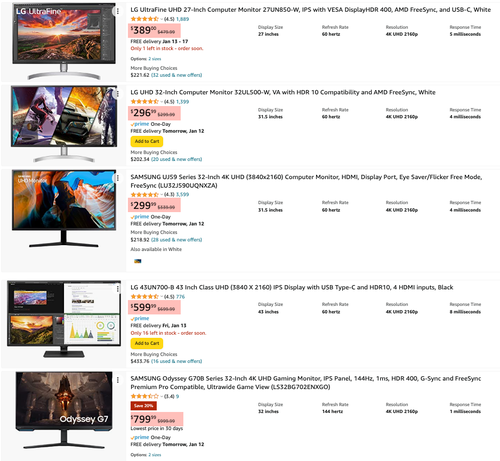 The analyst said while the computer panel price downturn might continue, the bust in TV panel prices could recover from a trough. 
Perhaps it's time to upgrade the trading and/or research desk monitors with new monitors. 
Tyler Durden
Wed, 01/11/2023 - 20:40