'Decision To Arm Ourselves Or Arm Ukraine': Navy Secretary Admits Crisis In US Defense Stockpiles
The leader of the US Navy has admitted that the question of dwindling US arms stockpiles in the rush to arm Ukraine, which now stands at over $100 billion in defense aid and counting, is dire enough that some tough unprecedented decisions are coming, which shocked a group of reporters this week.
Navy Secretary Carlos Del Toro acknowledged before a naval warfare conference in Arlington, Virginia on Wednesday that the US within the next six months could face a decision of whether to arm itself or Ukraine, due to rapidly depleting stockpiles due to supplying Ukraine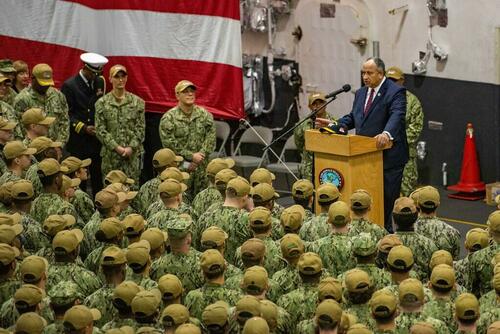 The comments were first revealed by Defense One editor Marcus Weisberger on Twitter, and subsequently reported in the publication, and in Newsweek and others. Earlier in the conference the US Navy's Adm. Daryl Caudle put things in stark terms by saying the decision will eventually come down to 'arm ourselves or arm Ukraine'. 
Weisberger wrote of the comments: "An admiral alluded to the US needing to choose between itself and Ukraine during a panel at the conference."
Below are the rare, very revealing words of the exchange heard by reporters: 
The secretary was asked to respond to comments made at the conference by Adm. Daryl Caudle, commander of U.S. Fleet Forces Command. Caudle, the reporter said, worried that "the Navy might get to the point where it has to make the decision whether it needs to arm itself or arm Ukraine, and has the Navy gotten to that point yet?"

Del Toro replied, "With regards to deliveries of weapons systems for the fight in Ukraine…Yeah, that's always a concern for us. And we monitor that very, very closely. I wouldn't say we're quite there yet, but if the conflict does go on for another six months, for another year, it certainly continues to stress the supply chain in ways that are challenging."
While most weapons going to Ukraine are from Army stockpiles, it remains that the US recently pledged Sea Sparrow missiles to Ukraine. Additionally US-made Harpoons have long been transferred to Kiev via Denmark. 
Navy Secretary Del Toro went on to explain that Deputy Defense Secretary Kathleen Hicks has been working "very closely with [the defense] industry, to motivate them to find out what their challenges or obstacles are to be able to increase their own production rates," as quoted in the Defense One report.
US defense officials are wringing their hand over the RAPID DEPLETION of US ammo stockpiles. Yes, the US has drained its munitions stockpiles to fight its proxy war with Russia. Now, it'll have to cough up EVEN MORE $ to restock its own US arsenal. MADNESS.https://t.co/s53bVlpTgH

— Steve Hanke (@steve_hanke) January 5, 2023
"It's obvious that you know, these companies have a substantial pipeline for the future," Del Toro added. "They now need to invest in their workforce, as well as the capital investments that they have to make within their own companies to get their production rates up."
Department of Defense stockpiles have been a concern in relation to steadily ramped up arms supplies to Ukraine from within the opening months of the Russian invasion. Additionally other NATO allies are facing this same problem and worry, especially 'neutral' Germany which due to the war dramatically shifted its historic stance on not sending weapons into foreign conflict zones. Foreign Minister Annalena Baerbock admitted as early as the summer that "Unfortunately, the situation here is such that we have an absolute deficit in our own stocks."
Tyler Durden
Thu, 01/12/2023 - 20:45