JPMorgan Tricked Into Paying $175 Million For Startup With Millions Of Fake Customers, Bank Claims
JPMorgan Chase on Thursday shuttered the website for a college financial aid platform that it paid $175 million for, and is suing the 30-year-old founder for allegedly fabricating nearly 4 million fake user accounts, which she used to entice the bank in mid-2021.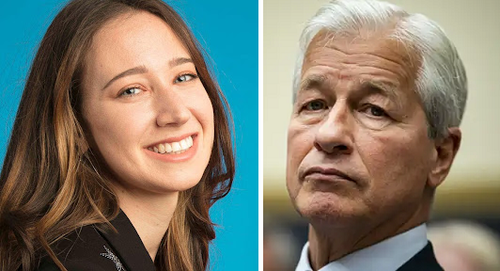 The company, 'Frank', was founded by former CEO Charlie Javice in 2016. It offered software to help young Americans obtain financial aid in what Javice framed as "an Amazon for higher education," and had the backing of billionaire Marc Rowan - the company's lead investor. JPMorgan touted the Sept. 2021 deal as giving it the "fastest-growing college financial planning platform" used by over 5 million students at 6,000 institutions.
As part of the acquisition, Javice joined JPMorgan.
But months after the transaction closed, JPMorgan says it discovered the fabricated accounts after sending out emails to a batch of 400,000 Frank customers - with around 70% of them bouncing back, according to according to a lawsuit filed in December in US District Court in Delaware, CNBC reports.
The lawsuit claims that Javice pitched the bank on the "lie" that over 4 million users had signed up to use Frank to apply for federal aid. When the bank asked for proof during due diligence, Javice allegedly fabricated an enormous list of "fake customers – a list of names, addresses, dates of birth, and other personal information for 4.265 million 'students' who did not actually exist."
In reality, Frank had less than 300,000 customer accounts at the time, according to the lawsuit.
"Javice first pushed back on JPMC's request, arguing that she could not share her customer list due to privacy concerns," reads the complaint. "After JPMC insisted, Javice chose to invent several million Frank customer accounts out of whole cloth."
"To cash in, Javice decided to lie, including lying about Frank's success, Frank's size, and the depth of Frank's market penetration in order to induce JPMC to purchase Frank for $175 million," the complaint continues. "Javice represented in documents placed in the acquisition data room, in pitch materials, and through verbal presentations [that] more than 4.25 million students had created Frank accounts to begin applying for federal student aid using Frank's application tool."
Javice's attorney told the Wall Street Journal that JPMorgan had "manufactured" reasons to fire her last year in order to avoid paying her millions owed. She has sued JPMorgan, and has demanded that the bank pay for legal bills she incurred during internal investigations.
"After JPM rushed to acquire Charlie's rocketship business, JPM realized they couldn't work around existing student privacy laws, committed misconduct and then tried to retrade the deal," her attorney, Alex Spiro, said. "Charlie blew the whistle and then sued."
JPMorgan replied, telling CNBC: "Our legal claims against Ms. Javice and Mr. Amar are set out in our complaint, along with the key facts," adding "Ms. Javice was not and is not a whistleblower. Any dispute will be resolved through the legal process."
The alleged fraud perpetrated by Javice and one of her executives "materially damaged JPMC in an amount to be proven at trial, but not less than $175 million," JPMorgan said in its suit.

Regardless of the outcome of this legal scuffle, this is an embarrassing episode for JPMorgan and its CEO Jamie Dimon. In a bid to fend off encroaching competitors, JPMorgan has gone on a buying spree of fintech companies in recent years, and Dimon has repeatedly defended his technology investments as necessary ones that will yield good returns. -CNBC
On Thursday morning, the Frank website read: "Frank is no longer available."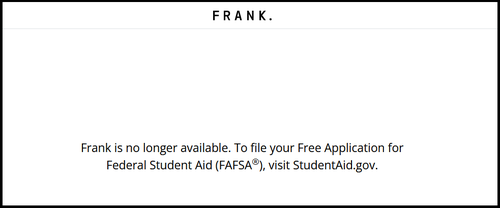 Tyler Durden
Thu, 01/12/2023 - 14:28