Largest US Grid Saw Nearly 25% Of Power Generation Fail During Christmas Cold Blast
PJM Interconnection, a regional power grid that stretches from Illinois to New Jersey, declared an emergency during Christmas and was on the brink of implementing rolling blackouts for millions of customers due to a partial power-generation fleet shutdown. 
The regional power grid operator has over 65 million customers in 13 states and the District of Columbia. It published its first analysis explaining the grid strain when temperatures dove well below freezing due to 23% of its power-generation fleet shuttering on Dec. 24. 
About 70% of the 46 gigawatts of outages were due to NatGas-fired power generation going offline, which left the grid operator in dire straits as temperatures continued to plunge and electricity demand soared as customers turned up their thermostats. 
Here's PJM's report explaining how the cold blast last month nearly sparked an energy crisis. 
PJM shows the cold shot lasted between Dec. 23-25.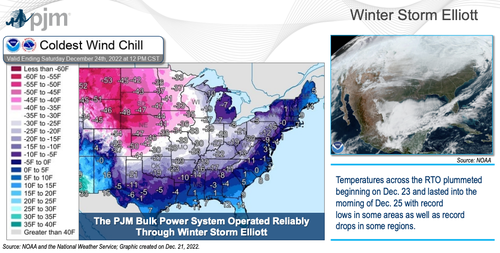 Temperatures recorded one of the most dramatic drops in a decade.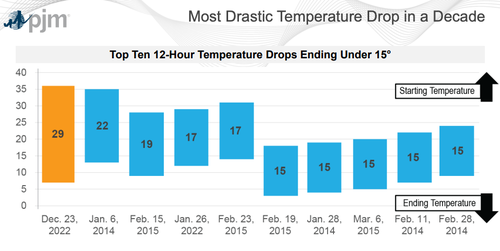 The grid saw a record-high load versus the previous ten years over the holiday weekend.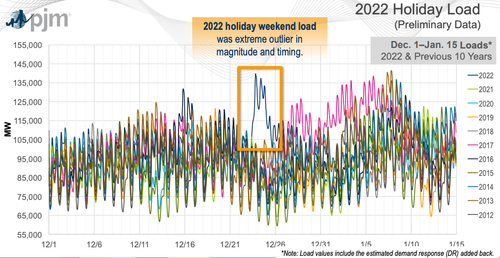 Power demand was elevated for days as the grid struggled to keep up.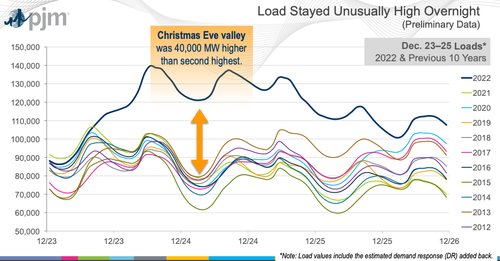 Then came power generation outages. Here's a timeline of what happened: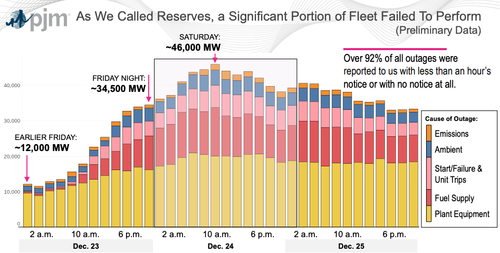 Most of the power generation that was lost was natural gas and coal.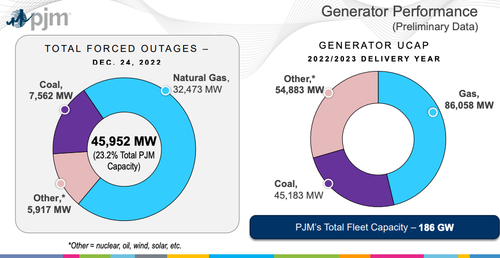 Even though the winter has been mild, there has been increasing chatter on Twitter about a possible cold snap at the end of January or next month. But remember, no forecast is locked yet. 
Keeping an eye on differences in the extended range...

🧐EPS would be a moderation with some cooler air behind storms.

🥶GEFS taps into the Arctic a bit more and dumps colder air in at the end of the run.

Our favored idea in this AM's #energy report at https://t.co/UQhaRd1MOF pic.twitter.com/N2Bzu4gSvb

— BAM Weather (BAMWX) (@bamwxcom) January 11, 2023
#Natgas demand will be volatile over the next 2 weeks. Withdrawals will dip to -7 BCF/d tomorrow before jumping close to the 5-yr avg this weekend, only to drop back into single digits next week. By Jan 23 or 24, a more sustained shot of cooler temperatures may *finally* arrive. pic.twitter.com/b8TEH1A1V4

— Celsius Energy (@CelsiusEnergyFM) January 11, 2023
#natgas
By Jan 27 the center of polar air is right over North America with -40C, an historic cold air mass. I am accumulating natgas derivatives for March. It is an outstanding opportunity, yet everybody has to decide on its own what to do with it. pic.twitter.com/VANIYpvXkd

— Heinrich Leopold (@LeopoldHeinrich) January 11, 2023
And what about the next cold blast? Is PJM ready? 
Tyler Durden
Wed, 01/11/2023 - 20:00