Mammoth Mountain Closes Because Of Too Much Snow
'Global warming' alarmist spewed nothing but climate doom last summer about how the world would imminently burn if no 'government' actions were taken. The folks operating Mammoth Mountain in the Eastern Sierra might be perplexed about that assumption considering they've had to shutter operations this week because of too much snow. 
A moisture conveyor belt of atmospheric rivers for nearly three weeks has pounded lower elevations of California with record amounts of rain. As for higher elevations, such as the area where Mammoth is located, feet of snow buried the region. 
"Due to continued intense snowfall, very difficult road conditions, and extensive avalanche mitigation work, Main Lodge will be closed tomorrow," Mammoth posted on Facebook earlier this week.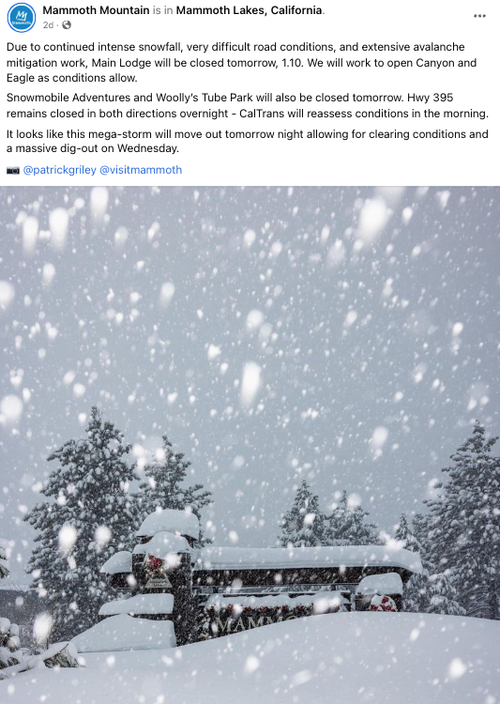 Another update said that even more snow had paralyzed the resort from conducting full operations.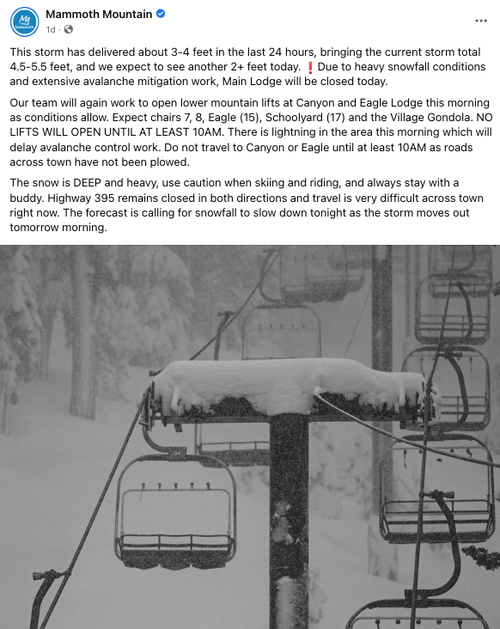 And again, another update detailing the same. 

Yesterday, Mammoth said the "mega-storm" dumped "6 to 7.5 FEET of snow in the last few days." It indicated only a partial reopening of the mountain and to "expect delays in all lift openings."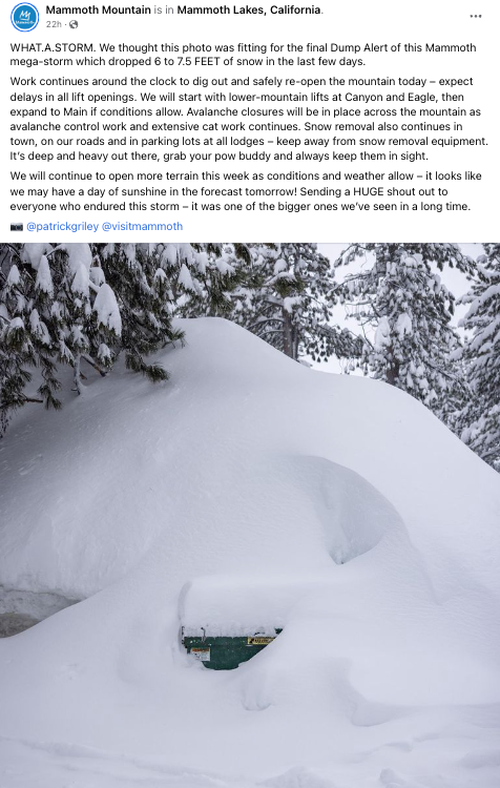 Last night, Mammoth posted a video showing how badly the mountain got hit. Some lifts still appear to be inoperable. 
Last year, Mammoth received about 223 inches of snowfall during winter. So far this season, 328 inches have fallen, surpassing last year's total by more than 100 inches with still a few months left in the season.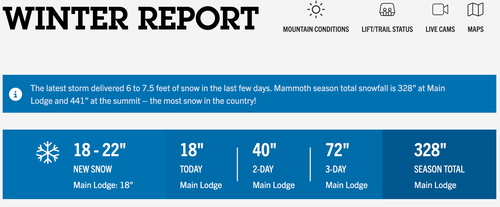 Usually, ski resorts close down because there is not enough snow. Certainly not in Mammoth's case.  
Tyler Durden
Thu, 01/12/2023 - 09:45