Massive Protests Erupt In China's Megacity Chongqing Over Abrupt Layoffs
Authored by Sophia Lam via The Epoch Times (emphasis ours),
Large groups of workers staged protests on Jan. 7 at a pharmaceutical manufacturing company in Chongqing, a megacity in the southwest of China. The protests erupted after thousands of workers were abruptly laid off by Zybio, Inc., a manufacturer of COVID-19 test kits.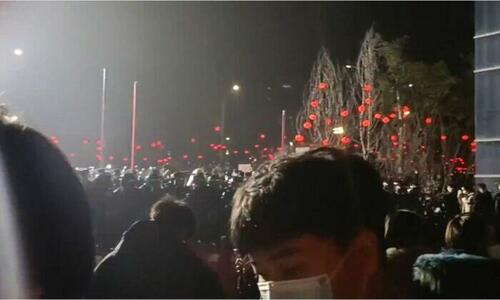 Videos posted online show angry workers demolishing boxes of COVID-19 test kits, vandalizing the company's offices, and clashing with police in riot gear. Protesters threw plastic boxes, water bottles, and cones at police, who ran from protesters—a rare occurrence in China.
The unrest began when Zybio suddenly laid off nearly 8,000 employees, according to workers interviewed by the Chinese language edition of The Epoch Times. The employees were notified that they could leave for the Chinese New Year, which is still two weeks away, effectively ending their employment.
Zybio is a leading manufacturer of in vitro diagnostic reagents and equipment based in the Dadukou District of Chongqing, according to the company's website. Many of those laid off had been recruited by Zybio last year to meet an urgent demand for tests under China's zero-COVID policies.
That demand did not materialize, as China abandoned the three-year-long measures abruptly in early December, ending massive mandatory PCR testing.  The halting of mandatory testing hit the pharmaceutical manufacturer hard.
Layoffs Were the Last Straw
Xiaodong (pseudonym), a Zybio worker, confirmed to the Chinese language edition of The Epoch Times that the protests were sparked by the company's abrupt layoffs.
The last three years have seen Chongqing—which has a population of over 30 million—battered by lockdowns, November's massive protests, and December's COVID-19 surge. Coming shortly before the Chinese New Year, the sudden layoffs were the last straw for many workers.
Speaking with The Epoch Times on Jan. 7, Xiaodong accused Zybio of not keeping its promises.
"The company told us to leave, but it didn't tell us when to come back and if it would pay us our wages," Xiaodong said.
According to Xiaodong, in addition to higher wages, Zybio had promised a 3,000 yuan (about $438) bonus to workers who would work for the company before and after the Chinese New Year.
Xiaodong, who began working for the company in June, believed that it had a large order at the beginning of December and recruited 6,000 to 7,000 workers at that time.
"[Zybio] recruited more workers at the beginning of December," Xiaodong said, "They said that they would pay the bonus in three installments: the first installment of 1,000 yuan (about $146) would be paid if we worked until Jan. 21 and other installments would be paid if we worked until Feb. 15."
"I was assigned to make nucleic acid extractors in July. We earned pretty good income in November, about 8,000 yuan to 9,000 yuan ($1,170 to $1,316) for the month," Xiaodong said. That was the month with the highest income, he said. In October, he earned over 6,000 yuan (roughly $877).
However, the company's income fell when the Chinese regime announced the lifting of lockdowns and the halting of mandatory PCR testing. The massive layoffs this month involved about 80 percent of the company's total workforce, according to Xiaodong.
From PCR to Antigen Testing
China's sudden relaxation of pandemic restrictions left the country in chaos. Chinese citizens complained of a shortage of medicines, hospitals were overwhelmed with patients, and crematories operated around the clock as bodies piled up.
As the recent spike of COVID-19 swept across the country, residents and doctors in rural areas and remote townships in China complained of a shortage of medicines and antigen testing kits, according to interviews with the Chinese language edition of The Epoch Times.
Zybio pivoted from PCR tests to antigen tests, which offer less accurate, but more rapid results. However, it was not enough to save the Chongqing factory, which a Radio Free Asia report described as "now-defunct."
"Some provinces no longer imposed PCR testing in November, so the company [Zybio] began to manufacture antigen testing kits. The problem now is that it gets no more orders for these products," said Xiaodong.
'Don't Create Any Trouble'
The layoffs were handled in a perfunctory manner, infuriating workers, according to Xiaodong.
"No management showed up or explained to us what was happening. Only a person from the recruitment company came and shouted at us, using a loudspeaker, and told us just to leave. He said: 'You just go as you're told to do so! Don't create any trouble!'"
Riot police and the head of the Dadukou District government were present during the protests on Jan. 7, according to Xiaodong.
The protestors dispersed after Zybio agreed to pay workers.
"The factory said that it would pay us our wages for December on Jan. 7 and our January income on Jan. 8," Xiaodong said. He said that Zybio offered 1,000 yuan ($146) as a bonus to workers who still wanted to stay with the company.
At the end of the video footage, police can be heard saying that the protesters are suspected of "disrupting public order" and that organizers will be arrested if they don't leave immediately.
The Epoch Times' multiple calls to Zybio were not answered.
Ning Haizhong and Gu Xiaohua contributed to this report.
Tyler Durden
Wed, 01/11/2023 - 23:40