Philly Fed President Has Seen Enough: 25bps Hikes "Will Be Appropriate Going Forward"
The digital ink on the CPI print had barely dried but Philadelphia Fed president Patrick Harker had seen enough, and moments after the report he declared that he is for a 25 basis points in three weeks saying 25bps (which for the Vox grads does not mean 25%) "will be appropriate going forward." Harker is a voter on rates this year, so that tells us that, as of now, there's at least one vote for 25 at the Feb. 1 meeting, and after today's report, likely many more.
"I expect that we will raise rates a few more times this year, though, to my mind, the days of us raising them 75 basis points at a time have surely passed," Harker said in prepared remarks Thursday for an event in Malvern, Pennsylvania. "In my view, hikes of 25 basis points will be appropriate going forward."
Harker also said he expects the Fed to get to just over 5% and then hold, and says it is likely the Fed will hike rates "a few" more times in 2023, although that's probably market dependent.
And since Harker's prepared remarks did not mention the consumer price index report for December, which was published shortly before the release of his speech, it is likely that the soft report merely solidified his dovish case. To wit, excluding food, energy and shelter, inflation declined 0.1% over the past three months on average, which as Bloomberg notes, makes a strong case for stepping down the hikes.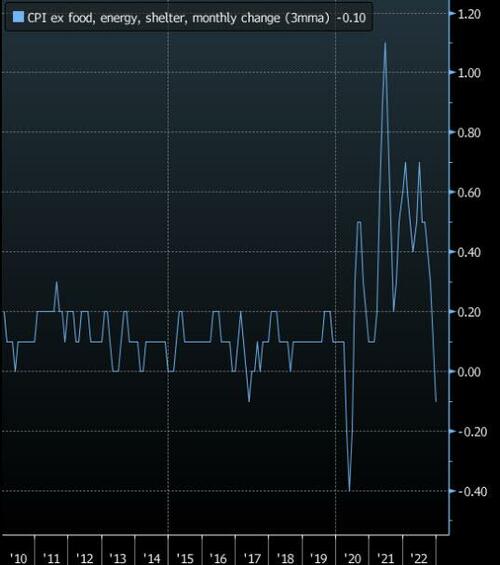 Fed officials see interest rates rising above 5% this year and staying there until 2024, according to Fed projections released last month. Other Fed officials have also said in recent days they are open to making a more incremental 25 basis-point rate increase at their next meeting ending Feb. 1, depending on the data. But policymakers stress the central bank still has more work to do to tame prices and are not anticipating rate cuts this year.
Harker, who votes in monetary policy decisions this year, reiterated that officials expect to hold rates at higher levels to give them time to travel through the economy. "At some point this year, I expect that the policy rate will be restrictive enough that we will hold rates in place to let monetary policy do its work," he said.
The Fed official said he is not forecasting a recession, though he does expect the US economy to grow by about 1% this year before rising to "trend growth" of about 2% in 2024 and 2025. He expects the unemployment rate to rise to about 4.5% this year before dropping to 4% over the next two years.
Whether due to the soft CPI report, or Harker's comments, but according to the bond market, the odds of a more than 25bps hike in February tumbled from 26% before the report to just 8% currently and sliding.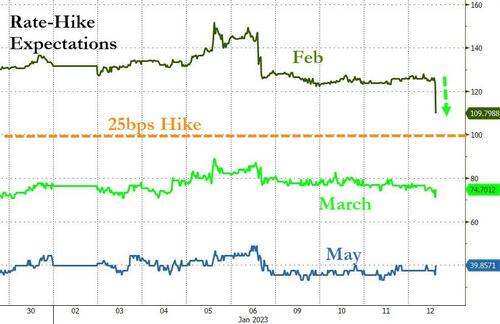 And alongside that, the terminal rate has slumped to just above 4.90%, the bottom end of the post-NFP range.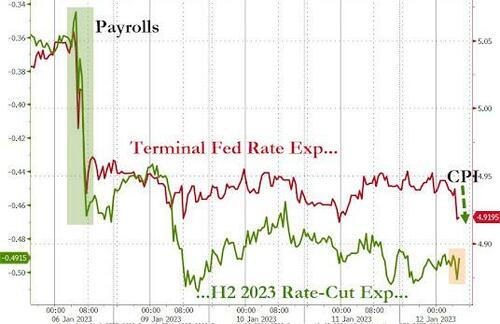 Bottom line: Feb  1 we get a 25bps rate hike, and that may well be it from the Fed this hiking cycle, since not even all the BLS gimmicks will be able to deflect from jobs falling off a cliff by then.
Tyler Durden
Thu, 01/12/2023 - 09:07