Seattle's "Dangerous" Homeless Camps Keep Catching On Fire
The Seattle Fire Department has responded to over 1,500 incidents at local homeless encampments over the past two years, with some experts blaming drug use for some of the blazes - an 80% increase over 2020, according to data obtained by the Daily Caller.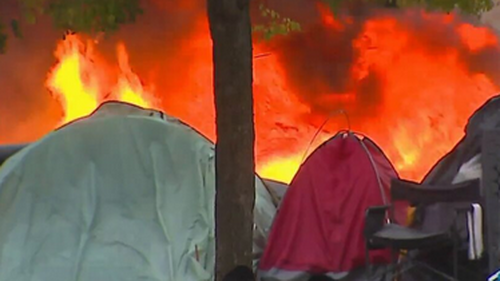 Some of the fires start because of intoxicated homeless people either cooking drugs, warming themselves or cooking food, former SFD firefighter Steve Collins, whose career spanned more than 25 years, told the DCNF.
"What happens is, let's just say they're trying to heat up a can of spam or whatever they're making for dinner, and they create a fire, and while they have a fire heating up their dinner they pass out because of excessive drug use and lack of sleep," said Collins. "Well, they're not gonna wake up. So then these fires get started, whether it's in a building or it's in a tent or a group of tents, and it's off to the races."
Collins was one of 60 firefighters who were fired for not taking the COVID-19 vaccine. He's one of nearly two dozen who are suing the City of Seattle for wrongful termination (good luck with that).
"Pinpointing the cause of every encampment fire is difficult due to multiple possible ignition sources," said SFD Communications Specialist David Cuerpo, adding "Many encampment fires are ruled as 'accidental' and are caused by warming or cooking fires getting out of control. Yes, some are also caused by drug use."
The Democratic stronghold is home to over 13,000 homeless people in 2022, more than every similarly sized area nationwide with the exception of Los Angeles County and New York City's five-boroughs, according to the Department of Housing and Urban Development.
City statistics showed police responded to 113 calls about gunfire at or near encampments in 2021, up from 51 such calls in 2020, King 5 reported.

Seattle had a 17% increase in medical responses to homeless people between 2020 and 2022, according to the SFD statistics. Homeless Persons' Memorial Day vigil organizers said a 20-year record number of homeless people died in King County in 2022, KOUW reported.

Washington Policy Center Vice President Paul Guppy argued the homeless encampment fire increase is part of a general public safety decline due to Seattle City Council policies that he called "the ongoing legacy of BLM riots and the defund the police movement, when arson and property destruction were widespread." -Daily Caller
What's more, it's dangerous for firefighters to respond to homeless encampments, as one might imagine.
"Those places are always dangerous to firemen," said Collins. "They have weapons, they don't want you there, whether you're gonna put out a fire or not, they have needles, they have all sorts of other stuff. The long-term danger is they have lots of bad things that when they burn and you inhale them, it harms you."
Tyler Durden
Thu, 01/12/2023 - 16:40