'Soft' CPI Sparks Dollar 'Death Cross'; Buying-Panic In Bonds, Bitcoin, & Bullion
The much anticipated CPI printed exactly as expected and, as expected, sparked chaos across all asset-classes as rate-hike odds (and terminal rate expectations) tumbled as President Biden took a victory lap...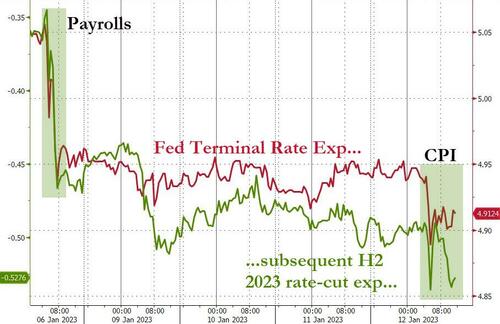 Source: Bloomberg
But, also as expected, FedSpeak countered the pivot/pause narrative.
Fed's Bullard offered some optimism that he sees "inflation moving down towards 2% as we move forward" but then countered that by warning that inflation "remains extremely high" and The Fed "needs to keep rates high enough to cool prices", adding that he favors getting to above 5% "as soon as possible." However, the final lhawkish nail in the coffin, echoing the Fed Minutes was Bullard's comments that there is "too much optimism in the market that inflation will fall."
Bullard's comments followed Philly Fed's Harker who said rate hikes of a quarter-percentage point "will be appropriate going forward."
This left expectations for February and March FOMC meetings very slightly below 50bps (2 x 25bps hikes)...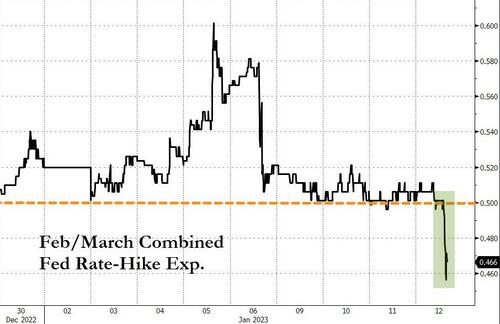 Source: Bloomberg
The bottom line is that financial conditions are as loose as they were at Jackson Hole (when Fed Funds were 200bps lower)...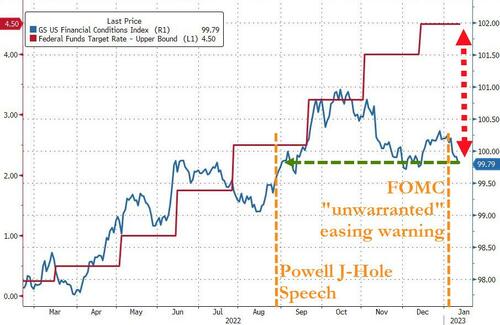 Source: Bloomberg
...not exactly what Powell wants to see.
Stocks initial reaction was down - CPI wasn't cooler than expected - but after some volatility, buying pressure surged and lifted. A very strong 30Y auction at around 1300ET (followed by AG Garland's news that he would appoint a special prosecutor to probe Biden), seemed to spark a sudden dive in stocks. But that dip was bought quickly and Small Caps outperformed. By the close, however, the majors had given back some of their gains...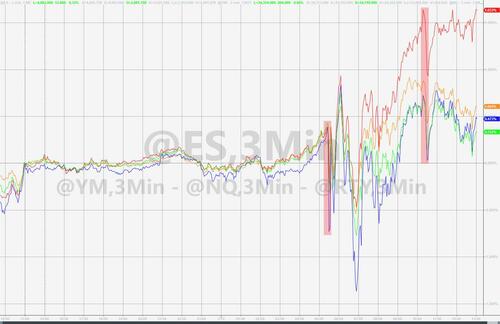 The short-squeeze continued to accelerate as "most shorted" stocks rallied for the 5th straight day, ripping 16% off the payrolls-day lows...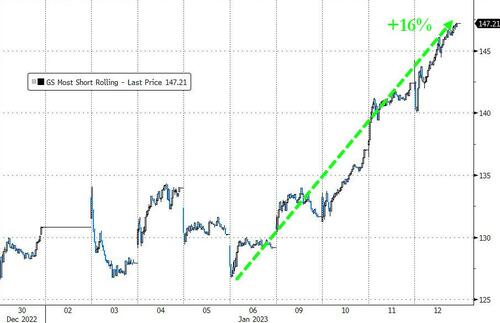 Source: Bloomberg
The S&P rallied above its 200DMA early in the day (stalling just shy of the Maginot Line of 4000) but faded back below it into the close...
VIX was clubbed to an 18 handle (18.99 to be exact), back to the Dec 5th lows...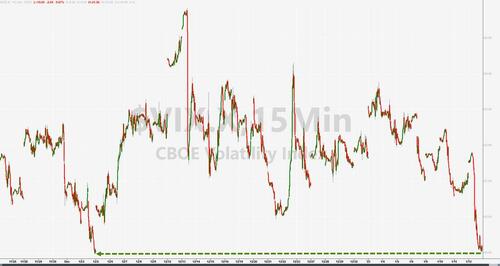 In fact, in the last few seconds, VIX dropped to 18.88 - its lowest since April 2022...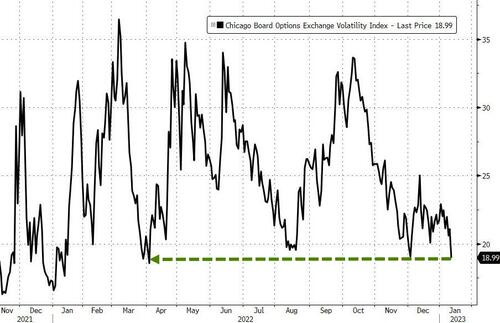 Source: Bloomberg
Meanwhile, we are back to this idiocy...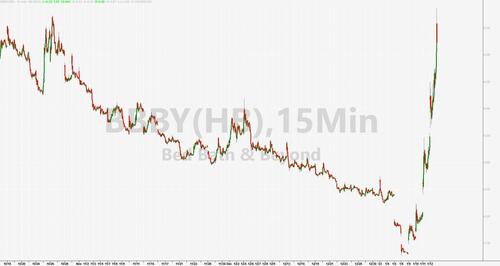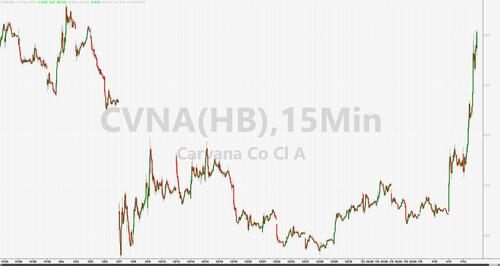 Treasuries were aggressively bid after the soft CPI, all down around 8-10bps on the day (with the belly outperforming on the week)...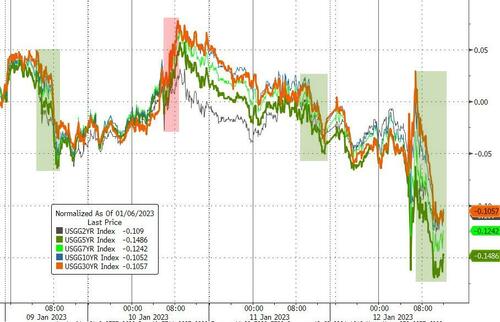 Source: Bloomberg
For context, 2023 has started very aggressively for bonds (after their worst year ever) with 5Y yields down 46bps!!!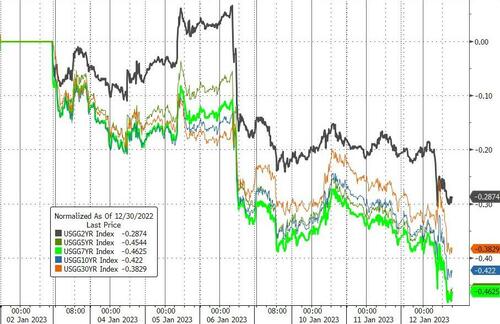 Source: Bloomberg
The dollar index fell for the 5th straight day (to its lowest since May 2022), sparking the 'death cross' (50DMA crossing below the 200DMA)...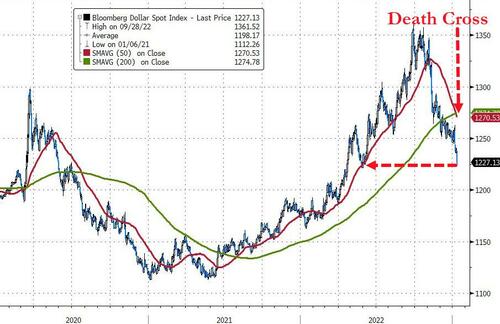 Source: Bloomberg
Bitcoin spiked back above $19,000 for the first time since Nov 8th...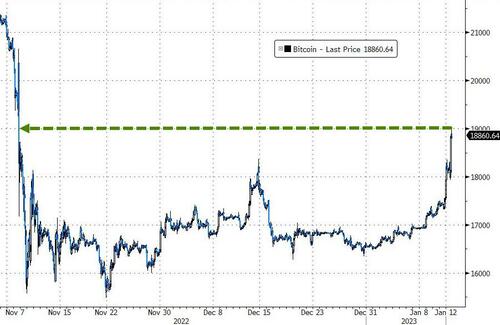 Source: Bloomberg
Ethereum also surged, back above $1400...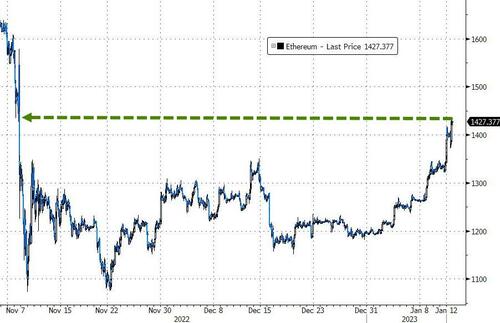 Source: Bloomberg
Gold soared back above $1900 for the first time since May 2022...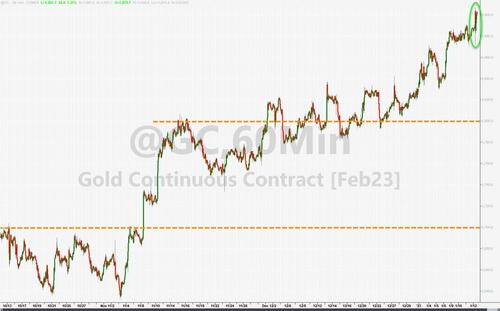 Oil rallied on the day (helped by dollar weakness) with WTI back above $78...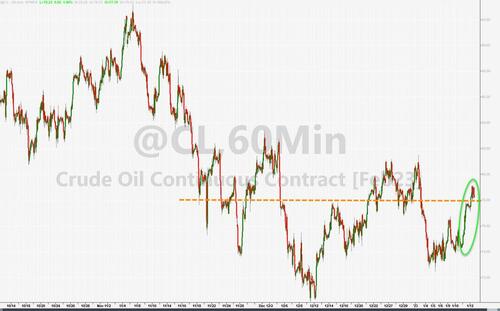 Finally, the market is now massively more dovish than The Fed's dot-plot expectations...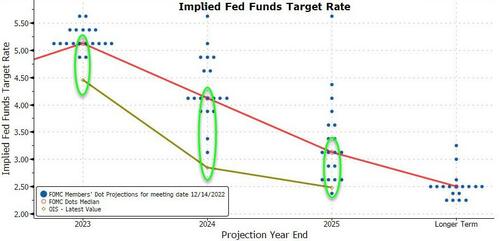 Source: Bloomberg
Unless Powell has entirely reversed his position, we would expect a far more aggressive attempt at jawboning in the next few days, or The Fed will have to admit that it is simply at the beck and call of the market.
Tyler Durden
Thu, 01/12/2023 - 16:00