Taibbi: America Needs Truth And Reconciliation On Russiagate
Authored by Matt Taibbi via TK News,
A new thread today in the #TwitterFiles is about a fake news story from early 2018:
1.THREAD: Twitter Files #14
THE RUSSIAGATE LIES
One: The Fake Tale of Russian Bots and the #ReleaseTheMemo Hashtag

— Matt Taibbi (@mtaibbi) January 12, 2023
Remember this one?
Russian bots and trolls were blamed by virtually every major news organization in the country for amplifying the hashtag #ReleaseTheMemo. The files contain a mass of emails from executives blowing up this ridiculous story, once and for all.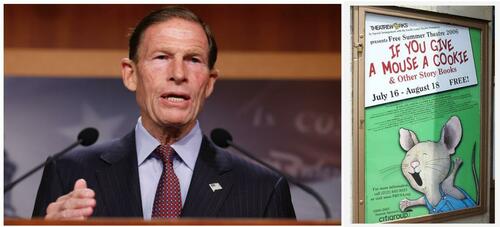 The #ReleaseTheMemo scandal was one of the more shameful episodes in the recent history of our media, but taken seriously by all but one or two mainstream editors at the time. All citing the same dubious source — the Hamilton 68 "dashboard" trumpeted by former FBI counterintelligence official and current MSNBC contributor Clint Watts — they insisted Russians deployed Twitter bot-armies to whip up cyber-support for Republican congressmann Devin Nunes. Nunes had just released a classified memo alleging Democrats and the FBI used the infamous paid oppositional research dossier of ex-spy Christopher Steele to obtain secret FISA surveillance authority on Trump-connected figures like Carter Page, amid other improprieties.
We now know Twitter internally found no evidence, as in zero, that Russians were anywhere near this story.
"I just reviewed the accounts that posted the first 50 tweets with #releasethememo," wrote a piqued Trust and Safety chief Yoel Roth, in all other respects as loyal a Democratic partisan as can be imagined.
"None of them show any signs of affiliation to Russia."

"These hashtags are organic," said a second.

"Not seeing it," said a third.
4.Twitter warned politicians and media the not only lacked evidence, but had evidence the accounts weren't Russian – and were roundly ignored.

— Matt Taibbi (@mtaibbi) January 12, 2023
This is a constant theme in the files. In addition to revelations about FBI censorship, shadow-banning, Pentagon use of fake accounts, and suppression of true information about issues like Covid-19, the Twitter emails regularly expose the wide delta between what we were told about foreign threats, and what a major platform seeing the raw data knew. Even within the heavily partisan culture at Twitter, the regular "Russia, Russia, Russia" claims by politicians and media in self-serving pursuit of headlines caused eyes to roll.
"Members," said one Twitter executive, "look foolish if they cry 'Russia' every time something happens on social media."
We have a lot of problems in this country, and there are serious arguments to be had between blue and red about all sorts of issues, from immigration to the wealth gap to abortion and race. But the country is currently paralyzed by distrust of media that runs so deep that it prevents real dialogue, and that situation can't be resolved until the corporate press swallows its pride and admits the clock has finally run out on its seven years of loony Russia conspiracies.
It's over, you nitwits. It's time to stow the Mueller votive candles, cop to the coverage pileup created by years of errors, and start the reconciliation process.
You'll be tempted to shout, "But Trump, Stop the Steal, QAnon — Derp!" Don't do it. Don't be the Japanese soldier still clutching a bayonet to defend the forgotten atoll in 1960. Forget Trump: you need to clean your own house first. Expunging the years of absurd deceptions has to happen, if media companies ever want wide audiences to trust them again, and that starts with admitting the obvious screwups — like this case.
The #ReleaseTheMemo tale took place at the peak of McCarthyite mania about omnipresent Russian saboteurs infecting domestic discourse. They were blamed not just for whipping up support for Nunes, but for hashtags like #SchumerShutdown, #ParklandShooting, even #GunControlNow. They did all this to "widen the divide" between Americans, according to a not-at-all-kidding New York Times, whose sources then included the disgraced think tank New Knowledge (later outed in the New York Times itself for creating a fake Russian influence campaign, in an Alabama Senate race) and the aforementioned Hamilton 68, which "worked with" New Knowledge.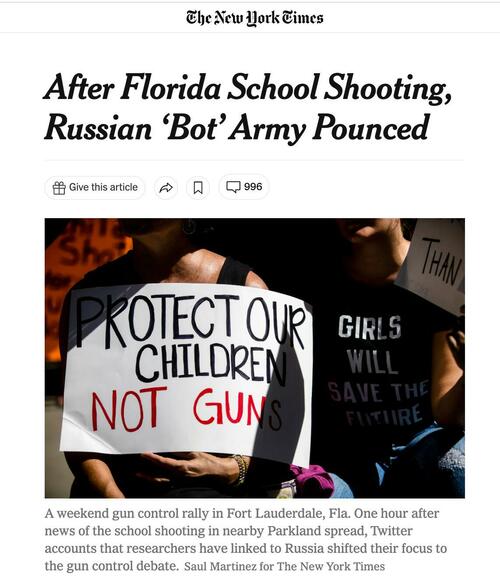 In the case of both #SchumerShutdown and especially #ReleaseTheMemo, it's undeniable thanks to #TwitterFiles emails that Twitter's executives were aghast at the "Russian bots" story, and struggled to convince both media and members of Congress not to repeat assertions of Russian influence in public.
Yet three influential Democrats, including Senators Dianne Feinstein and Richard Blumenthal and the House's tireless, still-yapping Russiagate mascot, Adam Schiff, were determined to go there. Twitter execs scrambled anyway to try to stop each. After a lot of pleading, one staffer for "DiFI" — Feinstein — finally agreed it would be "helpful to know" how their main source Hamilton 68, created under the auspices of the German Marshall Fund and the Alliance for Securing Democracy (ASD), came to "decide an account is a Russian influencer."
It apparently didn't occur to the DiFi staffer, or to Senator Feinstein herself, to ask this crucial question of how Watts and Hamilton 68 were identifying Russians before the Senator published an open letter with Schiff citing it as proof of Russian perfidy. Absolutely blind, in other words, they declared #ReleaseTheMemo to be Russian propaganda, saying it benefited from the "assistance of social media accounts linked to Russian influence operations."
Hamilton 68's front page still features a drawing of Vladimir Putin tossing bouquets of evil red Twitter birds into the atmosphere. Its lead paragraph also still features a quote from former Director of National Intelligence (now CNN contributor ) James Clapper, most famous for lying to Congress about the NSA surveillance program subsequently exposed by Ed Snowden. On the Hamilton 68 page, which purports to provide a "real-time look at Russian propaganda," Clapper warned that having interfered in 2016, Russians were now beginning to "prep the battlefield" for 2018.
Twitter Global Communications chief Emily Horne described Hamilton's analytical method as one might an icky thing held by tweezers at arm's length.
"Hamilton 68 does not release the accounts that make up their dashboard," she wrote, "so no one can verify the accounts they include are in fact Russian automated accounts."
https://t.co/w6GmX8wQMw #SchumerShutdown and #ReleaseTheMemo, the internal guidance was, "Both hashtags appear to be organically trending." pic.twitter.com/6z5OMelLtZ

— Matt Taibbi (@mtaibbi) January 12, 2023
That this preposterous parody of a web analytic tool was taken seriously by reporters for years is embarrassing enough.
That U.S. Senators relied upon it as a sole source in the #ReleaseTheMemo episode shows how desperate they were to change the subject, to deflect from a Nunes memo later proved correct by an Inspector General's report.
TK News subscribers can read more here...
Tyler Durden
Thu, 01/12/2023 - 16:22