"Third Straight Month Of Good News On Inflation": Wall Street Reacts To The CPI Report
Below is a snapshot of several Wall Street kneejerk reactions to today's CPI report which came in right as expected, and absent a bizarrely high, and 12 month-delayed shelter/rent print which rose 0.8%, or the highest since at least 1990...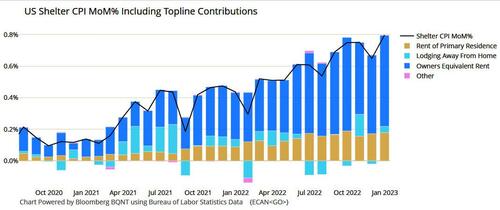 ... would have been  flat M/M instead of the 0.3% reported.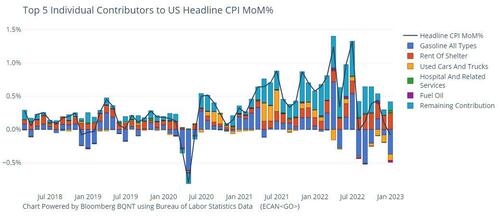 Bloomberg Economics Anna Wong
"December's CPI report offers a third straight month of good news on inflation, with outright deflation in the headline measure. Momentum points to underlying headline CPI running at a pace close to the Fed's 2% price target, though core CPI is still in the 3%-4% range because of sturdy core-services readings.

"While the mostly favorable report gives the Fed scope to further slow the pace of rate hike to 25 basis points at its upcoming meeting, officials are likely to conclude they still have work to do. Bloomberg Economics expects the Fed funds rate to reach 5% in March and stay there for the remainder of the year."
Omair Sharif, founder of Inflation Insights:
"The broader message is that we now have a 3m SAAR core CPI rate of 3.1% vs 6.0% in Sept. And a 6m SAAR of 4.55% vs 6.9% in Sept. We still clearly have moderation in the core, and the idea that we'd see a string of lower core CPI prints starting with the October report, something I've been discussing since September, remains intact."
TD's Priya Misra:
"Even though headline MoM CPI was negative and YoY CPI is declining, core CPI came at consensus and the strength in core service CPI brings up the pain trade for markets. A 50bp hike in Feb looks more likely -- that is our call. A sticky inflation trajectory will also make it difficult for the Fed to cut rates once the economy enters a recession. They are already reluctant to cut early because of the concern of a mis-step like the easing in 1970s. This is a huge negative for risk assets.... The market's a little too optimistic, extrapolating that this decline in service inflation will continue. Historically, service inflation is very sticky on the way down."
CIBC economist Katherine Judge:
"The data argue for going by 50 in three weeks. With shelter costs set to soften, and the impact of past interest rate hikes materializing more, the Fed will likely be able to pause after a final 50 basis-point hike at the next FOMC."
Morgan Stanley economist Ellen Zentner
"This month's report provides confirmation that the downshift in inflation pressures is becoming entrenched, setting the stage for another reduction in the pace of rate hikes at the upcoming February FOMC."
 Andrew Patterson, senior economist at Vanguard
"It will be all the more important to monitor Fed officials' communication for a steer on what they will decide Feb. 1. We will be paying close attention to Fed communications going forward as we assess the likelihood of 25 v 50 basis points for the Jan/Feb FOMC meeting."
Richard Flynn, managing director of Charles Schwab UK.
"Looking ahead, the Fed has promised to 'hike and hold' interest rates throughout 2023, which is unsurprising given the inflation rate remains well above the central bank's target. However, the story for the US economy in coming months will likely shift focus from inflationary concerns to potential stresses in the broader economy and labor market."
Bryce Doty, senior portfolio manager for Sit Investments.
"The single largest component of core CPI is housing as measured by owners equivalent rent and is based on outdated leases. As a result, it showed that housing continued to rise rapidly, going up 0.8% last month. Clearly, home prices and rents are declining. The result of this flawed methodology was an understatement of inflation a year ago and an overstatement today."
And tied to that, here is Pantheon Macro
"The biggest contribution to the core was rents they account for the entire increase in the core owners equivalent rents up 0.79% biggest increase in the three months but it won't last, given the steep drop in rents for new tenants recorded by Zillow and others"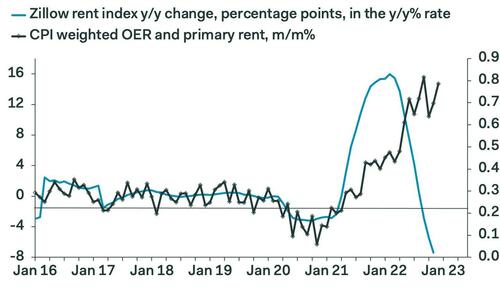 And incidentally, if one uses the latest Zillow or Apartment List data instead of CPI, the core CPI M/M would be flat (0.0%), instead of 0.3%.
Tyler Durden
Thu, 01/12/2023 - 10:01